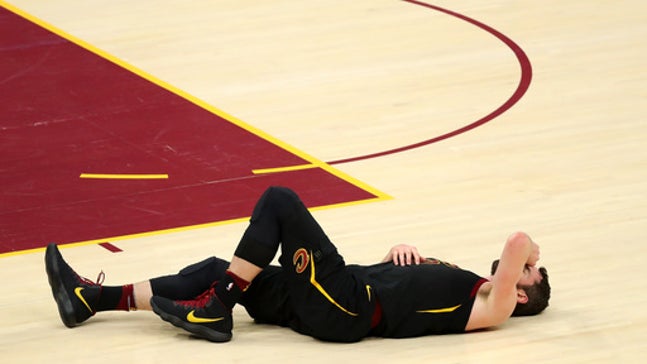 Love leaves Game 6 after banging head with Boston's Tatum
Updated
Mar. 4, 2020 8:46 p.m. EST
CLEVELAND (AP) Cavaliers All-Star forward Kevin Love will miss the remainder of Game 6 of the Eastern Conference finals after banging heads with Boston's Jayson Tatum.
Love and Tatum inadvertently collided midway through the quarter and both dropped to the floor. Love, who missed a March 28 game at Charlotte with a concussion, immediately raised his left arm as if to signal he needed help.
He stayed down for several minutes before he was pulled to his feet. Love walked unsteadily to the bench with guard George Hill holding one of his arms. Love sat briefly before heading to the locker room for further evaluation.
The Cavs said Love is being evaluated for a concussion and being kept out as a precaution.
Love was replaced by Jeff Green, who sparked the Cavs to a 54-43 halftime lead.
Tatum stayed in the game.
Love, who is in his fourth season with Cleveland and is the club's second-best player, is averaging 15 points and 11 rebounds in the series.
---
---