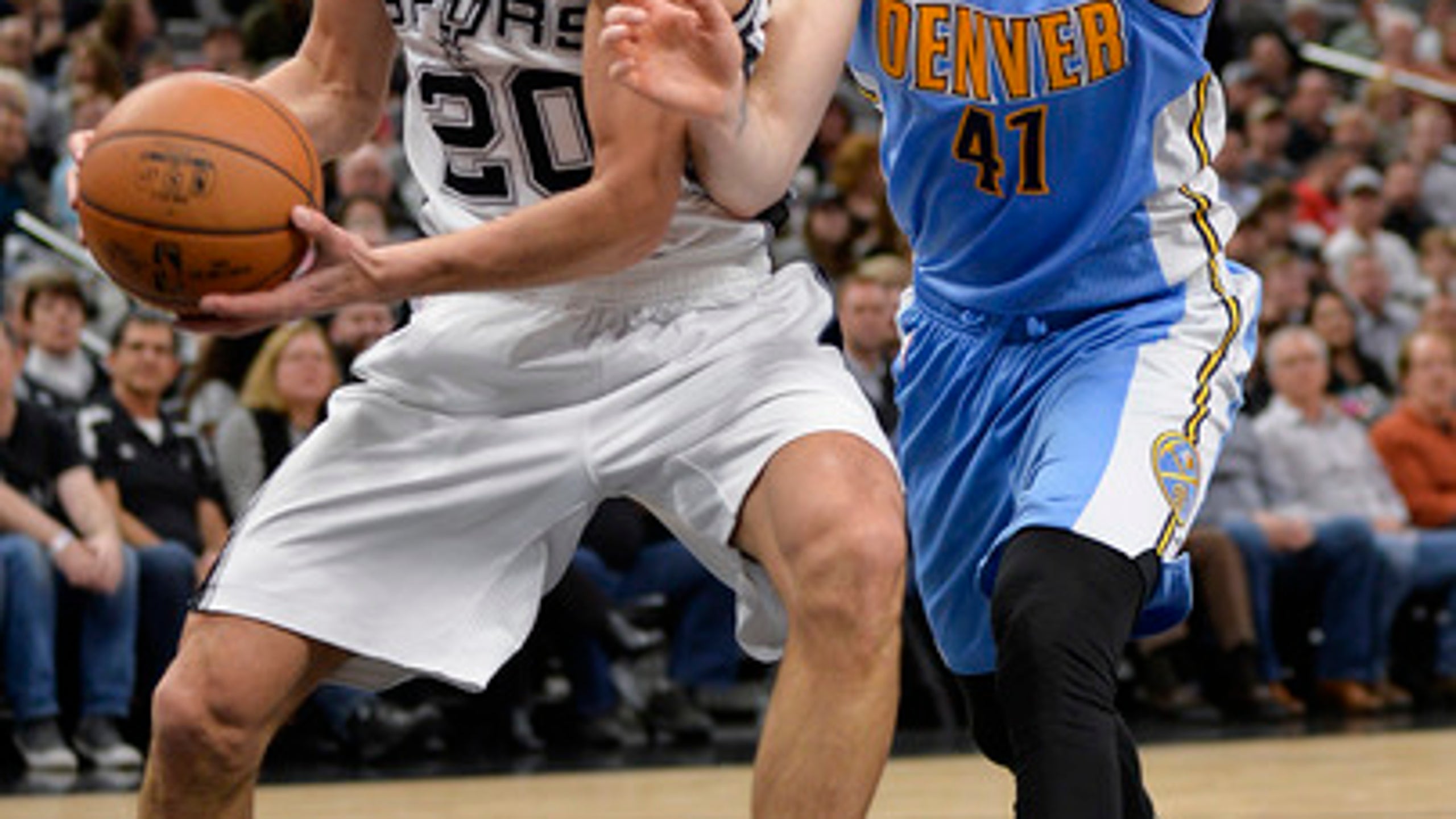 Leonard has 34, Spurs overcome Gasol's injury to top Nuggets (Jan 19, 2017)
BY AP • January 20, 2017
SAN ANTONIO (AP) The San Antonio Spurs got a glimpse of their future and it was both encouraging and daunting.
Kawhi Leonard scored 34 points, rookie Dejounte Murray added a season-high 24 and the short-handed Spurs overcame a pregame injury to Pau Gasol in beating the Denver Nuggets 118-104 on Thursday night.
Denver's three-game winning streak was snapped despite a career-high 35 points from Nikola Jokic.
Leonard had his fifth straight 30-point performance, right after learning he was elected to start for the Western Conference in the All-Star Game for the second consecutive season.
''I'm just happy that my hard work is paying off,'' Leonard said. ''It's just another stepping point to my career and hopefully I can keep going from there.''
Murray demonstrated his potential, playing a career-high 34 minutes in place of ailing point guard Tony Parker. But the Spurs' immediate future is uncertain without Gasol, their starting center.
''We're going to have it looked at tomorrow, but he's going to be out for a while,'' coach Gregg Popovich said.
Gasol broke the ring finger on his left (non-shooting) hand when he jammed it against Kyle Anderson's shoulder while attempting a running hook during pregame warmups. The 16-year NBA veteran immediately clutched his hand and left the court.
X-rays revealed the break, and the Spurs said they should have a better idea how long Gasol will be out following additional tests Friday.
The Spurs were also unexpectedly without Parker and then Popovich. Gasol and Parker were both late scratches due to injury, and Popovich was ejected for the first time this season.
''I thought the biggest thing was find a way to get a win without Tony and Pau,'' forward David Lee said. ''Just sticking to the game plan. One of the strengths of this team is depth, so we just tried to step up and play the same way.''
Lee had 10 points and 16 rebounds while starting in place of Gasol. Murray attempted to take one of Lee's rebounds away, but the veteran glared at the rookie from Washington.
''The guy gets every shot and then he's trying to take all the rebounds, too,'' Lee said, smiling. ''I was like, `Come on, rook, know your place.' He played an unbelievable game tonight.''
Parker sat out with a sprained left foot. The 6-foot-5 Murray responded by shooting 7 for 11, including 3 of 5 on 3-pointers.
''I felt like I had a rhythm the whole game,'' he said. ''I was confident even before he told me I was going to start.''
Popovich did not get to see the Spurs improve to 15-2 at home since Nov. 11 after picking up his fifth and sixth technical fouls. Zach Zarba ejected Popovich with 1:36 remaining in the first half after he became incensed over a foul called on Davis Bertans against Jokic.
Minutes earlier, Popovich was upset over a non-call for Bertans.
TIP-INS
Nuggets: Jokic has led the team in scoring or shared the high mark in 10 of Denver's past 18 games after doing so just once in the previous 22 games. ... C Jusuf Nurkic had five points, leaving him one shy of 1,000 for his career. ... F Juancho Hernangomez made his second career start.
Spurs: Gasol missed his first game due to injury this season. He sat out two games for rest. He is averaging 11.7 points and 7.9 rebounds in 39 games. ... Parker has missed eight games this season, including two for rest. He missed three games with a sore right knee, one due to a bruised left quadriceps and another because of a bruised left knee. ... At least one Spurs player has appeared in the All-Star Game in all but two of the franchise's 40 years in the NBA (1989 and 1997). ... Leonard has scored in double figures in 74 straight games, the longest streak by a Spurs player since Tim Duncan had 75 in 2004-05.
BLOWING THE WHISTLE
Nuggets guard Emmanuel Mudiay had some fun when Popovich got ejected, shadowing Zarba and mimicking the official calling a technical foul and ejecting the Spurs' coach.
''It was funny,'' Mudiay said, unable to stifle his laughter. ''I don't think he wanted to coach today, that's what it was.''
Popovich continued walking onto the court and screaming at the officials despite attempts by San Antonio assistant Ettore Messina to hold him back.
Mudiay said he was having fun and meant zero disrespect to ''one of the best coaches in the world.''
''I love that dude, man,'' Mudiay said. ''(Former Spurs coach) Larry Brown is somebody that I talk to a lot and that's one of his best friends, so I know Coach Pop just a little bit. He's a great guy.''
UP NEXT
Nuggets: At the Los Angeles Clippers on Saturday night.
Spurs: At the Cleveland Cavaliers on Saturday night.
---
---