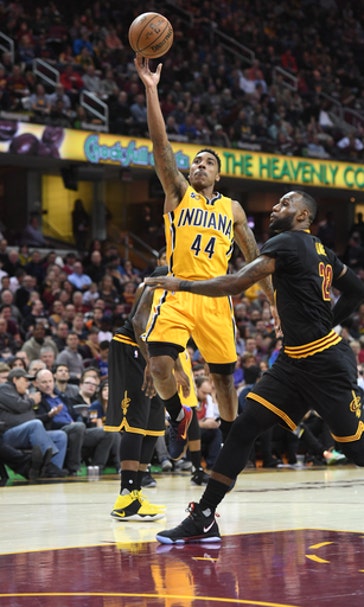 LeBron scores 31 as Cavs roll into All-Star break with win (Feb 15, 2017)
February 15, 2017

CLEVELAND (AP) The Cavaliers are getting some down time. Not that they really want any right now.
After some disruptions and some drama, the NBA champions are rolling once more.
LeBron James scored 31 points, Kyrie Irving added 26, Kyle Korver made six 3-pointers as the Cavs reached the All-Star break with their seventh win in eight games, beating the Indiana Pacers 113-104 on Wednesday night.
Irving and Korver combined to make four 3s in the first 2:50 of the fourth quarter - Korver finished with 22 points and became the seventh player with 2,000 career 3s - and the Cavs, playing their second game without All-Star Kevin Love, pulled away and improved to 7-1 in February after a 7-8 January.
''This is the way we wanted to play coming into February and the guys are excellent so far in this month,'' James said. ''It sucks because we have a great rhythm right now and you hate to have the break. But the break is going to be good for everybody. It gives guys an opportunity - if they have some nicks and bruises and things of that nature. Just get away and decompress for a little bit, but we've been playing some good basketball.''
And while his teammates will relax over the next few days, James and Irving are headed to New Orleans for Sunday's All-Star game.
At 39-16, and winners of three straight, Cleveland leads the Eastern Conference at the unofficial halfway point. The Cavs have endured their fair share of injuries already and won't be at full strength until Love (knee surgery) and J.R. Smith (thumb surgery) return.
That's still weeks away, but coach Tyronn Lue is pleased with how his team has handled adversity.
''Any time you lose two starters, it's going to make it tough but we have a no-excuse mentality and guys are stepping up and guys are playing well,'' he said, ''and we got to continue to keep doing that until J.R. and Kevin get back.''
Glenn Robinson III scored 17 for Indiana, which lost its fifth straight. Pacers All-Star Paul George scored just 13 and missed 12 straight shots after the first quarter. George ended his drought by making a 3-pointer with 5:15 left.
''I had looks that I've had all season,'' George said. ''It was just one of those games I couldn't buy a basket at all. I felt great. Shot the ball well in warmups. I made the first shot, made the first couple.''
Down by 10 in the third, the Pacers tied it at 83-all on a 3-pointer by Robinson. That's when Korver, who made 8 of 9 3s in a win over Indiana on Feb. 8, dropped a trey and Irving hit one on Cleveland's next possession.
The pair knocked two more to give the Cavaliers a 97-87 lead, and then Korver, who finally looks at home in Cleveland's offense after coming over in a trade from Atlanta, made another 3 and scored on a layup to give the Cavs a 106-89 lead.
A few minutes later, Korver got free for his first dunk with Cleveland.
''I just need one a year,'' he said with a laugh. ''I don't need any highlights, just for my personal well- being, I need to know that I can still get up there and put one down.''
STAR SWAP
Love's spot in the All-Star game has been filled by New York Knicks forward Carmelo Anthony, an ironic swap since the two have been involved in trade rumors for weeks.
And while it's unlikely the deal will happen before the Feb. 23 deadline, Anthony's appearance in New Orleans does mean James will no longer be the oldest player in this year's event.
''Makes me very happy,'' James said. ''Now Melo is. I'm happy about that.''
TIP-INS
Pacers: Fell to 9-18 on the road. ... F Thaddeus Young missed his seventh straight game with a sprained left wrist. ... G/F Lavoy Allen went through pregame drills, but sat out his second game in a row with a sore right knee. ... F Rakeem Christmas was recalled from the Fort Wayne Mad Ants, the team's D-League affiliate. Christmas played the final three minutes.
Cavaliers: Coach Tyronn Lue revealed Love's knee had already been bothering him when the power forward played in consecutive road games last week. ''He played through it,'' said Lue, adding he didn't regret playing Love because he was ''heading for surgery.'' ... Love's absence could make it tougher for Lue to find time to rest James and Irving after the break, when the Cavs will play seven back-to-backs. ''Guys are going to get their proper rest going forward, even though Kevin is out,'' Lue said. ''We're going to be fine.''... Korver joined Ray Allen, Reggie Miller, Jason Terry, Paul Pierce, Jamal Crawford and Vince Carter in the 2,000 club.
UP NEXT
Pacers: Host Washington on Thursday before the All-Star break.
Cavaliers: Following the break, they'll host the New York Knicks on Feb. 23.
---
---