Kyle Korver
Kyle Korver
Kyle Korver, champion Cavs still getting to know each other
Published
Jan. 18, 2017 6:09 p.m. ET

INDEPENDENCE, Ohio (AP) Kyle Korver feels mostly moved in. Off the floor, that is.
The newest member of the Cleveland Cavaliers still has some adjusting to do before he feels completely at home with the NBA champions, who have struggled of late.
''Every day it gets better and better,'' he said.
Acquired earlier this month in a trade with Atlanta, Korver practiced with the Cavs for the first time in Ohio on Wednesday as the team regrouped from the longest road trip of the season - a coast-to-coast odyssey - that ended with an embarrassing 126-91 blowout loss to the Golden State Warriors, who sent a message in January they hope resonates in June.
While Korver, one of the NBA's most lethal 3-point shooters has felt welcomed by his new teammates, he's still trying to fit in with them on the court. Cleveland is just 1-3 since Korver arrived and the team's struggles are at least loosely linked to them trying to incorporate him into the offense.
Although it wasn't intentional, the Cavs found themselves forcing passes to Korver, who went 2 for 10 from the field and missed his first five 3-pointers in his first two games. He found his range against Sacramento and Golden State, going 11 of 20 (7 of 14 on 3s) and providing a glimpse of Cleveland's potential when they get back to full strength.
''The more time we spend together, the better chemistry we're going to have,'' Korver said. ''A lot of what my game is, is based on chemistry. Getting a good feel for the guys, me getting a feel for them, them getting a feel for me and how I play. Every day gets a little better.''
Cleveland went just 3-3 on its trip, which began in Brooklyn and concluded in the Bay Area, where the Cavs were thumped by the rival Warriors in their first visit to Oracle Arena since winning Game 7 of last year's finals there.
The game included another run-in between LeBron James and Golden State's Draymond Green, who was called for a Flagrant 1 foul after he collided with Cleveland's superstar. The two have scrapped before as Green was suspended from Game 5 in the finals for hitting James in the groin.
Cavs coach Tyronn Lue felt Green was putting the champs on notice with his hard foul.
''Was it a statement? I think so,'' Lue said. ''He didn't want to let LeBron get in the open court and get a dunk or layup and he took a hard foul. He wanted to try to send a message to our team.''
Following the lopsided loss, there was a typical overreaction by some Cleveland fans and media members, who were quick to question all the Cavs recent issues as if they had just dropped their 10th straight game and not just four of their past seven.
Lue said trying to integrate Korver, whose role will change again when J.R. Smith returns from a thumb injury later this season, was a challenge on the trip.
A few days of practice - and a home matchup on Saturday against San Antonio - will either help the Cavs find their rhythm or expose more flaws.
Lue was asked if his team has enough playmakers.
''You can't make a trade every day,'' he said. ''We acquired Kyle Korver and we've got to be patient for other pieces we need, but, we're still a good team, we're still the champs and we got to play like that.''
One of Korver's biggest adjustments is learning to play with James, one of the game's most gifted passers. Korver regretted missing a 3-pointer in Golden State after James nearly fell before feeding him in the corner.
''He whipped it behind his back right at my head,'' Korver said. ''I was like, `Wow, I have the ball and I'm open.' I hesitated and I missed the shot. That's what he creates. He's got an incredible feel for the game. It's good to be on the other side of the ball with him.''
The Cavs are just 1-3 since Korver joined them, but he's confident better days are ahead.
''I see where we're going,'' he said. ''I see how it's all going to come together. No one around here is panicking.''
---
---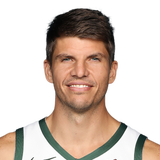 Get more from Kyle Korver
Follow your favorites to get information about games, news and more
---