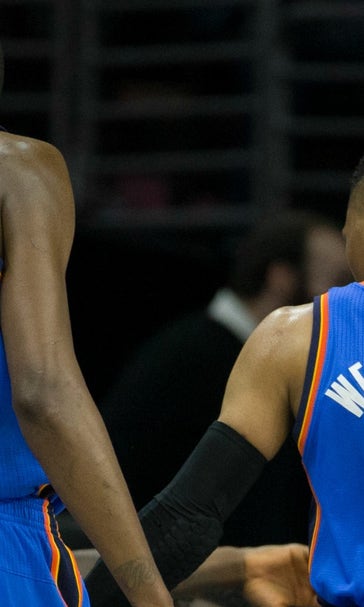 Kevin Durant vs. Russell Westbrook: Who is the Thunder's true MVP?
May 16, 2016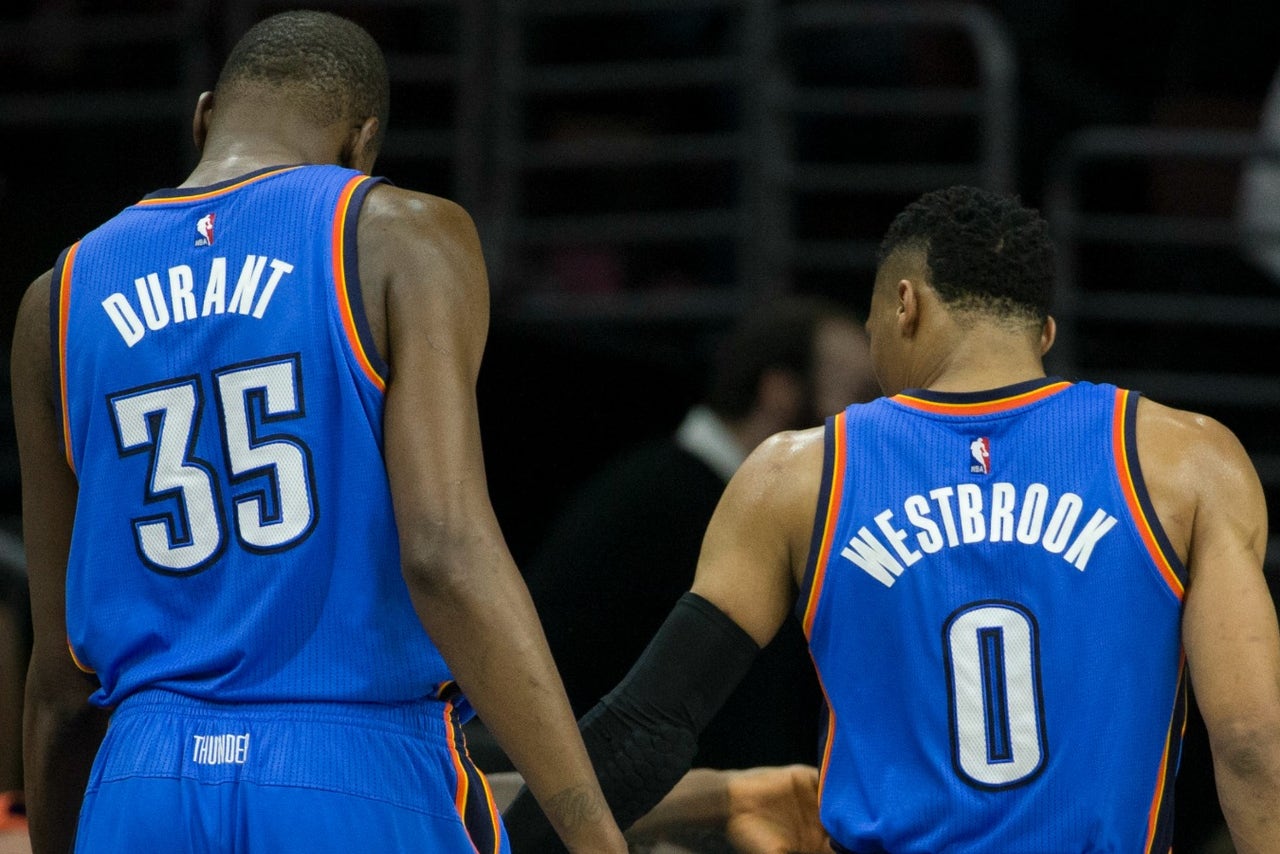 The Oklahoma City Thunder are in the Western Conference Finals for the fourth time in six years, and no two people are more responsible for that than Kevin Durant and Russell Westbrook.
Between them are 12 All-Star appearances, three All-Star Game MVPs, one regular-season MVP, 35 player of the week awards, 18 player of the month honors, nine All-NBA teams and five scoring titles. They're two of the five best basketball players in the world, smack dab in the prime of their careers. 
Westbrook just finished fourth in the 2015-16 MVP race. Durant finished fifth. Their combined fourth-quarter usage rate during the regular season was 66.1 percent, which represents astronomical reliance on two players from a 15-man roster. 
When they shared the floor, Oklahoma City outscored its opponents by 12.3 points per 100 possessions, the highest net rating from any non-Golden State Warriors duo that logged at least 1,900 minutes this year. 
Both are the literal definition of a franchise-altering superstar, and even though comparing them is pointless and impossible, we're going to give it a shot anyway. Is Westbrook better than Durant? Is Durant more valuable than Westbrook? Let's dive under the hood and take a closer look.
Almost nothing in basketball is harder to stop than Westbrook right after he snatches a defensive rebound and jets up court with the sole intention of paralyzing anyone who stands in his way. During the regular season, his 544 points in transition led the entire league. (For reference: The Dallas Mavericks scored 970 transition points. As a team. In 82 games.)
The same way Steph Curry melts opposing fan bases every time he shakes free for an open three, Westbrook sledgehammers his way to the goal whenever he wants; thousands of people in the gym and so many more watching at home are plenty aware that he wants to get to the basket, but he does it anyway. Over and over and over again.
Westbrook is less extinguishable and persists at a higher temperature than the innards of a raging forest fire. Against the San Antonio Spurs in Round 2, the Thunder scored 109.3 points per 100 possessions with Westbrook on the floor and 93.9 points per 100 possessions when he sat. So, basically, against the best defense in recent NBA history, Oklahoma City's attack went from a top-3 outfit to even more pathetic than the Philadelphia 76ers. That's remarkable.
The 27-year-old averaged 23.5 points, 10.4 assists and 7.8 rebounds per game during the regular season, numbers the NBA hasn't seen since Oscar Robertson's heyday. He finished with 18 triple-doubles and scored at least 40 points four times. Westbrook made over half his shots inside the three-point line, finished third in PER and Win Shares and will almost definitely crack his first 1st-team All-NBA squad. 
But Westbrook's feel for the game has always been a tad unseemly, like an alien with limitless physical ability who wanders onto a basketball court only knowing that whichever team puts the ball in the basket more times before the clock runs out is the winner. There's little nuance to his game. It's all sharp edges and few smooth curves.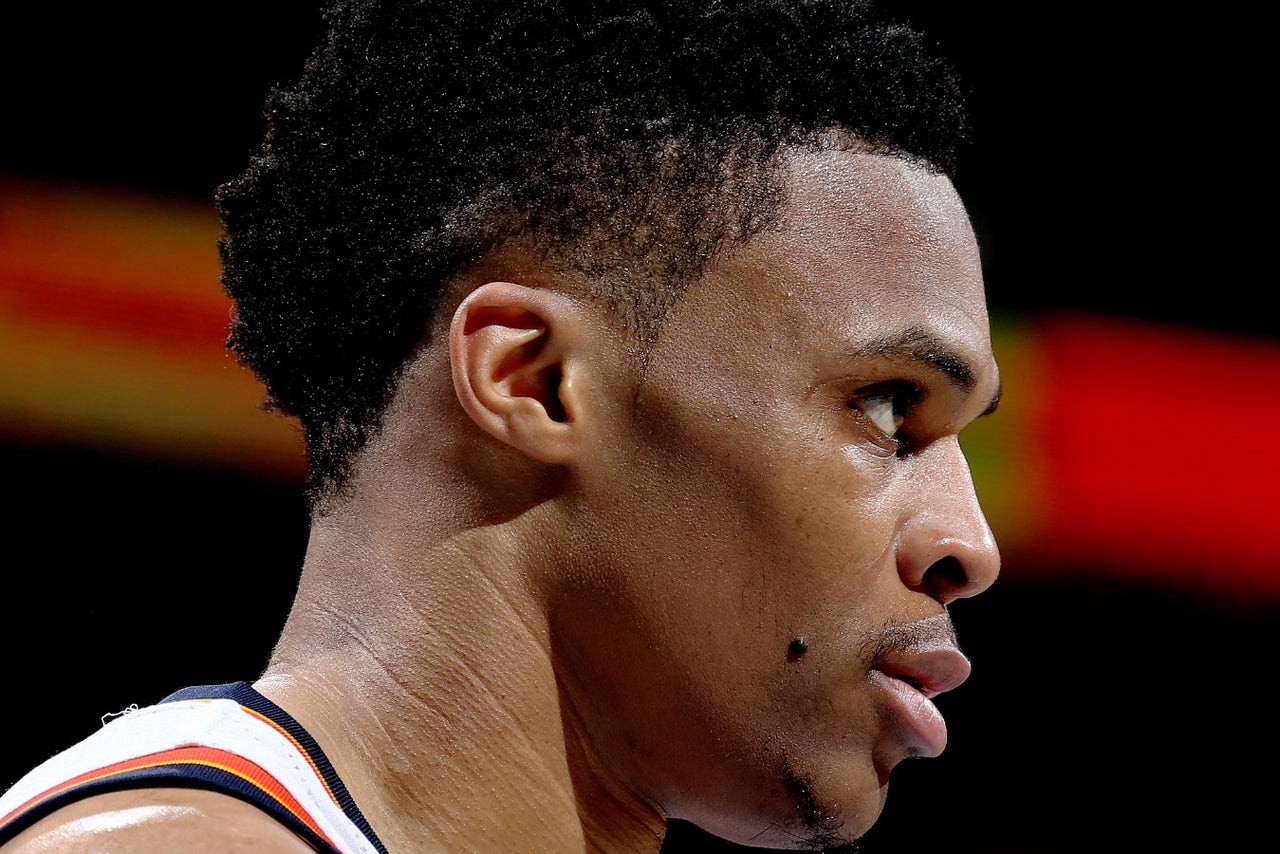 Westbrook's shot selection and decision making waver. He graduated from the Dwyane Wade School of only hustling back on defense when the opportunity to sneak up and steal the ball presents itself, and his three-point shot is streaky at best. (Westbrook is one of seven players in NBA history to launch at least 340 threes and make less than 30 percent of them in a season.) 
But better a diamond with a flaw than a pebble without. When Westbrook becomes a free agent next summer, every general manager with cap space and a question mark at point guard will abandon their firstborn for the chance to sign him. The Thunder outscored opponents by 66 points this year with Westbrook on the court and Durant on the bench. The offense averaged 108.6 points per 100 possessions -- which would rank third in the league -- €"and Westbrook's true shooting percentage actually increased (from 55.3 to 55.5) despite his usage rate spiking up to a ridiculous 36.8 percent. 
His shooting percentages in the restricted area and above the break were better, too.
After this season, the phrase "Let Westbrook be Westbrook" is no longer relevant. He's brilliant, relentless and wired to step on your throat. If you don't like the way he plays, maybe basketball just isn't your thing.
Let's begin with a quick step back to remember what the league looked like two years ago. Before Curry made his impossible ascension to the sport's all-time highest crest, Durant was the MVP. Just about everyone presumed that he -- not Anthony Davis, Curry, Westbrook or anyone else -- would soon replace LeBron James as the best player alive.
At 25 years old, he averaged 32 points per game and made over half his shots. He led the league in PER and usage rate, which, well, nothing else can better speak to how dominant Durant was before multiple surgeries temporarily derailed it all. 
Last year, Durant's value was more tangible than ever, when a broken foot forced him to miss 55 games. The Thunder didn't qualify for the postseason for the first time since 2009. Now he's back. Healthy and crushing. 
This year, Durant averaged 28.2 points, 8.2 rebounds and 5.0 assists per game. He shot 50.5 percent from the floor, 38.8 percent behind the three-point arc and 89.8 percent from the foul line. That ridiculous level of efficiency matters. Durant led the Thunder in PER, true shooting percentage and Win Shares (league-wide, he finished second to Curry in the latter two categories). 
Not that points are the end-all, be-all, but Durant tallied 151 more than Westbrook despite attempting 63 fewer shots. The Thunder outscored its opponents by 78 points when Durant was on the floor without Westbrook's help, and the offense averaged 109.2 points per 100 possessions. 
Against their upcoming Western Conference Finals opponent, the Warriors, Durant was a surgeon this season. In three games, he averaged 36.3 points, 12.0 rebounds and 6.3 assists. His shooting splits? 52.9/47.6/96.4. Against the best regular-season team in NBA history, Durant's reigned like an emperor. (The Thunder outscored the Warriors by six points in their first two meetings when Durant was on the floor.) If the Warriors and Spurs can't game plan to slow Durant down, what team can? 
Six years ago, before he won a championship, LeBron said "I spoil a lot of people with my play." He was correct. Today, Durant has the right to say the same exact thing. He's phenomenal every single night and has improved virtually every area of his game to the point where there's no actual weakness. He can defend, rebound, pass, handle the ball, shoot, drive, directly and indirectly make teammates better and do whatever else is asked at a level few in league history have ever seen. 
Durant may have finished behind Westbrook to win this year's MVP, but he's a better and more valuable player. By an eyelash. 
---
---