Kawhi Leonard's 31 help Spurs win at OKC, take 2-1 series lead
May 7, 2016

OKLAHOMA CITY — This time, the San Antonio Spurs made the hustle play they needed to beat the Thunder.
Kawhi Leonard's critical offensive rebound of LaMarcus Aldridge's miss led to two free throws by Tony Parker with 18 seconds left that put the Spurs ahead by four, and San Antonio hung on to beat Oklahoma City 100-96 on Friday night and take a 2-1 lead in the Western Conference semifinal series.
Leonard had 31 points and 11 rebounds, but his final rebound was the most important mark on the stat sheet. In his typical understated style, the All-Star forward made it seem like no big deal.
"I just attacked the glass and jumped and grabbed it," he said.
That might seem simple enough, but it didn't work out that way in the Spurs' previous game. In Monday's loss to the Thunder at home, the Spurs couldn't come up with the ball in a scramble near their basket in the closing seconds, and the Thunder escaped with a 98-97 win. On Friday, Leonard's rebound helped seal it.
"It was a backbreaker," Thunder forward Kevin Durant said. "We played good defense and were down seven with a minute to go and cut it to two. We made him (Aldridge) miss his shot, and the ball kind of fell in his (Leonard's) hands. He was in great position to get the rebound, and that sucks."
Aldridge had 24 points and eight rebounds and Parker added 19 points and eight rebounds for the Spurs, who regained the home-court advantage they had surrendered with the loss in Game 2.
Russell Westbrook scored 31 points for the Thunder, but he made just 10 of 31 shots.
"Too many shots," Westbrook said. "I've got to do a better job getting guys shots. I've got to get other guys involved, especially to beat this team. Even though I had some shots I (usually) make, I've got to read and find ways to get guys shots. I take the blame."
The Spurs said it was a collective effort to slow Westbrook.
"We know he's going to be very aggressive," Parker said. "They go down, we know he's going to be extra aggressive, so we just make sure that everybody's paying attention to weak side defense. He's coming at us. That's who he is. He's got a lot of energy, and he's just going to keep attacking."
Westbrook also had nine rebounds and eight assists. Durant scored 26 points, Serge Ibaka added 15 and Steven Adams had 11 rebounds for Oklahoma City.
The Thunder shot just 41.5 percent from the field.
Game 4 will be Sunday in Oklahoma City.
The Spurs ran out to a 35-20 lead after a 3-pointer by David West, but the Thunder responded with a 9-2 run to creep back into the game. San Antonio led 47-42 at halftime after making 7 of 11 3-pointers. Westbrook made just 6 of 17 shots before the break.
The Spurs opened the second half on a 7-2 run to force a Thunder timeout, but Oklahoma City, behind 10 points from Durant in the quarter, cut San Antonio's lead to 72-69 heading into the fourth.
Back-to-back 3s by Ibaka and Westbrook gave the Thunder an 81-77 lead with just over 7 minutes to play. San Antonio regained the lead 91-89, then Westbrook and Durant turned the ball over on back-to-back possessions. West's bucket in close pushed the Spurs ahead 96-89 with 1:19 to play.
The Thunder trimmed San Antonio's lead to 98-96 on a floater by Dion Waiters with 4.8 seconds remaining, but Leonard made two free throws with 2.7 seconds left to put the game out of reach.
STAT LINES
Aldridge made 33 of 44 shots in the first two games combined, but just 8 of 21 Friday night.
QUOTABLE
Durant, when asked about the fact that the Thunder will have to win a second game in San Antonio to win the series: "We play Sunday. We play Sunday. We can't worry about going to San Antonio. We've got another game here."
TIP-INS
Spurs: West's 3-pointer was just his fifth in 80 career playoff games. ... Committed just one turnover in the first quarter. ... Made just 8 of 14 free throws in the first half.
Thunder: Had just 14 assists on 34 baskets. ... Outrebounded the Spurs 42-37. ... Reserves shot just 7 for 20 from the field.
---
---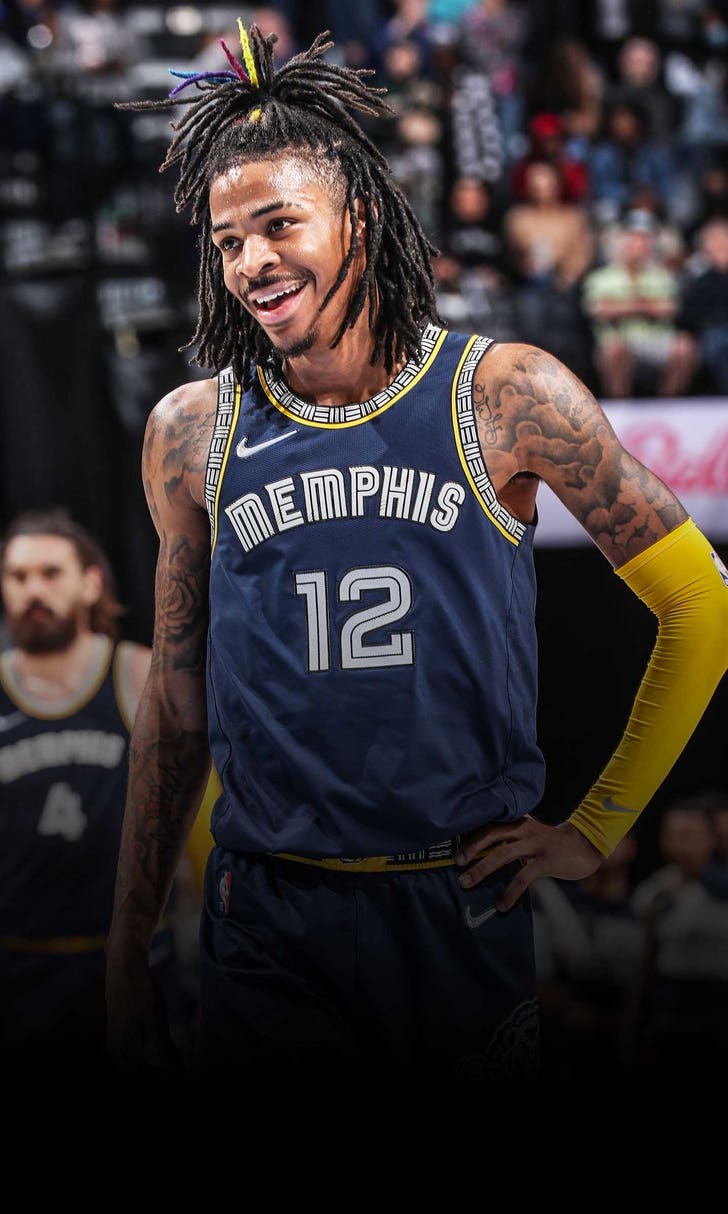 National Basketball Association
Are Ja Morant's Memphis Grizzlies title favorites?