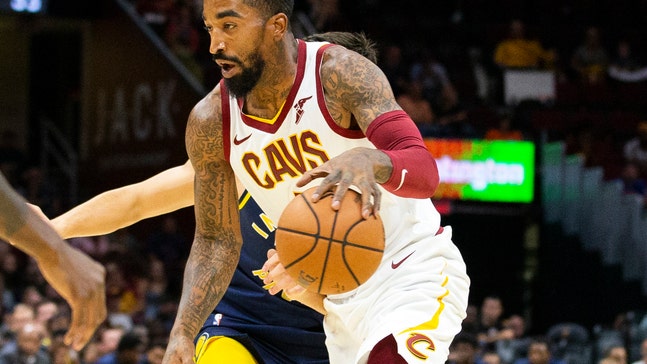 JR Smith wants Cavaliers to trade him if he's not playing
Updated
Mar. 4, 2020 1:30 p.m. ET
CLEVELAND (AP) — J.R. Smith has added another tier to the Cavaliers' mounting troubles.
Dropped from the rotation and unhappy with his role on a team rebuilding through youth, Smith said Thursday that he wants to be traded. The enigmatic guard said he hasn't formally requested a trade by Cleveland's front office because the Cavs are already aware of his feelings.
"They know," Smith said following shootaround. "They don't want me, so they obviously know."
The 33-year-old Smith said he was told earlier this season that the Cavs would be focused on playing their younger players to develop them for the future. Cleveland's back to being an also-ran in the Eastern Conference following LeBron James' departure this summer as a free agent.
Smith didn't play in Tuesday night's win over Atlanta, the Cavs' first game since coach Tyronn Lue was fired following a 0-6 start. And while Smith understood that his minutes were going to be drastically reduced — if not taken away completely — it's been a challenge for him to stay motivated.
"It is hard," he said. "Fortunately I got a great crew of people, former teammates, teammates, former coaches, lot of people in my ear that's helped me to go through this process. But at the end of the day, I can't take it out on my teammates. Regardless how hard it is to walk in here and actually put on, as hard as it may sound, to put on a Cavs jersey or shirt, I can't do that to my teammates.
"I can't do that to the fans."
It's been a tough opening month for the Cavs, who fired Lue and believed they were replacing him with assistant Larry Drew. However, Drew said he doesn't want the 'interim' tag unless he gets some assurance from Cleveland's front office and the sides have not come to an agreement on a restructured contract.
On top of that, All-Star Kevin Love is expected to miss weeks with a toe injury.
Smith has brought a new challenge, but insists he will be a professional.
"There's a lot of things that's going on around here that I don't know the answer to and I don't know why it's going on, but it is and I can't control that," he said. "I just worry about what I can control, worry about being a good vet to these young guys who are playing — cheer for 'em, help 'em as much as they want me to help. Other than that, I'm buying time, I guess."
Smith has had a rocky relationship with Cleveland fans, some of whom love his care-free spirit while others still blame him for losing track of the score in the closing seconds of Game 1 in last year's NBA Finals.
Smith, who is just one of three Cavs left from the 2016 title team, said he was given the option to leave the team by Cleveland's front office.
"They asked me if I wanted to be around the team and if I didn't I could leave and go home and do whatever," he said. "I can't do that to these fans, I can't do it to the city. To come from where I came from, from pretty much nothing to Cleveland and the way the city embraced me, the fans embraced me, the relationship I have with them, I can't do that to them.
"It's not about me, it's not about who wants me here and who doesn't want me here. For me, it's all about the fans."
Smith's pricy contract makes it nearly impossible for the Cavs to trade him now. He's making $14.7 million this season, and his $15.6 million contract for 2019-20 is partially guaranteed for $3.8 million.
---
---