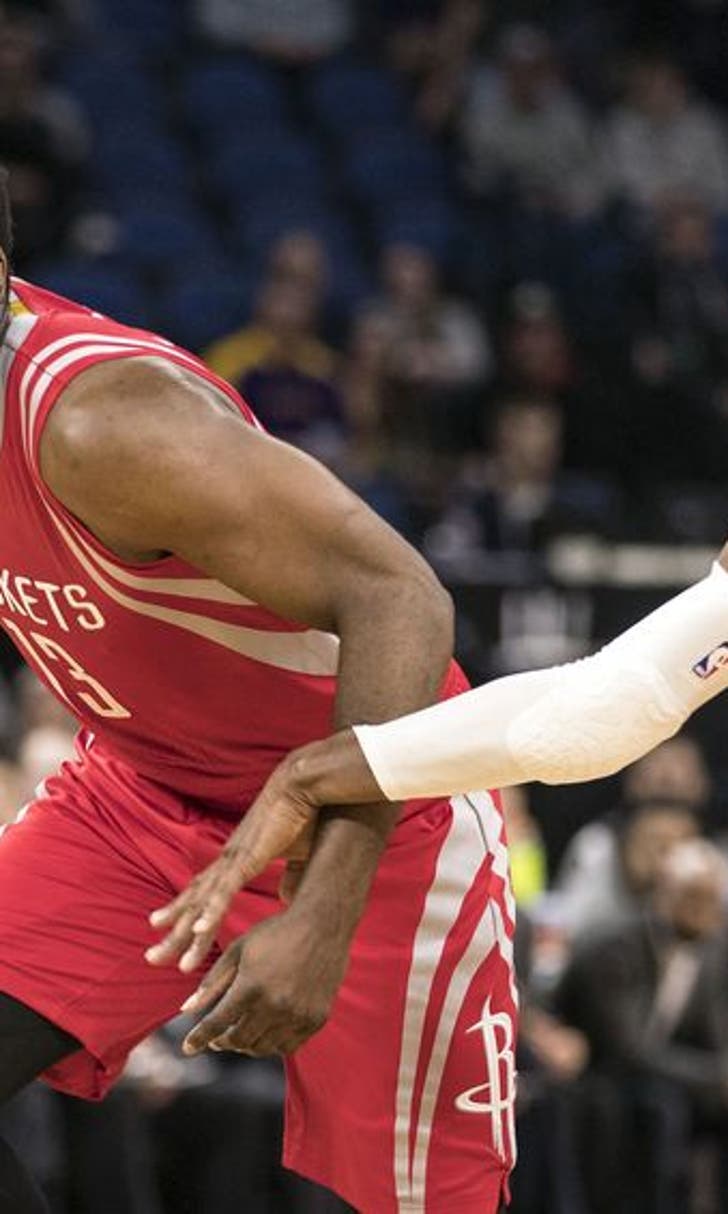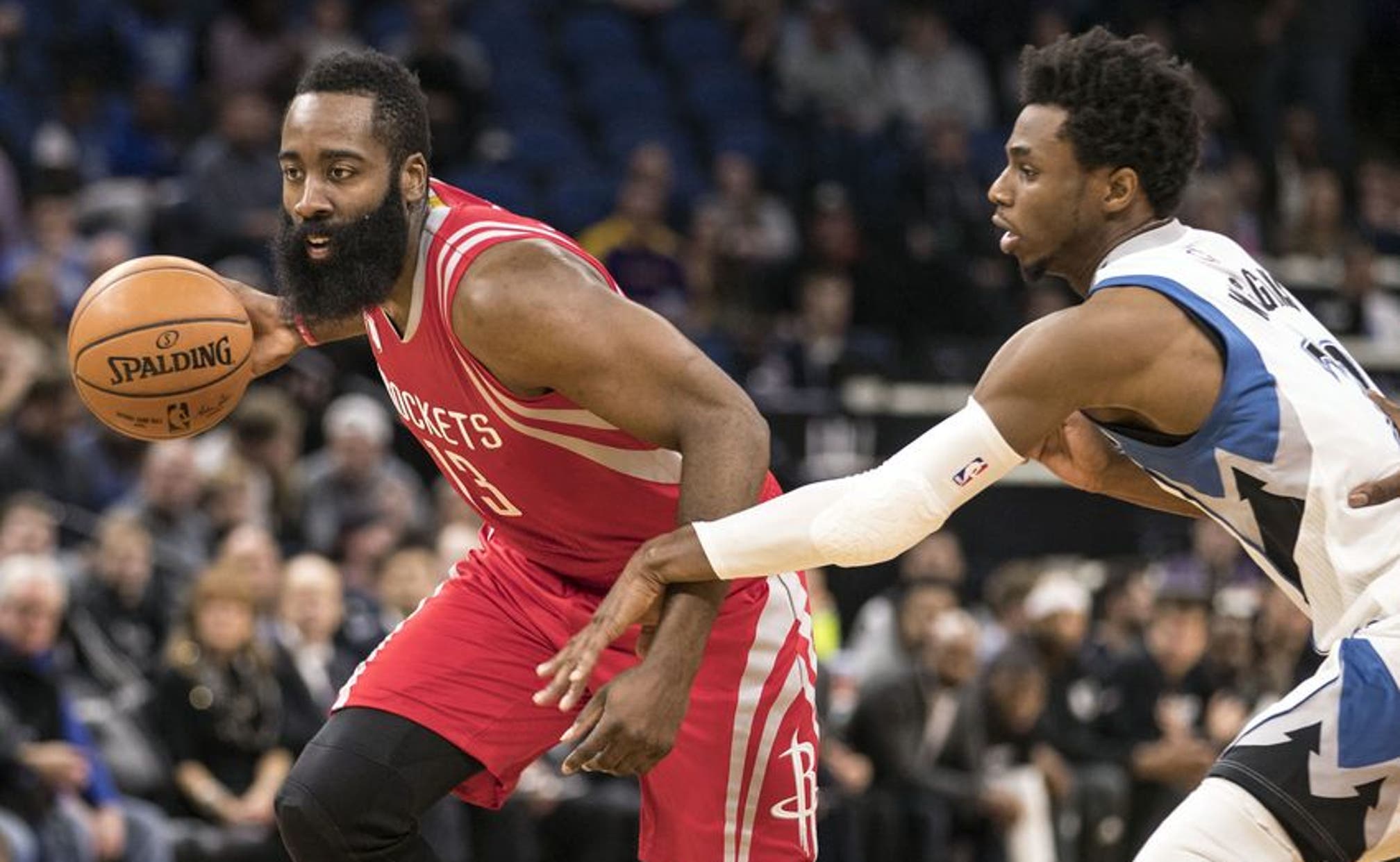 Houston Rockets Fantasy Outlook 12.19.16
BY Fansided and Jason Gomez/FanSided via Space City Scoop • December 19, 2016
Dec 17, 2016; Minneapolis, MN, USA; Houston Rockets guard James Harden (13) drives to the basket past Minnesota Timberwolves forward Andrew Wiggins (22) in the first half at Target Center. Mandatory Credit: Jesse Johnson-USA TODAY Sports
Analyzing our Houston Rockets and other players around the NBA to help make the most of your fantasy team for the week of Dec 19th
Red Nations Fantasy Summit
If this week has taught us anything, it's that in this life you will have to deal with adversity. It can come in many shapes or forms and its purpose is often misinterpreted. It's easy to forget that as maddening as these challenges can be, in the end, they are meant to help your overall progression. For the Houston Rockets, this season's trials are essential player development and will hopefully pay off come post season.
On Saturday, Harden finished one rebound off of a triple-double and single-handedly led the charge in overtime. He put up 28 points (3 triples), 9 boards, 13 dimes, 1 steal, and 2 blocks. This was the second game of a back to back and on a night after his dismantling of the Pelicans.
The Rockets fan base is growing exponentially and currently sit third in the Western Conference with a record of 21-7. This week will put the team to the test as they face the Spurs, the Suns, and the Grizz. But, before looking ahead to this week's action, let's take a quick glance at some standouts from the Rockets over their last few games…
Dec 17, 2016; Minneapolis, MN, USA; Houston Rockets forward Trevor Ariza (1) celebrates with teammates after making a game tying shot in the fourth quarter against the Minnesota Timberwolves at Target Center. The Rockets won 111-109 in Overtime. Mandatory Credit: Jesse Johnson-USA TODAY Sports
Active defensive hands are key to Rockets run
Trevor Ariza-Hou, SG/SF
The Rockets current win streak is partly due to the renewed commitment on the defensive end. One of the catalysts for this behavior is Trevor Ariza, who ranks in the top five this season for steals per game. His shooting has also been much needed, as he has hit several clutch threes late in games. In fact, in the last three games Ariza has hit a minimum of three or more triples. Last week, Ariza was averaging 13.8 points (3.3 triples), 4.3 boards, 1 assist, 3 steals, and nearly 1 block per game. Bottom line, when he plays well the Rockets win.
Pat Beverley-Hou, PG/SG
Houston is 14-2 since Bev's return and he has stuffed the stat sheet on several of those wins. It's still crazy how he is only owned in 67% of leagues. He currently averages 10 points (2 triples), 7.5 rebounds, 6 dimes, 1.3 steals, and almost 1 block per game. Against the Pelicans, Bev was two rebounds shy of a triple double and finished with 13 points (3 triples), 11 rebounds, 8 dimes, and 1 steal. It is beyond time to pick him up if he's still on your waiver wire.
As always, the success of your fantasy season depends on the utilization of the waiver wire. To that end, let's review some options that may provide you with that spark your roster needs.
Sep 26, 2016; Orlando, FL, USA; Orlando Magic head coach Frank Vogel, center Bismack Biyombo (11), center Nikola Vucevic (9) and forward Serge Ibaka (7) pose for a photo during media day at Amway Center. Mandatory Credit: Kim Klement-USA TODAY Sports
Bismack Biyombo-Orl, PF/C
Trying to predict the Magic's line up or who exactly is going to play well has become quite the task for this group. Biyombo's minutes have fluctuated greatly this season, but when he has been given the opportunity he has performed well. His rebounding and blocks help to offset his lack of scoring. As it happens, Bismack has at least three blocks in three of his last four games and has played a minimum of 25 minutes per game. He currently averages 6.1 points, 8.3 boards, 1.3 dimes, and 1.5 blocks per game. Only owned in 55% of leagues, I recommend a pick up in deeper leagues or if you are need of defensive stats.
Dorian Finney-Smith-Dal, SF/PF
As with the Magic, the Mavs have the same sense of unpredictability in lineups and production. Injuries are a big part of this mystery, but Mavs coach Rick Carlisle has found some unexpected fill ins during this time. DFS is one of those players and has filled in admirably. Although, Dirk Nowitzki's eventual return will impact the rookie's development.
Against the Kings, DFS scored a career high 17 points (3 triples), 2 rebounds, 3 assists, and 1 steal. The young forward has played a minimum of 25 minutes per game, but has shown some obvious rookie inconsistency. In the previous losses against Detroit and Utah he only scored in single digits and barely even attempted any shots. However, according to Carlisle's reassurance, the Mavs seem committed to continuing his development. At only 15% owned, he's worth a pick up since coach seems determined to find his rookie some playing time.
With a quarter of the season done, the Mavs and the Magic have been disappointing for a number of different reasons. In part, because of the number of injuries or the lack of team chemistry. However, there have been flashes of what the talent on both of the rosters can do. The struggle is if these franchises have the patience to trust the process while players heal. Or, while these teammates become more familiar with one another. Guess we will see.
Sep 26, 2016; Los Angeles, CA, USA; Los Angeles Lakers coach Luke Walton (left) and forward Luol Deng (9) pose at media day at Toyota Sports Center.. Mandatory Credit: Kirby Lee-USA TODAY Sports
Luol Deng-LAL, SF/PF
With young teams, the eventual rest of veterans to give their young guys some run is a cause for concern. The extended playing time for the rookies and sophomores help them to gain a better feel of the game and the overall quicker pace. Luol Deng is one of the vets who may see his minutes cut. But, don't get it twisted, he can still ball. Against the Knicks, Deng finished with 22 points (5 triples), 5 boards, 2 dimes, 2 steals, and only 1 turnover. I know-it's the Knicks. However, against the Cavs he dropped 15 points (3 triples), 8 boards, 3 dimes, and 1 steal.
For the month of December, Deng has played over 30 minutes per game and is producing across the board. Last week his averages were 12.3 points (almost 2 triples), 6.5 boards, 3 dimes, and 1.3 steals. He should really be owned in more than the 49% of leagues he is currently owned in.
Gary Harris-Den, SG
It's funny how a subtle change in a line up can impact the entire team. Move a certain player to the bench or start another and all of a sudden you can look like a cohesive team. With Harris being inserted into the starting lineup, the Nuggets have been able to get two consecutive victories. Against the Blazers, Harris finished with 18 points (3 triples), 4 boards, 6 dimes, 2 steals, and 1 block. Then, against the Knicks he put up 16 points, 3 boards, 2 dimes, and 1 steal. His foot injury, which caused him to sit earlier in the season, is behind him and Denver is finally thriving. Only 68% owned in leagues I would make sure he's not sitting on your waiver.
Since actuality doesn't always translate into fantasy relevance, I wanted to highlight some players who should be kept an eye on. These guys are an injury, coaching change, or big game away from impacting on a consistent basis. Mark them on your watch list.
Apr 26, 2015; Dallas, TX, USA; Dallas Mavericks forward Al-Farouq Aminu (7) and guard J.J. Barea (5) celebrate a basket against the Houston Rockets during the second half in game four of the first round of the NBA Playoffs. at American Airlines Center. The Mavericks defeated the Rockets 121-109. Mandatory Credit: Jerome Miron-USA TODAY Sports
Players on the cusp
J.J. Barea-Dal, PG/SG
This guy is a fierce competitor. He's looking to beat his injury timetable by almost two weeks. And, could possibly be returning to a back court line up that is finally healthy. He has increased his practice time and looks to return soon. Only 26% owned, I may wait and see if there is any long term damage to this pesky guard.
More from Space City Scoop
Alex Len-Pho, PF/C
This young center is officially handcuffed to Tyson Chandler's production. When the Suns finally decide to give him more burn he will be worth owning. As of right now, with his limited minutes he's averaging 8.9 points, 7.7 boards, almost 1 assist/steal, and 1.6 block per game. Alex is a player on the rise, but not quite getting the minutes. Yet.
Mirza Teletovic-Mil, SF/PF
Game flow can dictate a lot about a coaches line up or their game plan. I mean, how else do you explain a DNP-CD (did not play-coach's decision) and then you get almost 30 minutes of run which you finish with 25 points (5 triples), 3 boards, and 1 block. A fluke of a game likely. But, after a no show against Toronto, Mirza has dropped consecutive double digit games (3 triples in each) and looks to be heating up. Anything is possible with some of Jason Kidd's line ups.
Trez/Nene-Hou, PF/C
It hurts me to type this, but with Capela still in pain he looks doubtful for Tuesday against the Spurs. Coach D'Antoni has said he may need an MRI on his left knee to see if there is any structural damage. Here's to hoping for the best.
Follow Space City Scoop as the Rockets look to continue their win streak against some tough competition this week. Let's go Red Nation!
---
---