Here's what Hawks F Kent Bazemore is doing to go from good to great
BY Rob Mahoney/Sports Illustrated • June 30, 2017
 

Welcome to The Craft, a serial look inside the world of player development in the NBA.

Kent Bazemore has already won. It was only five years ago that nine teams auditioned Bazemore in private workouts and 30 passed on him in the NBA draft. He was signed and sealed to begin his basketball career in Ukraine on a contract that would pay $90,000. All that stood in his way was an NBA out, hinged to a long-shot summer league appearance with the Warriors.

Golden State saw enough in Bazemore's boundless energy and seven-foot wingspan to offer him a deal, but not guarantee it. "When you have an unconventional route," Bazemore said, "nothing is ever certain." There is a nondescript date in January of every NBA season that looms over the Bazemores of the world: a hard deadline that secures the annual salary of every player under contract. Jan. 17, 2013 came and went, ensuring that Bazemore would be paid for a year's services in full. Same with Jan. 10, 2014, though the Warriors would trade Bazemore to the Lakers soon after. Within two months he would tear a tendon in his right foot and end his season in the process. Los Angeles declined to tender Bazemore a qualifying offer, casting him back into the sea of unproven basketball prospects.

Atlanta fished him out. Injury and all, Bazemore had reportedly nibbled around offers from San Antonio, Boston, and Charlotte that summer. Instead, he took a guaranteed two-year deal from the Hawks. "I looked at this as a stepping stone—not a test," Bazemore said. The critical step in that path: Prove to Mike Budenholzer, his Hawks teammates, and the NBA at large that his footing in the league should never be so uncertain again.


---


Solid all-around play for the life of that contract led to a four-year, $70 million deal this summer, proof of his progress. "First it was trying to get in," Bazemore said. "Now it's trying to be great." Bazemore, frankly, has not been this season. Defense and energy come standard in Bazemore's game. Everything else, Atlanta has learned, can be a bit more variable. After two years of shooting around league average from beyond the arc, Bazemore's long-range shooting dropped to 31.7% this season—including a ghastly 15.6% in December. Changes to team structure have eaten into Atlanta's spacing, making it all the more difficult for Bazemore to slink his way to the rim. The Hawks have called on Bazemore to do more this season than ever before. That kind of adjustment never comes simply—particularly when the player in question is still relatively new to the process of contributing beyond chaos.

Much of what Bazemore could offer the Warriors and Lakers in those early years came at a dead sprint. Defense was an opportunity to fly around the floor in rotation and to give furious chase around screens. Meager doses of playing time wound Bazemore up further; when there were only a few minutes of garbage time to be had, Bazemore found little reason to stop or slow down. His game was electric—a crackling live wire. Length and spunk worked in place of discipline. Speed and hustle stood in for refined skill. Bazemore left enough on the floor to make him a figure of interest...

https://youtu.be/saKPI36SByA

...but always seemed to fall short of rotation credibility. His deficits were too clear.

"I was definitely a liability offensively," Bazemore said. "I couldn't really shoot it, didn't really understand how to play within an offense. I thought if I learned how to space the floor, run the floor, make a corner three, then I would kinda inch my way in there."

There was work to be done. Bazemore's gameday routines crept back further and further into the afternoon until he wound up sharing his practice court with the dance team. There was a pronounced hitch in Bazemore's shooting form that would have to be ironed out through deliberate practice. A career forward would have to sharpen his handle to function as a guard. The instincts to contribute were there; Bazemore is the sort of player who desperately wants to make the right play. What eluded him was the control to make it happen.

Opportunity, trust, and sound coaching in Atlanta helped him find it. The Hawks have a proud tradition of turning could-be contributors into actual ones. Bazemore, as with other Hawks newcomers, required a gestation period before meeting Budenholzer's stylistic standards. It didn't phase him. Part of the reason Bazemore is so respected as a worker and so revered as a teammate is the way he responds in these moments. Complete engagement—from full-speed individual workouts to energetic practices to end-of-bench theatrics—can be fairly assumed from his body of work. By the time Bazemore became a regular in January 2015, he had an entire organization rooting for him.

Hawks shooting coach Ben Sullivan was instrumental in remaking Bazemore's jumper. "I used to just launch it at the rim," Bazemore said. "Now it's more an NBA-ready shot. Super compact." That kind of mechanical efficiency makes all the difference for a floor-spacing wing. Players like Bazemore can only threaten—and punish—the defense if they're able to line up and release a shot before a defender's close-out. Cleaner aesthetics are just an incidental benefit; the real value in fixing Bazemore's form came by minimizing the window and space needed to replicate it.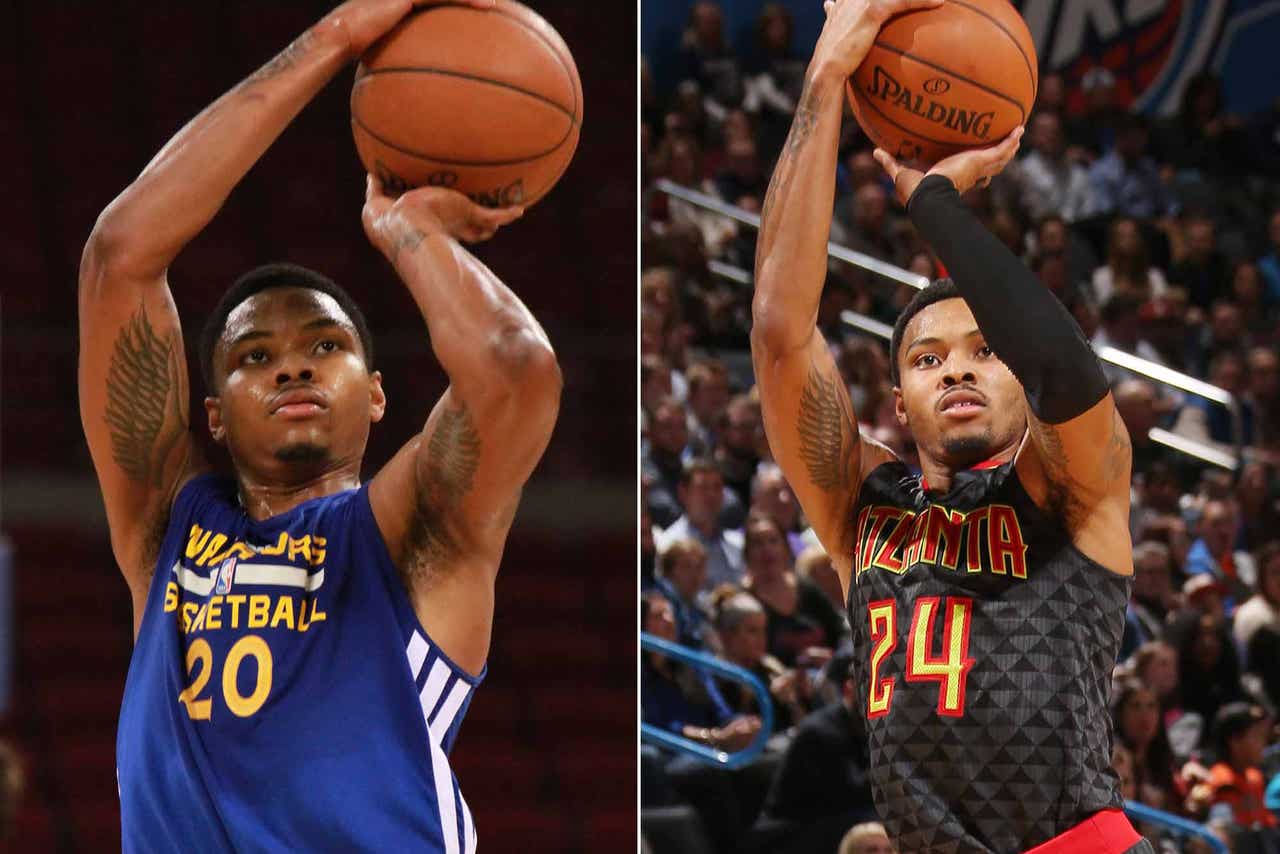 This was acknowledged from the start to be a multi-year process. Bazemore's elbow positioning was all wrong, his release point was disconnected from his line of sight, and his guide hand held too much influence on the release. Any significant revision takes time and constant maintenance. Elements are constantly shifting out of balance because a player's biomechanics are always in flux.

"I'm still trying to perfect that," Bazemore said. "Using my legs a little bit more, using my athleticism in my jump shot. At the times where you get tired, your body wants to revert back to what it knows. I'll use less legs and more arms and that has so many inconsistencies. I'm just trying to make that shot as consistent as possible."

Players do what they can when it comes to self-maintenance, but even great shooters will have stretches where the touch leaves them. Paying close attention to the mechanical details can only help facilitate its return. Bazemore is finding his shot again as we speak. Whether through focused work or the random swing of the percentages, he has now made 22 of his 54 attempts (40.7%) in the new year. The wide-open looks are starting to pay off as expected. Those shots coming within Atlanta's offense are now slightly more familiar. It would be foolish to ignore the effects that a decline in cumulative, team-wide passing would have on a player like Bazemore. Al Horford and Dwight Howard are a universe apart when it comes to facilitation. Dennis Schroder seems to set up shooters at his leisure rather than at the moment they spring open. There is a different rhythm to the Hawks this season and a different array of shots along with it. Some adjustment proved necessary.

There is also an opening—and an increasing demand—for Bazemore to create. More of Atlanta's sets this season put the ball in Bazemore's hands, calling on him to segue straight from a curl or screen into a pick-and-roll of his own. The results bear the humbling hallmarks of a novice in his role. There are times where a work-in-progress handle slows an otherwise magnificent athlete from getting to his intended spot. At times, Bazemore identifies the perfect pass only at the moment a lane materializes, leaving the window to close as he actually throws it. Mostly, he just misses. It took more than half a season for Bazemore to feel comfortable even taking pull-up jumpers after joining the Hawks. Two years later, the comfort is there but the shot isn't quite. If all goes well, the one-step-in jumper around a high screen could become a menu staple. For now it's an experimental dish, baked into the offense in part as a developmental exercise.

https://youtu.be/wcPQVLBnHeQ

Bazemore had spent the bulk of his professional career operating in an entirely different space. He found his way in the league by waiting in the wings or cutting into open lanes—both of which put him on the receiving end of these sorts of passes. Now that he's the one making them, Bazemore has been forced to confront the staging of the game in a new way.

"I kinda hit the reset button this past summer," Bazemore said. "Starting to break everything down a little more. As your mind grows, you need to grow your game. It's one thing to continue to work on the same things that you've worked on, but you're looking at it from a different perspective. You wanna link the mind and the body so now it's working out by watching film and then going to the court and creating certain scenarios. Just attacking it from a different perspective."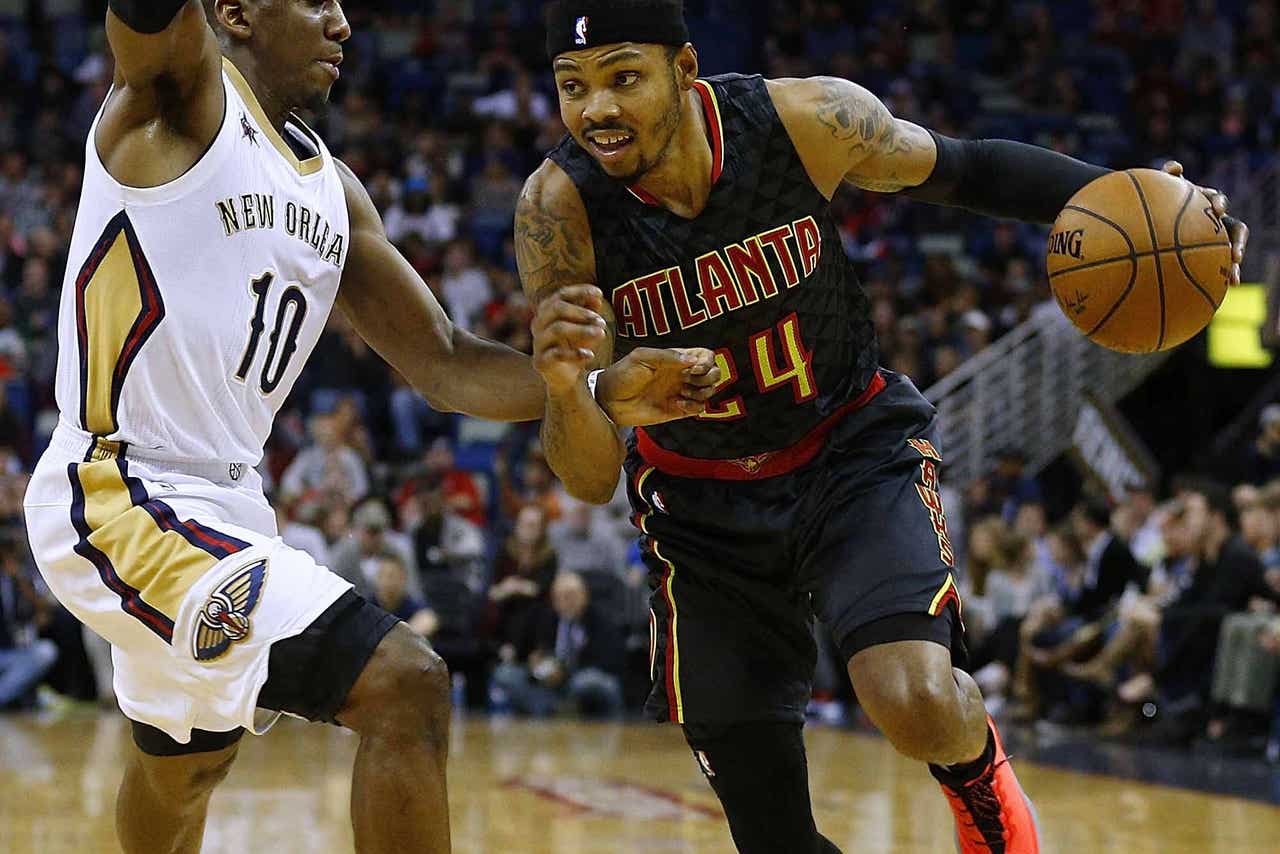 Bazemore tabs one of the Hawks' bigs to man the paint against him and recruits members of Atlanta's video staff to populate the floor as the day's lesson demands. "It's a live thing," Bazemore said. "You've gotta make the right reads. That's the way I'm attacking it now because nothing's better than having heightened cognitive skills in the game of basketball. When you start to think the game and see it from a bird's-eye view, it makes it a lot easier."

This sort of mental development is not unlike the mechanical adjustments to Bazemore's shooting form. Some immediate sacrifice is to be expected. An instinctive player has found a certain measure of success largely by reacting to the environment around him. Now Bazemore sets out to actually dictate the terms of that environment—he negotiates the positioning of his screening teammate, he looks to manipulate the defenders in his path, and all the while he tries to fight the urge to focus on any one lane so that he might see all of them. Bazemore is right: seeing the game from a bird's-eye view, similar to the vantage point of a television broadcast, makes everything seem easier. It's a wonder, on the other hand, that those ball-handlers trying to parse an NBA defense in real time are able to create anything at all. Bazemore is confronted with giant defenders rotating into his path and long limbs creeping into his space every time he turns the corner. No player walks into that kind of situational literacy. It is learned and it is earned, both at the very gradual speed of intellectual digestion.

Not every player is predisposed to create in this way. Bazemore, though, due to the maturation of his skills and his priorities on the floor, is worth an honest look. Few organizations are as patient with their developmental programs as Atlanta; under Budenholzer, the Hawks have made unhurried internal growth a defining part of their culture. There is a long game here that makes sense for all involved, and especially for a player so conscious of the scope of his career's endeavor.

"If you can stay present and understand perspective, understand process, understand where you've come from and where you want to go, I think that'll help you stay grounded," Bazemore said. "It's easy to pat yourself on your back when you go out and have a good game. You're winning, you're in a good situation, you've got a nice contract. It's so easy to relax and let your hair down a little bit. But you've always got to remember where you've come from, what it took to get here, and how much it's gonna take to keep improving."

This article originally appeared on
---
---