J.J. Barea
J.J. Barea
Hawks-Mavericks Preview
Published
Dec. 8, 2015 9:39 p.m. ET

The Atlanta Hawks looked very much like the team that won 60 games a season ago over a 7-1 start, but things have since gone south as they find themselves falling into the middle of the Southeast Division's logjam.
Consecutive wins have even been too much to ask for since a seven-game winning streak, though that can change Wednesday night as the visiting Hawks try for a fourth straight victory over the Dallas Mavericks.
Atlanta is 6-8 since that winning streak and has traded wins and losses for the last 10 games. The latest was a 100-87 victory over the Los Angeles Lakers on Friday to conclude a 2-1 homestand, and it was followed by four days off before back-to-back road games against Dallas and Oklahoma City.
The Hawks (13-9) shot 50.0 percent with Al Horford's 16 points leading the way, but he's shooting 43.5 percent in his last nine games. In true Atlanta fashion, Mike Budenholzer's team had five players with at least 13 points, though he's certainly not yet raving about the Hawks' play.
"It's a win, and we've got a few days now where we can work to get better," Budenholzer said.
One of the areas they'd like to improve is defending the 3-pointer. The Hawks' last 10 opponents have shot 40.0 percent and the Lakers made 13 of 27. The Mavericks, meanwhile, have hit 29 of 62 in their last two games.
Dallas (13-9) is coming off Monday's 104-97 win in New York after Sunday's 116-104 victory in Washington, and it can now look forward to staying put at home for a little while. The Mavericks' three-game homestand is their first stay of at least two games since Nov. 11-13.
"It's been tough traveling-wise. We've been all over the shop, and we're looking forward to settling down at home a little bit," Dirk Nowitzki told the team's official website. "But with going home, that sometimes brings some relaxation that you don't want. I think, over the years, we dropped some games at home that we shouldn't have lost, so we've got to keep that edge from the road somehow and just keep competing. Finally, we're home longer than a couple of days."
Nowitzki didn't show any signs of wear with 25 points against the Knicks. He's averaging 22.0 in his last four, and it's helped Dallas maintain as it's worked through the hectic schedule and health issues.
Chandler Parsons is still limited because of offseason knee surgery, and J.J. Barea has missed six straight games with a sprained ankle. Devin Harris sat out Monday because of a rib injury, but coach Rick Carlisle sees things beginning to steady.
"I'm encouraged that our health situation seems to be trending the right direction, even though Harris missed most of the games (Sunday and Monday)," Carlisle said. "You know, he's going to be OK. Barea is doing a little bit better, and Parsons is feeling a lot better and playing better, so we've got to stay the course.
"(JaVale) McGee is another guy that played some important minutes in the first half (against New York), so this was a long process when we set out at the beginning of the year. You know, we knew it was going to be well into December before we were anywhere close to being fully healthy, and we're making strides."
Dallas has won five of its last six at home, while Atlanta has dropped five of six on the road.
---
---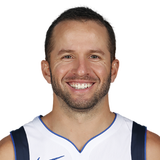 Get more from J.J. Barea
Follow your favorites to get information about games, news and more
---