Mike Conley
Mike Conley
Grizzlies-Heat Preview
Published
Dec. 12, 2015 6:13 p.m. ET

Too many mistakes are hurting the Memphis Grizzlies at the defensive end and the Miami Heat at the offensive end.
Both frustrated franchises might be happy their matchup Sunday night is in Miami considering the Heat have been so much better there and the Grizzlies have been downright embarrassing at home lately.
Even though Miami (12-9) is mired in its first losing streak of the season, Memphis (13-11) certainly sounds like the more distressed team. The Grizzlies have alternated wins and losses in six games this month, but the three defeats all came at home by at least 20 points apiece.
''I wish I could explain it to you,'' center Marc Gasol said. ''I wish I could. ... We are chasing our tails.''
Maybe leaving home can help. Memphis has won its last three road games and plays six of its next eight outside Tennessee.
Awful starts to the second half have often doomed the Grizzlies. They've been outscored in the third quarter in five straight and seven of eight, including by a 54-point margin in their four losses during that span.
"It's embarrassing on our part, this is not Grizzlies basketball," point guard Mike Conley said. "This is not what we're about. ... There's no excuse for it."
That's certainly true on defense, an area in which Memphis has long excelled. The Grizzlies finished among the league's top five in scoring defense in each of the past four seasons, allowing an average of 93.0 points, but currently rank in the middle of the pack at 101.3 per game.
Memphis let an opponent surpass 120 points for the second time in three games Friday, falling 123-99 to Charlotte. The Hornets' 18 3-pointers were the most by a Grizzlies opponent since last December.
"It is frustrating because we are a defensive-minded team, and we believe in it," Conley said. "To see us go out there and give up so many points, and not only do we give up points but it looks easy. It's like teams aren't even struggling to score on us."
The Heat are having problems at the other end, committing at least 17 turnovers in four consecutive games. They've lost three straight after being held below 84 points in both stops of a two-game trip, at Charlotte and Indiana.
"Mistakes are part of the game, but we just gotta do a better job of understanding that we have to value our possessions," Dwyane Wade said after being held to six second-half points in Friday's 96-83 loss to the Pacers. "... If we keep our turnovers low, we're a good offensive team."
His team is certainly better offensively at home, averaging 99.0 points while going 10-4. Miami is 2-5 on the road with an average of 88.1 points. The Heat have won five of seven at home as Wade has averaged 24.3 points, compared to 11.8 during their current 1-4 stretch on the road.
"In a season in the NBA, you can't let three (losses) turn into five or six," said Chris Bosh, who had 23 points and 10 rebounds Friday. "... We're gonna have to bring a lot of energy at home. We know Memphis is physical, we know that they play well. So we're gonna have to put everything into this next game."
Bosh has averaged just 12.3 points in his last four matchups with Memphis.
Conley has averaged 22.7 points as the Grizzlies have won the past three meetings, including two last season despite Wade scoring 25 in each.
---
---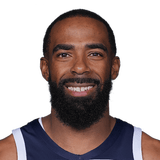 Get more from Mike Conley
Follow your favorites to get information about games, news and more
---