Rudy Gobert
Rudy Gobert
Gobert going strong as Jazz prepare for Pacers (Jan 21, 2017)
Published
Jan. 21, 2017 2:49 a.m. ET

SALT LAKE CITY - Can anyone stop Rudy Gobert?
That has turned into a legitimate question for other NBA teams who face the Utah Jazz this season. So far, those same opponents aren't finding a favorable answer.
Gobert isn't just dominating opponents on the defensive end. He's also leaving a lasting mark on offense.
Gobert became the first NBA player to finish with at least 25 points and 25 rebounds in a game this season. He achieved that feat after racking up career highs of 27 points and 25 rebounds in a 112-107 overtime victory over the Dallas Mavericks on Friday night.
It marked Gobert's 30th double-double of the season and his 29th consecutive game with 10 or more rebounds.
Gobert has averaged 13.2 points and 15.5 rebounds in January. His latest performance helped Utah (28-16) extend its winning streak to a season-best five games.
"Rudy was terrific," Jazz coach Quin Snyder said after the game.
Gobert's imposing presence around the rim adds a complimentary dimension to what Gordon Hayward already brings to the offense. Hayward added 26 points against Dallas -- the 27th time he has scored 20-plus points this season. Utah is 20-7 when their leading scorer totals 20 or more points in a game.
Both players demand enough defensive attention that it has opened things up in a big way for the Jazz supporting cast. It certainly showed against the Mavericks, with five different Utah players reaching double figures.
"Those guys were huge down the stretch," Utah forward Joe Johnson said. "Rudy was protecting the rim. Not only that, but giving us second-chance shots and making big shots down the stretch. It was fun to be a part of this game tonight."
Indiana gets the challenge of figuring out how to stop the Jazz on Saturday. The Pacers lost for just the second time in nine games after falling 108-96 to the Los Angeles Lakers on Friday.
Indiana let the game get away after the Lakers ripped off two big third-quarter runs to pull away.
Coming up short on the road is a familiar story for the Pacers this season. Indiana (22-20) is a dismal 6-15 away from home. It's a trend Pacers coach Nate McMillian knows needs to be reversed if his team wants to avoid losing ground in the Eastern Conference standings.
"The past is the past," McMillian said before Friday's loss to the Lakers. "We know what we need to do."
It will help Indiana if can get big performances from Paul George and Myles Turner in the frontcourt. Turner has four double-doubles in the last eight games -- all wins -- and is averaging 17.0 points and 8.9 rebounds in January.
During the same span, George is averaging 21.3 points. Indiana has won seven of its last eight games where he scores 19 or more points.
Both Utah and Indiana will be missing key players from their respective backcourts on Saturday.
Rodney Hood is expected to be sidelined for the Jazz after missing his second straight game while recovering from a bone bruise and hyperextended knee.
Rodney Stuckey is out during Indiana's entire 3-game western road trip while rehabbing an injured hamstring.
This will be George Hill's first game against the Pacers since being traded to Utah last summer. Hill spent five seasons in Indiana, averaging 12.3 points and 3.9 assists while appearing in 319 regular-season games with the Pacers.
---
---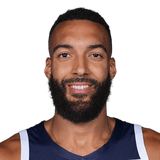 Get more from Rudy Gobert
Follow your favorites to get information about games, news and more
---