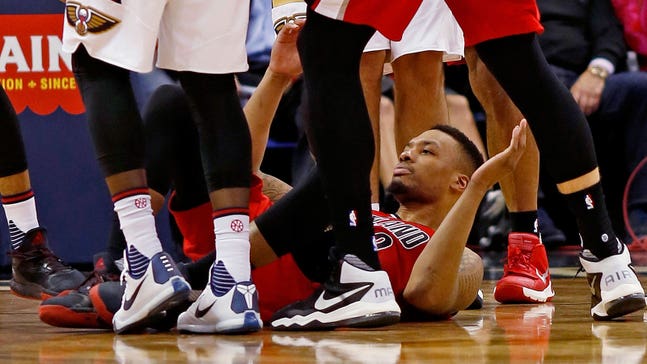 Dame Lillard clotheslined by Kendrick Perkins, shakes it off: 'I'm from Oakland'
Published
Mar. 19, 2016 5:41 a.m. ET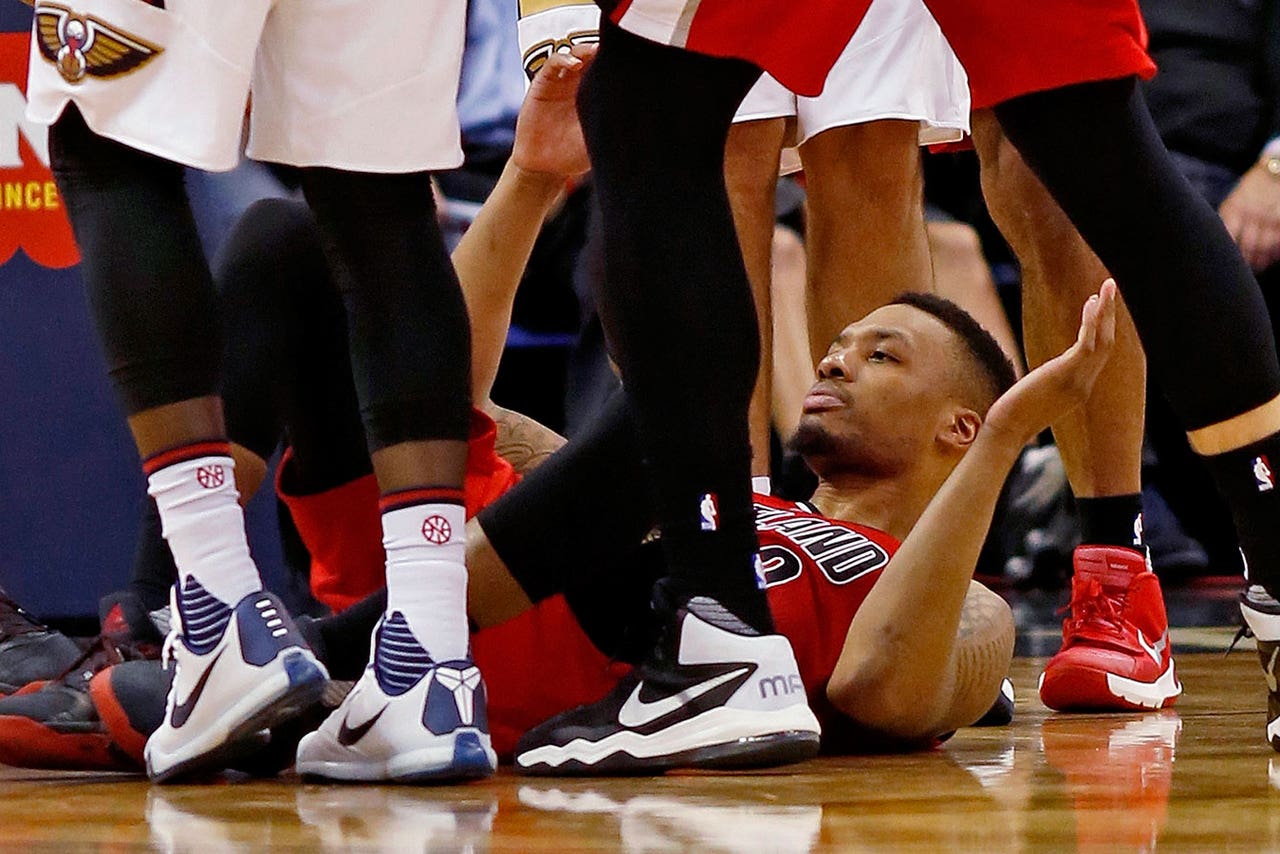 NEW ORLEANS — Damian Lillard lay flat on his back. His Portland teammates rushed to his side and then got into a brief scrum with Pelicans players while team security sprang onto the court to prevent the dust-up from escalating.
A forceful forearm from Pelicans center Kendrick Perkins had caught the Trail Blazers' star guard just under his chin, clothesline style, as he drove toward the hoop.
''I just needed to lie down and gather myself,'' Lillard said. ''It's going to take a lot more than that to take me out.''
Lillard closed out a 33-point performance by helping Portland recover from a blown 20-point lead and emerge with a 117-112 victory over New Orleans on Friday night.
The Pelicans nearly pulled off what would have been their largest comeback this season while Anthony Davis sat out the second half with a left knee injury.
''Basically it's just a sore left knee,'' said Pelicans coach Alvin Gentry, whose team has lost nine of 11 to fall all but mathematically out of playoff contention. ''There's no reason for us to take any kind of chances with him now so that's why we just held him out. I didn't think it made sense to stick him back out there.''
Davis scored 19 points before checking out of the game for good with 51 seconds left in the first half. About a minute before he left, he intermittently appeared to have a slight limp and winced a couple times.
The Pelicans then lost Perkins when he was ejected for leveling Lillard.
''It was dirty for sure, but it's a physical game,'' Lillard said. ''Some guys impact their team just by doing stuff like that. Maybe that's his way of impacting their team. I don't know, but I'm from Oakland. I've been punched before. I've been tackled before. It was a cheap play, but to me it didn't feel as bad as it might have looked.''
Perkins was not available for interviews after the game, but Gentry said he thought Perkins initially intended to wrap Lillard up without taking him to the ground.
''Obviously his momentum took him forward, so it looked like he went for his neck,'' Gentry said. ''Perk is not that kind of player.''
The dust-up enlivened the crowd and the Pelicans, who briefly held slim leads in the final minutes until C.J. McCollum, who had 30 points, hit a 3 that was set up by Lillard's pass out from the paint to give Portland the lead for good with a minute left.
''It's easy; he does all the work,'' McCollum said of Lillard. ''I just catch and shoot.''
Ryan Anderson and Jrue Holiday each scored 30 for New Orleans.
Gerald Henderson scored 19 for Portland, which is clinging to a playoff spot in the Western Conference and pulled two full games ahead of idle Utah, which entered the day in ninth place.
NEAR COLLAPSE
Portland had its first 20-point lead on McCollum's jumper halfway through the second quarter and led by 14 to start the second half.
The Blazers' lead was back to 20 on Mason Plumlee's free throws early in the third quarter before New Orleans began to methodically chip away, with Anderson and Holiday doing most of the scoring. Holiday scored 20 points in the second half, including a 3 that gave New Orleans a 105-103 lead with a little more than 3 minutes left. Anderson scored 18 in the second half, mixing step-back fades with a 3-pointer and a forceful driving dunk.
But while the comeback riled the home crowd into a frenzy, Lillard and Co. found the composure they needed to salt away the game.
''I remember walking out of a timeout and I was like, `Man, if we lose this game, I am going to be sick,'' Lillard recalled. ''After I had that thought, I decided that we weren't going to lose.''
After setting up McCollum's clutch 3, Lillard put the Pelicans away by drawing fouls and hitting four late free throws. He also grabbed the last of his eight rebounds in between his final trips to the foul line.
TIP-INS
Trail Blazers: Portland snapped a season-high, six-game road losing streak. ... Plumlee finished with 11 points, while Ed Davis had 10 points and 10 rebounds. ... Portland closed the season series having won three of four.
Pelicans: Anderson has scored 30 or more in a reserve role three times this season. ... Recently acquired guard Tim Frazier had played 40 games in the past two seasons for Portland. He played nearly 27 minutes against his old team, scoring 13 points to go with four assists and three rebounds. ... Toney Douglas scored 12 points.
UP NEXT
Trail Blazers: Visit Dallas on Sunday afternoon.
Pelicans: Host the Los Angeles Clippers on Sunday night.
---
---