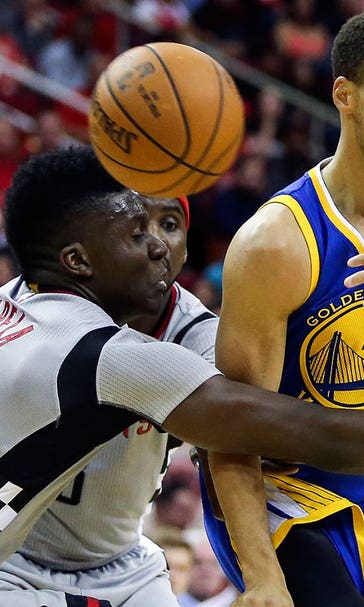 Curry plays like MVP, Harden horrible in West finals rematch
October 31, 2015

HOUSTON — Stephen Curry showed Houston fans that he's the real NBA MVP.
Curry scored 25 points and the Golden State Warriors beat the Rockets 112-92 on Friday night in a rematch of the Western Conference finals.
Curry listened to the crowd frequently rain down "MVP" chants on Rockets guard James Harden. But Curry outscored him 25-16 and got the win again, just as he did in the real MVP vote and in the Warriors' five-game victory that sent them to the NBA Finals.
"The best players in this league learn every year how to get a little bit better, a little bit more efficient," Curry said. "I'm just trying to follow suit."
The reigning champions improved to 2-0 while the Rockets fell to 0-2.
Harden struggled with his shot for a second straight game. The MVP runner-up finished 4 of 18, including 1 of 10 from 3-point range, but added seven rebounds and five assists.
"He's not comfortable, but then, who is?" Rockets coach Kevin McHale said. "I mean, I don't see anybody who looks comfortable out there. We're funky."
Dwight Howard had nine points and seven rebounds for Houston in his first game after serving a one-game suspension for getting a fourth flagrant foul in the postseason.
Emotions ran high in a game that felt more like a playoff game than the second one of the season. The frustrated Rockets were called for two technical fouls, while the calm and collected Warriors cruised to their second straight victory under interim coach Luke Walton, who is filling in for Steve Kerr as he recovers from back surgery.
Curry added seven rebounds and six assists. Marreese Speights had 14 points, Andre Iguodala and Harrison Barnes both had 12, and Klay Thompson had 11.
Barnes set the tone early when he drove around Trevor Ariza and slammed a powerful one-handed dunk over Howard. Golden State ran off to a 57-44 halftime lead.
TIP-INS
Rockets: Houston committed 16 turnovers, while Golden State had just seven. Rookie PF Montrezl Harrell had 11 points and three rebounds off the bench. ... PF Donatas Motiejunas remains out indefinitely after back surgery in April.
Warriors: Thompson was limited to 24 minutes as he dealt with back soreness. ... C Andrew Bogut did not travel with the team after suffering a concussion in the season opener. Bogut received stitches for a laceration above his right eye after the opener.
COOL HAND LUKE
Walton said one of his hardest tasks is focusing on winning while staying smart with his distribution of playing time.
Walton had one situation in the third quarter where he was forced to substitute for Curry, who had just picked up his fourth foul. Curry made a quick plea to stay in the game.
"I knew I had no shot," Curry said with a smile. "I would've said the same thing to Steve and might have gotten to the bench quicker."
PRACTICING HALVES
Walton let the Warriors conclude practice on Thursday with a fun exercise he said he did in his playing days with the Los Angeles Lakers under Phil Jackson. Each player is required to make a shot from behind the midcourt line before the practice can end. When Walton asked Kerr if it was all right, Kerr said Jackson ran the same drill when he was a player in Chicago.
"It was fun, and the guys enjoyed it," Walton said. "They had a lot of fun, but even after, all the guys stayed around and got some extra work in, so it was good."
IN ATTENDANCE
Former Rockets Steve Francis and Tracy McGrady were at the game, as well as cornerback Kevin Johnson and left tackle Duane Brown of the Houston Texans. ... Harden's rumored girlfriend, Khloe Kardashian, was not spotted at the game after attending the season opener.
UP NEXT
Warriors: Golden State visits New Orleans on Saturday in a rematch of its 111-95 season-opening win.
Rockets: Houston visits Miami on Sunday, looking to avoid its first 0-3 start in five years.
---
---