Thaddeus Young
Thaddeus Young
Celtics-Nets Preview
Published
Jan. 3, 2016 3:36 p.m. ET

It may have taken the Brooklyn Nets one blowout loss to figure it out, but they've spent the past two meetings with Boston taking advantage of a major size advantage.
After losing Jarrett Jack to a season-ending knee injury, the Nets will likely keep feeding Brook Lopez inside Monday night when they try to sweep this home-and-home set and take the series from the visiting Celtics for the third time in four seasons.
Lopez, Brooklyn's 7-foot center, wasn't much of a factor in the first matchup Nov. 20, finishing with 14 points while attempting just nine shots in a 120-95 loss at Boston. The Celtics (18-15) start 6-9 Jared Sullinger in the middle but outscored the Nets 68-40 in the paint during their best shooting performance (58.6) in two seasons.
Brooklyn, however, made an adjustment two nights later when Lopez led the way with 23 points and 10 rebounds while shooting 20 times in a 111-101 home win. The team finished with a 49-35 advantage on the boards and a 50-32 scoring edge in the paint.
The Nets (10-23) stuck to a similar game plan in Saturday's 100-97 road win as Lopez dominated inside with a season-high 30 points on 11-of-24 shooting with 13 rebounds.
"I did my best to make the right play every time, realizing that, and just tried to read the double teams," said Lopez, who has averaged 26.7 points and 13.3 rebounds over his last three games.
Boston's frustration seemed to boil over in the second half when Sullinger had a flagrant foul on Lopez. Jack yelled something at Sullinger and both Jack and the Celtics' Jae Crowder got technicals.
Thaddeus Young had 16 points and 10 boards for his third double-double in as many meetings. Joe Johnson added 20 points after averaging 8.1 on 30.1 percent shooting in his previous nine games.
Jack, who had played a key role in the November home win with 22 points, suffered a torn right ACL as well as a torn meniscus Saturday and will miss the rest of the season.
The news isn't as bad for Boston's Avery Bradley, who left the game with a left hip contusion. Bradley, whose status is uncertain, totaled 48 points and eight 3-pointers in the first two matchups.
The Celtics are also hoping to regroup offensively as they try to avoid their second three-game losing streak in the past three weeks. They shot just 38.6 percent and made less than 26 percent from beyond the arc (7 for 32) for the fourth time in five games.
Isaiah Thomas, who averages a team-high 20.9 points, finished with 24 but missed seven of nine 3s, while Crowder scored 16 while going 2 for 6 from long range. Thomas has been slumping from beyond the arc, making just 4 of 21 over his last four games.
"I've got to hold guys accountable at a better level," said coach Brad Stevens, whose club also lost to the Western Conference-worst Los Angeles Lakers on Wednesday. "We're not playing as well as we think we are, so we've got to be better."
The Nets, who haven't won consecutive games since Dec. 8 and 10, took three of four in this series both in 2012-13 and '13-14.
---
---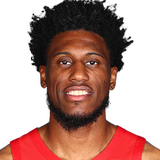 Get more from Thaddeus Young
Follow your favorites to get information about games, news and more
---