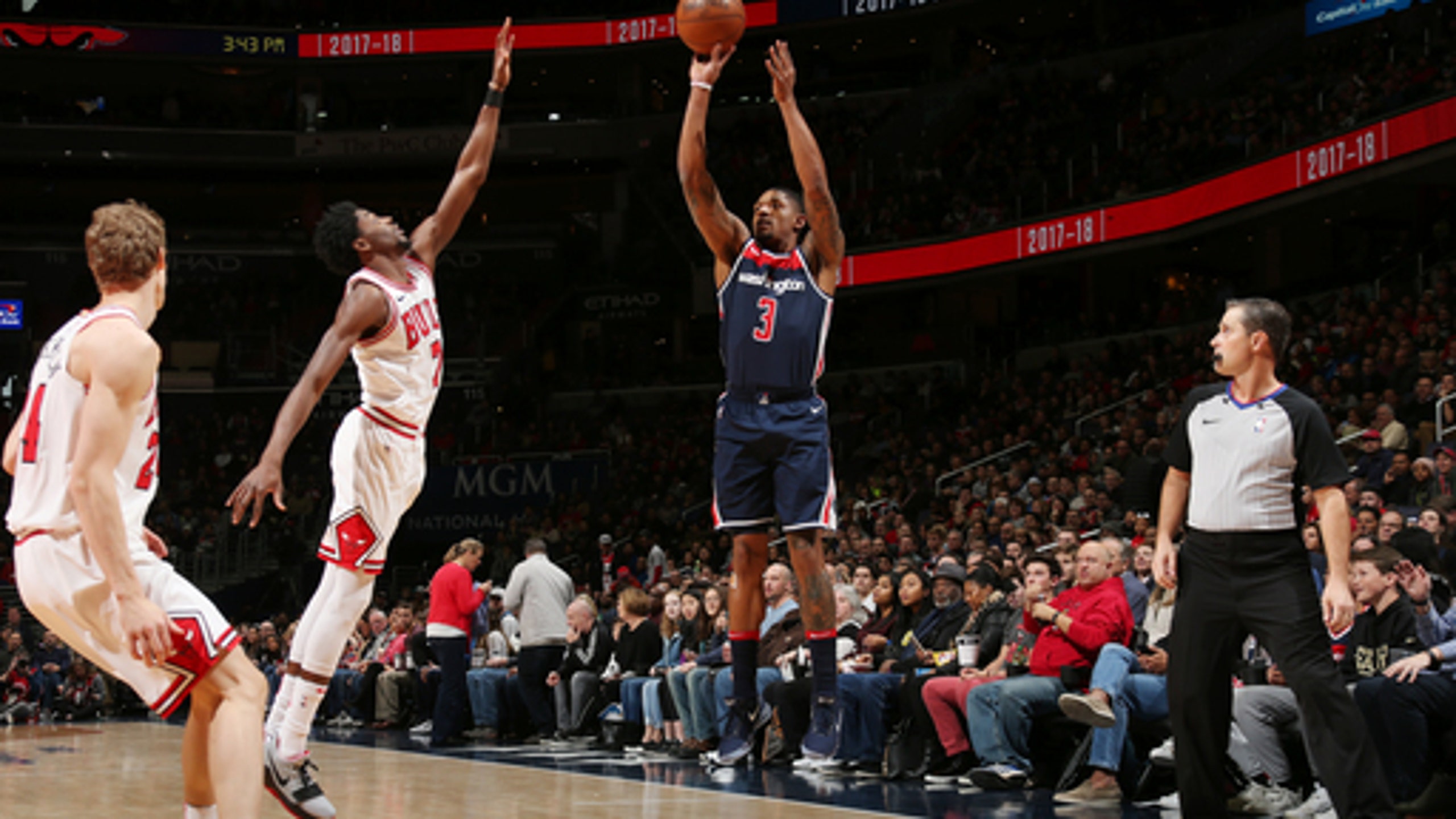 Beal's 39 points lead Wizards to 114-110 win over Bulls (Dec 31, 2017)
BY AP • December 31, 2017
WASHINGTON (AP) Bradley Beal delivered when the Wizards needed him most.
Beal scored 17 of his 39 points in the fourth quarter to lead Washington to a 114-110 win over the Chicago Bulls on Sunday.
Beal scored 15 straight points in the fourth as the Wizards rallied from an eight-point deficit early in the period. He also had nine rebounds and tied a career high with nine assists.
''I didn't even know that,'' Beal said when asked about his spurt. ''That's just being in the zone, being locked in.''
Beal became the second player this year to have at least 39 points, nine rebounds and nine assists. Oklahoma City's Russell Westbrook had 40 points, 14 rebounds and nine assists on Dec. 29.
Beal has shown signs of taking his game to a new level this season. When backcourt mate John Wall was out with a knee injury, Beal had a career-high 51 points at Portland on Dec. 5, a night after the Wizards suffered a 47-point loss at Utah.
''He's able to stay aggressive and still be hot and also make the right reads at the right times,'' Wall said.
Bulls coach Fred Hoiberg said it was frustrating trying to defend Beal.
''We were trying to get it out of his hands there for a stretch,'' Hoiberg said. ''But they did a good job finding him, seeking him out.''
Nikola Mirotic scored 21 points to lead Chicago, which had won 10 of its previous 12. Kris Dunn had 19 points and 11 assists.
David Nwaba's two free throws with 1:26 to play gave Chicago a 108-107 lead, and Dunn hit a jumper with 54 seconds remaining.
Wall's three-point play with 29.4 seconds left put the Wizards up 112-110. After Beal missed two free throws, Washington got the rebound and Wall added two free throws with 9.1 seconds to play.
Wall had 21 points, nine assists, six rebounds and four blocked shots.
The difference was 3-point shooting. Washington was 16 for 36 (44.4 percent) while Chicago was 8 for 35 (22.9 percent). The Bulls missed 17 of 20 3-point attempts in the first half.
TIP-INS
Bulls: Dunn returned after missing a game with left patella tendinitis. ... G Zach LaVine, who has yet to play this season following left knee surgery, is rehabbing for the next few days with G-League Windy City. Hoiberg said LaVine is essentially starting training camp. ''If he does well through this stretch, we'll all get in a room and put a plan together as far as when we want to see him back on the floor,'' Hoiberg said.
Wizards: F Mike Scott returned after missing a game following the birth of his daughter. Scott scored 17 points. F Markieff Morris had a season-high 11 rebounds. Washington is now 10-10 against sub-.500 teams.
BEAL AN ALL-STAR?
Beal has never been an All-Star in his five NBA seasons, and coach Scott Brooks thinks he's deserving of the honor.
''Brad's an All-Star. I thought he was an All-Star last year,'' Brooks said. ''If you win games and you play for each other, the individual awards come. If you focus on that, you focus on the wrong things. I've talked to Brad many times, and he's not one time mentioned All-Star to me.''
DON'T SELL BULLS SHORT
Mirotic thinks many Bulls fans should believe in the team's recent improvement.
''I don't know what's going on with people. I don't know if they want us to lose,'' Mirotic said. ''Or if everybody is thinking, `OK, they're going to start losing, everything is going to be like before.' No.''
UP NEXT
Bulls: Host the Portland Trail Blazers on Monday.
Wizards: Host the New York Knicks on Wednesday.
---
More NBA basketball: https://apnews.com/tag/NBAbasketball
---
---