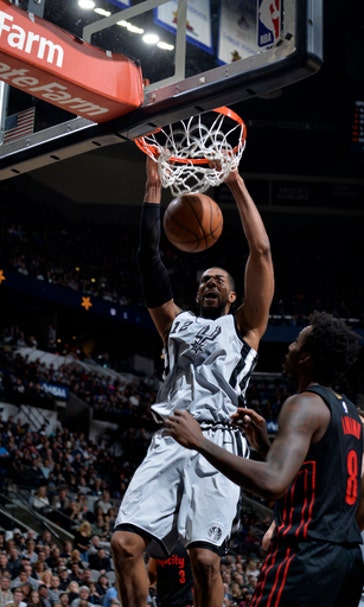 Aldridge helps Spurs escape Lillard, Blazers, 116-105
April 8, 2018
SAN ANTONIO (AP) The San Antonio Spurs know what they have to do to win this season, and they have a slim margin for error.
LaMarcus Aldridge scored 28 points to help the Spurs beat Damian Lillard and the Portland Trail Blazers 116-105 on Saturday night.
''It's been shown in the last month that when we don't have the aggression and the determination, we're not winning,'' San Antonio veteran Manu Ginobili said. ''Years before, we had enough talent and corporate knowledge to be able to bounce back. Even if we struggled for 40 minutes, we could execute and figure it out because of the way we knew each other. Now, it's not the same.''
The Spurs (46-34) snapped a two-game losing streak. They have the same record as New Orleans and Oklahoma City, but are sandwiched between the two in sixth place based on tiebreakers. Utah is one-half game ahead of all three in fourth place.
San Antonio, which has been without injured star Kawhi Leonard for all but nine games this season, can clinch a playoff spot with a victory over visiting Sacramento on Monday.
Portland (48-32) dropped its third consecutive game and missed out on an opportunity to secure home-court advantage in the first round. Lillard had 33 points for the Trail Blazers, and Evan Turner finished with 18.
''We knew that we were going to come across teams that are fighting for their playoff lives,'' Lillard said. ''No game is going to be easy.''
Former All-Star teammates Aldridge and Lillard dueled on a night when both teams shot well from the field.
Lillard was 11 for 22, including 6 for 12 from beyond the arc. He returned after missing one game with an injured left ankle.
Aldridge made his first five shots, including a left-handed runner he seemed to throw up to rebound against the smaller double-team on him. He finished 13 for 22.
Ginobili gave San Antonio a needed boost, scoring 17 points on 7-for-7 shooting.
''I was feeling that type of rush and that type of excitement flow,'' Ginobili said.
The 40-year-old Ginobili had back-to-back 3-pointers followed by a right-handed layup against Al-Farouq Aminu to turn a four-point game into a 101-89 lead.
''That's why he's a Hall of Famer, he hasn't really lost a step,'' Trail Blazers guard CJ McCollum said. ''His shot's still good. He's still able to get to that left hand, and even tonight he finished two right-hand shots that are pretty high degree of difficulty, one scoop in the lane and another scoop going out of bounds.''
McCollum finished with 17 points for Portland.
Dejounte Murray finished with 17 points and 10 rebounds for San Antonio.
TIP-INS
Trail Blazers: Turner departed in the final minute with a cut along his right brow caused by an inadvertent blow by Murray on a rebound. . Jusuf Nurkic, who had 12 points and 12 rebounds, received a technical foul with 36.4 seconds left in the first half. Nurkic was yelling at official Curtis Blair for a foul assessed to him on a drive by Murray. ... Maurice Harkless missed his seventh straight game with an injured left knee. ... Ed Davis missed his fourth straight game due to an injured right ankle.
Spurs: Pau Gasol played in his 1,194th career game, moving past Alex English for 42nd in league history. ... Danny Green was assessed his first technical foul of the season with 10:40 remaining in the first half. After missing a layup, Green began jumping and clapping his hands angrily because no foul was called on Meyers Leonard. ... The Spurs hold an 84-82 lead against the Trail Blazers in their overall series.
UP NEXT
Trail Blazers: Visit Denver on Monday night.
Spurs: Host Sacramento on Monday night.
STILL GOOD
McCollum said Portland is still in great position.
''We're good,'' McCollum said. ''If you had told me that we have 48 wins and have two games left and a chance to finish in third place, I would have told you I'll take it. Considering where we're at, there's no excuses for injuries and stuff like that, but I feel like we're heading in the right direction heading to the playoffs. We should be fully healthy or close to fully healthy and I think that will make a difference.''
The Trail Blazers close the season against Denver and Utah.
NAP POWER
Ginobili has said he plays best when he can take a nap on game day and he made sure to take one Saturday.
''I even slept nine hours last night, so I was very juicy,'' Ginobili said.
---
---