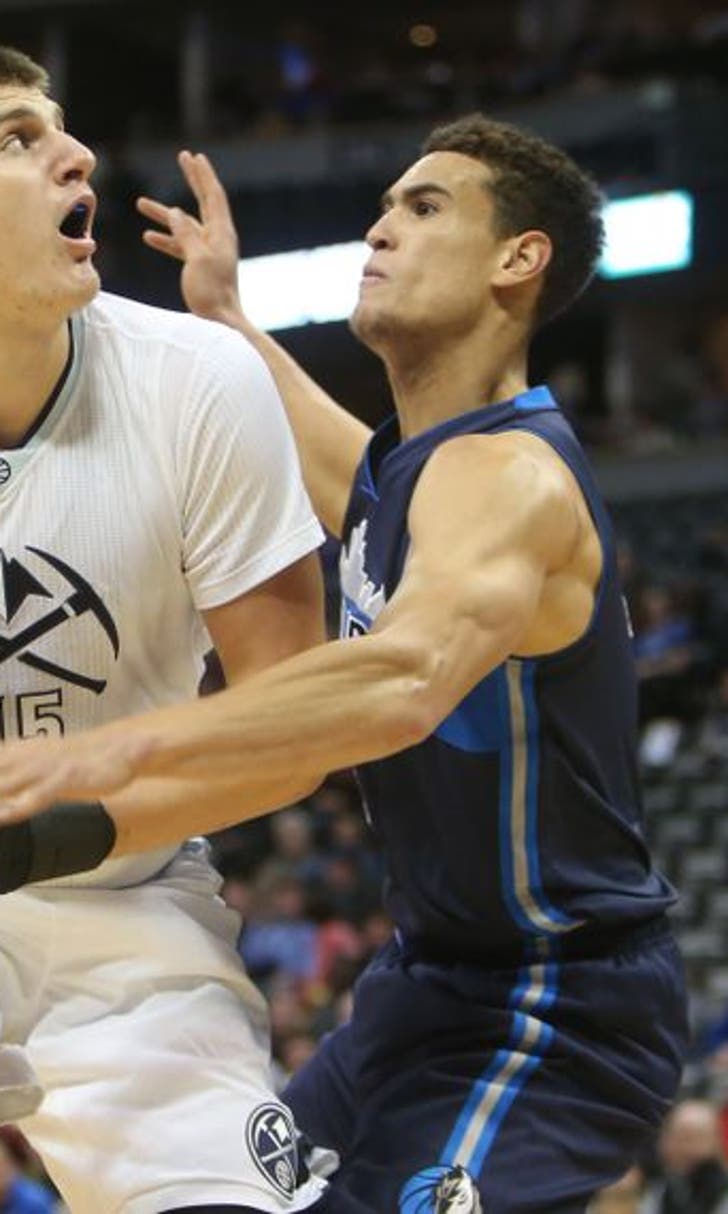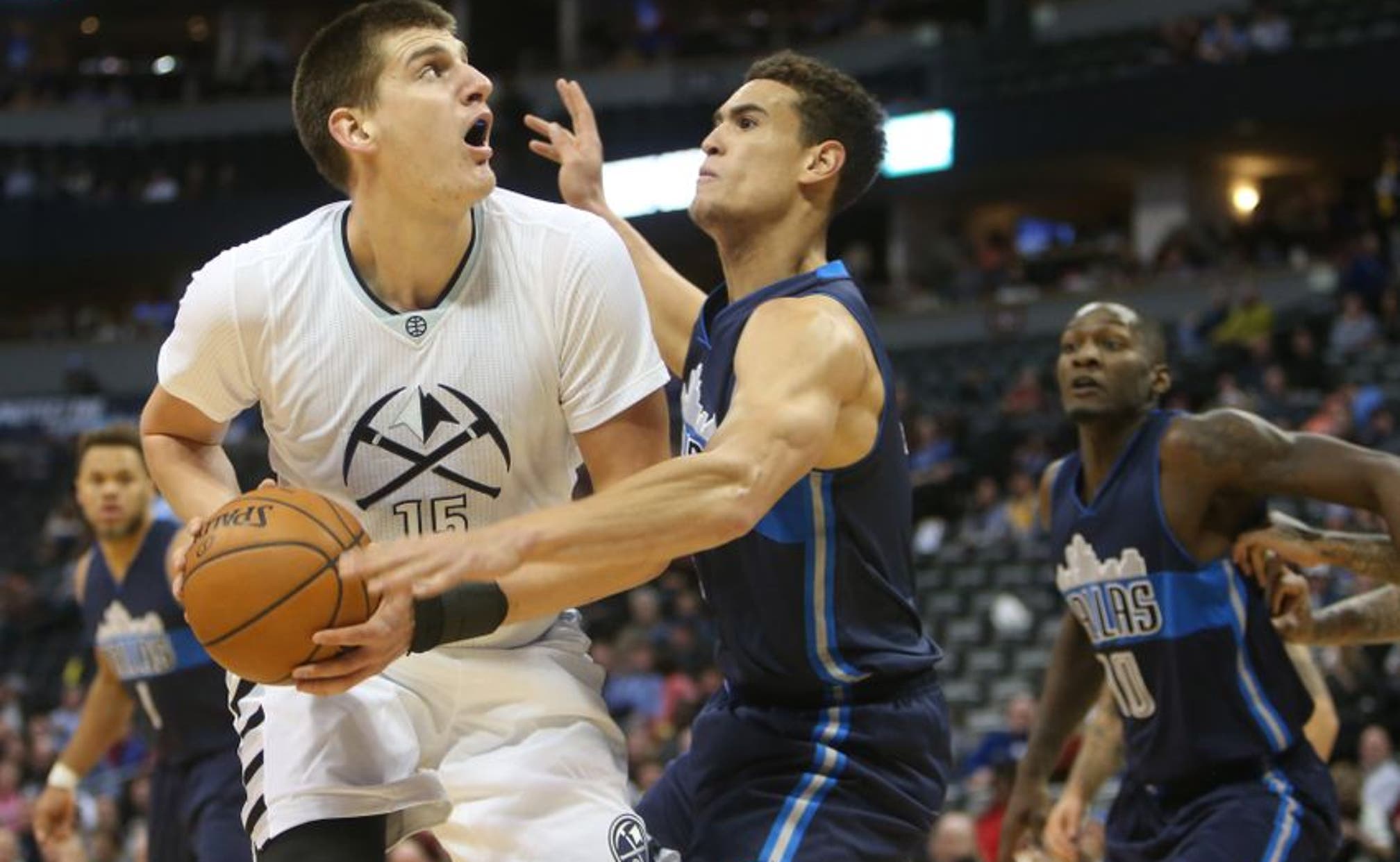 A Denver Nuggets Christmas Wish List for the 2016-17 Season
BY Fansided and Kyle Standfield/FanSided via Nugg Love • December 22, 2016
Dec 19, 2016; Denver, CO, USA; Dallas Mavericks guard J.J. Barea (5) looks to pass the ball during the first half against the Dallas Mavericks at Pepsi Center. Mandatory Credit: Chris Humphreys-USA TODAY Sports
It's the most wonderful time of the year, so you can't blame us for wanting a few things for the Denver Nuggets.
Christmas trees have been picked out, houses are glittering with beautiful colored lights, ugly sweaters are being worn, families are playing in the snow, Mariah Carey's "All I Want for Christmas is You" is rocketing back up the charts (okay that one isn't so good), stockings are being stuffed, the smell of gingerbread is in the air and most importantly… ALL IN THE WORLD OF SPORT IS HAPPENING!!
The race to make the NFL playoffs is about to reach its spectacular crescendo, college bowl games are taking place, NHL players are doing things on skates that us mere mortals can't do in regular sneakers, the NBA is about to unleash its crazy good Christmas day schedule upon us, and, if you're Australian like me, the cricket season just kicked off. (Go Melbourne Renegades!)
More from Nugg Love
For sports driven madmen like myself, our Christmas wish list probably consists of things like; A new surround sound system so good you can hear Peyton Manning yelling "OMAHA! OMAHA!" from where ever he is these days, a signed Hank Aaron bat, the shoes Michael Jordan was wearing when he made "The Last Shot," or, a day hanging out with Conor McGregor.
Now, I'm probably not going to get these things, but its exciting to wildly dream about what's currently wrapped up under my family Christmas tree.
I'm sure many devoted Denver Nuggets fans have Christmas wishes based around our beloved Mile High basketball crew. Your wish may be more playing time for Jamal Murray, new uniforms for the players, or to be undefeated the rest of the season at home.
While some of my following wishes on my Nuggets based Christmas list may be a bit silly, it's still incredibly fun to talk about.
And it's the silly season, after all.
Dec 19, 2016; Denver, CO, USA; Denver Nuggets forward Nikola Jokic (15) shoots the ball as Dallas Mavericks forward Dwight Powell (7) defends during the first half at Pepsi Center. Mandatory Credit: Chris Humphreys-USA TODAY Sports
Nikola Jokic commits to Denver for life.
Imagine waking up on Christmas morning to find that Nikola Jokic has committed to playing for the Denver Nuggets his entire career. At just 21-years of age, Jokic is already one of the most talented big men in the league. His recent 29 point, 15 rebound, 9 assist game against the Mavericks is testament to that.
nuggets
Nugg Love 1 wDenver Nuggets: What It Means To Win in the Mile High
More headlines around FanSided:
8w - Denver Nuggets: DFS Picks for the Season Opener against the Pelicans11w - Denver Nuggets Fantasy: Implications From Preseason Opener11w - Emmanuel Mudiay: Analyzing the Art of Passing14w - Denver Nuggets: Will Malik Beasley Sadly Only Get Insurance Minutes?14w - Top 5 Denver Nuggets with Any Fantasy Basketball ValueMore News at Nugg Love

If Jokic is doing that at age 21, what will he be doing at age 26? Will he be putting up those type of numbers on a regular basis?
With Carmelo Anthony's recent visit to Denver, Nuggets fans were reminded of the fact that while an organization may draft and develop a young prospect into a fully grown professional, that doesn't mean that player has an obligation to stay.
It would be heart wrenching to see the Nuggets franchise develop Jokic into a bona-fide All-Star only for him to flee for another team. Jokic certainly doesn't seem like the type of person to do that, and it appears that he is happy in Denver, but a commitment for life would be so reassuring.
While we are discussing the great man from Serbia, how about we wish for a triple-double from the basketball gods?
Dec 15, 2016; Denver, CO, USA; Denver Nuggets guard Jamal Murray (27) drives to the basket against Portland Trail Blazers guard C.J. McCollum (3) during the first half at Pepsi Center. Mandatory Credit: Chris Humphreys-USA TODAY Sports
Jamal Murray in the 3-point shootout.
I mean, Murray will be in New Orleans for the Rising Stars challenge at All-Star Weekend anyway, the league may as well put the rook' in there. Imagine our boy Jamal representing the Nuggets against the likes of Steph Curry, James Harden, J.J. Reddick and Klay Thompson.
As of December 22, Murray has made 45 three pointers on 36% shooting from downtown. These numbers are respectable, but don't absolutely jump off the page at you. However, when you consider Murray didn't make a basket until his fifth NBA game, those stats become more impressive.
Really though, if you or the league are deciding whether not Murray deserves a spot in the shootout, all you have to do is watch him shoot.
Murray's jumper is so, so pretty.
It would be a gift to not only Nuggets fans, but basketball fans in general if he was to be added to the shootout.
Oct 29, 2016; Denver, CO, USA; Portland Trail Blazers forward Maurice Harkless (4) and Denver Nuggets forward Kenneth Faried (35) battle for position in the fourth quarter at the Pepsi Center. The Trail Blazers won 115-113 in overtime. Mandatory Credit: Isaiah J. Downing-USA TODAY Sports
The return of the rainbow skyline jersey
I may be biased as I'm a lifelong Nuggets fan, but the rainbow skyline logo and uniforms worn by Denver between 1981-1993 are the greatest thing ever created, ever.
The color scheme is just beautiful. It perfectly encapsulated the era and the Denver skyline emblazoned amongst the shades of blue and yellow with the Rocky mountains placed in the background was, and still is, perfection.
Want your voice heard? Join the Nugg Love team!
As part of Dikembe Mutombo's jersey retirement night, the Nuggets wore the traditional rainbow skyline jerseys and boy, they looked as sweet as a Nikola Jokic no-look pass.
The Nuggets currently have their 'Gold Rush' alternative jerseys in which features the skyline, and while they are great jerseys, its time to fully commit to the rainbow.
Dec 19, 2016; Denver, CO, USA; Denver Nuggets guard Gary Harris (14) shoots the ball behind Dallas Mavericks guard J.J. Barea (5) during the first half at Pepsi Center. Mandatory Credit: Chris Humphreys-USA TODAY Sports
The Pepsi Center sells out, Nuggets go undefeated at home and Rocky makes all the half court shots.
Okay, so I'm kind of cheating with this one by combining three wishes into one, but I was always told to dream big.
The Nuggets are currently ranked dead last in terms of attendance at home games this season, managing to pull in just 13,479 on average as of December 22. By comparison, other small market teams such as the Jazz, Trailblazers and Thunder average over 18,000 per home game.
Denver has, and probably always will be, a football town. And that's okay. I love the Denver Broncos as much as the next Colorado sports fan. The Broncos are a way of life in Denver. How incredible would it be however, if the Pepsi Center was packed out with the same enthusiasm and energy fans show at Broncos home games?
The Nuggets have a lot of young talent, and deserve to be playing in front of raucous crowds.
Speaking of home games, member when the Nuggets were blowing just about everybody out at home? Yeah, I member. (South Park reference!) The Nuggets took care of business during their recent three game home stand, however bad losses to the Heat and Trailblazers (when up 8 with under a minute left) earlier this season leaves a sour taste in fans' mouth.
Denver has a great advantage with the altitude here. If the Nuggets can start taking advantage at home, the playoffs are well and truly in reach.
Lastly, on the topic of home games, how good is Rocky? The super mascot has been getting Nuggets fans pumped up for over two decades now and his signature no-look, over-the-head shot from half court has always been a treat to watch. When Rocky does make it, which, is actually more times than not, the crowd goes absolutely bonkers.
Imagine if Rocky went on a 41 game streak of making that shot?One can wish.
Dec 20, 2016; Los Angeles, CA, USA; Denver Nuggets guard Jameer Nelson (1) reacts during the third quarter against the Los Angeles Clippers at Staples Center. The Los Angeles Clippers won 119-102. Mandatory Credit: Kelvin Kuo-USA TODAY Sports
Rapid fire wishes!
The thing about this Christmas wishes exercise, is that I could go on forever.
However, I'm aware we all have stockings to hang, carols to sing and awkward family conversations to partake in so, let me fire off some quick, rapid fire Nuggets Christmas wishes.
All that's not too much to ask, is it?
Merry Christmas Nuggets nation.
---
---