NASCAR Craftsman Truck Series
NASCAR Craftsman Truck Series
Former jackman Jeff Hammond breaks down who's responsible on pit stops
Published
Jun. 12, 2017 2:25 p.m. ET

One thing that has been puzzling me is we had a situation  that developed at Dover with both a NASCAR Camping World Truck Series team and a Monster Energy NASCAR Cup Series team having pit stops where the execution of the stops were so bungled that a wheel literally came off each vehicle as it exited pit road.

And NASCAR, based on how their rules are set up, reacted and penalized the teams because it is a safety violation.

When you think about the danger a wheel coming off on pit road creates — possibly hitting a crewmen or a fan on pit road — these wheel-and-tire assemblies will do a lot of damage it they hit something.

So I understand the safety issue.

I also understand when you're making an example out of this, the buck stops with the crew chief. Everybody understands that. No argument there.

But when you look at the people they penalized along with the crew chief — the tire changer and the tire carrier —  my contention is, one of them may be responsible, but the other one is just a bystander at that point in time.

If the tire carrier puts the tire up on the hub like he's supposed to, he's executed his job. He can't help any more than that.

Now the tire changer, you spend a lot of money on him, and he practices a lot. It's his job to execute it.

But, oh, by the way, being a former jackman, I'm not going after jackmen, but I'm telling you, in my day, I was the quarterback. I started the pit stop, I ended the pit stop. If the lug nuts weren't tight, it was my responsibility.

If I dropped the jack too quickly on the right side, we've got a loose wheel. And if I drop it too soon on the left side, my driver may leave with no lug nuts on there.

So if I'm not paying attention and I'm not executing properly as far as that jack goes, then it's my fault.

The jackman is one guy getting by with a free pass, who should be sitting out and thinking about his responsibility in dropping the jack too soon and giving the driver the signal to leave before the wheel was attached.

The jackman is responsible as far as being on pit road.

The crew chief is responsible for the jackman he hired and trained to execute the pit stop, and the tire changer is also responsible, since he attaches the wheel to the hub.

But I think in all fairness, of all the people involved in a pit stop, the tire carrier is the least responsible in all this.


---
---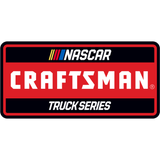 Get more from NASCAR Craftsman Truck Series
Follow your favorites to get information about games, news and more
---