Denny Hamlin's hood flies up, damages car in second Indy practice
Published
Jul. 24, 2015 3:30 p.m. ET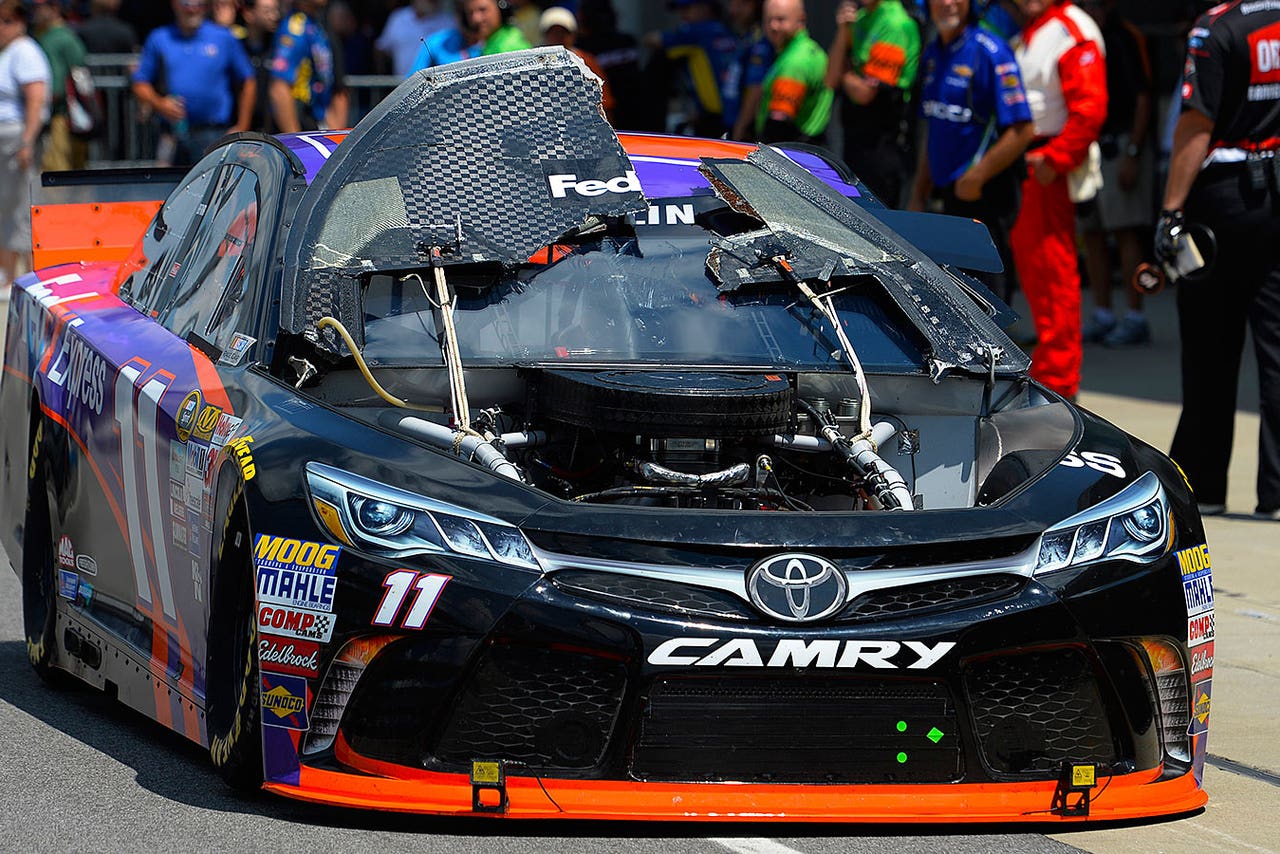 After pacing the opening NASCAR Sprint Cup practice session at Indianapolis Motor Speedway on Friday morning, Joe Gibbs Racing's Denny Hamlin was looking for big things in the second practice of the day.
However, in the opening minutes of the session, Hamlin's hood flew up while on the track, destroying the hood, as well as damaging the windshield and roof of the No. 11 Toyota.
Instead of taking part of the much-needed practice session, Hamlin was forced to stand in the garage and watch his JGR crew members thrash replacing the hood, banging out the damage to the roof and finally installing a new windshield.
The culprit? Hood pins that were not secured before Hamlin hit the track. Luckily for Hamlin, the hood broke apart when it hit the windshield, allowing him to see his way back to the garage.
Hamlin said he was initially surprised when the hood flew up, but quickly focused his attention on the damage done to the car.
"We had a really fast car the first practice, so trying to figure out if we could still run the car again," Hamlin said. "Obviously this isn't a problem that used to happen, but nowadays with everything so fragile, any kind of dent in the car affects it aerodynamically. We have it fixed up and I think we are still going to be all right."
While the team was able to quickly replace the hood and windshield, the primary area of concern was the roof, which was heavily damaged from the contact with the hood.
"The roof is what we're most concerned about," he said. "It blew the roof apart a lot and did some damage inside the car. It's just a lot of force there that tears up a lot of stuff anytime the hood comes up."
Hamlin was able to get back on track before the end of the second practice, running a total of six laps and posting the 12th fastest lap of the session. 
---
---