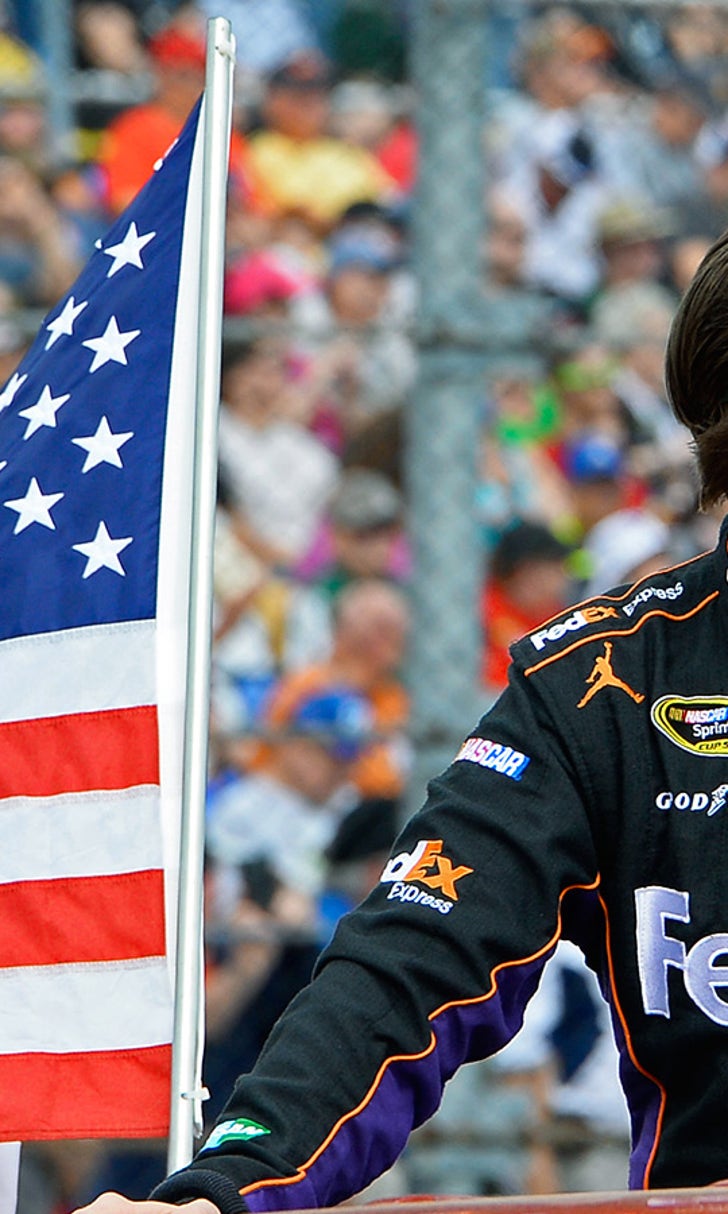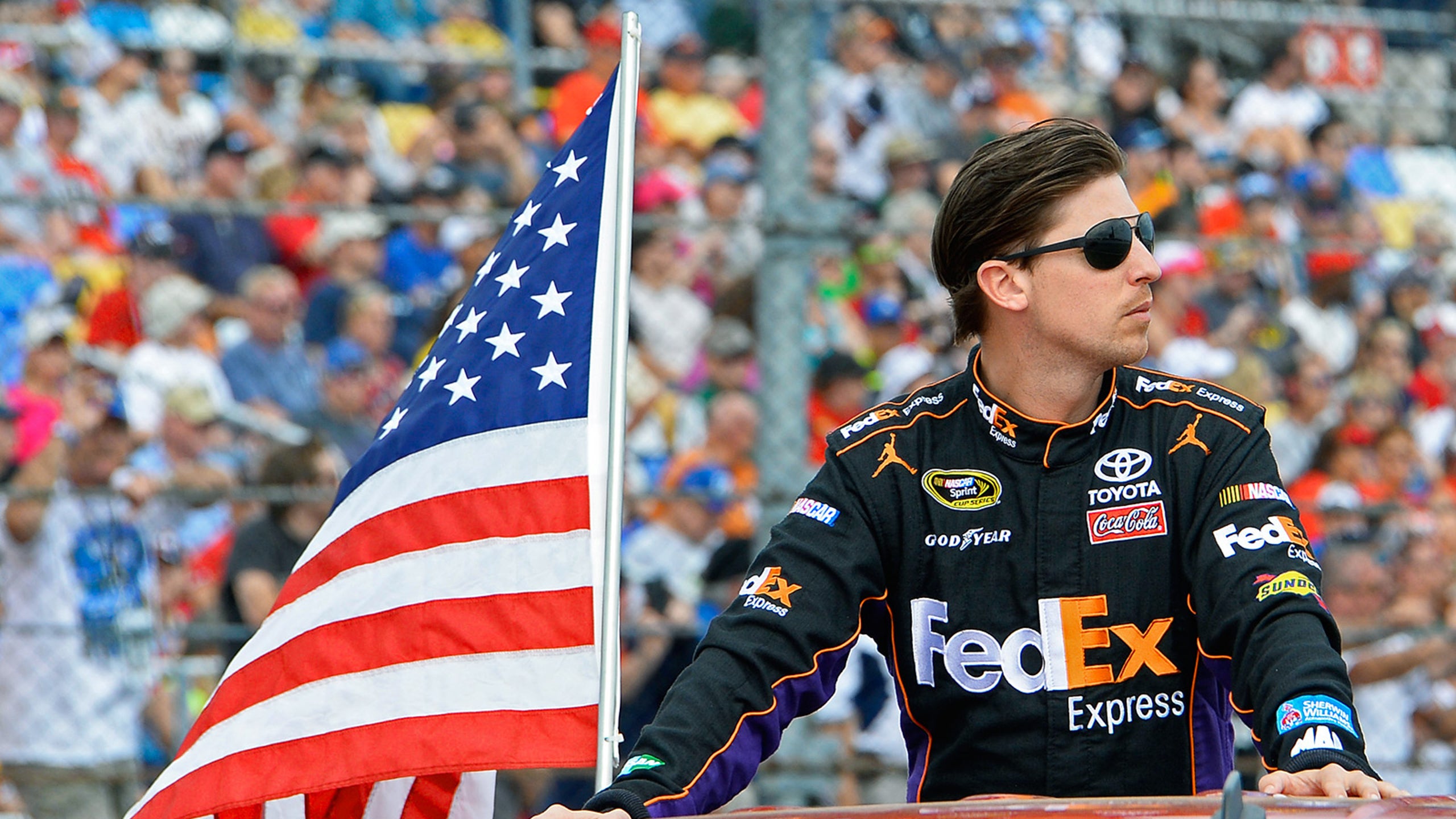 Bittersweet defeat: Runner-up brings mixed emotions for Hamlin
BY foxsports • February 24, 2014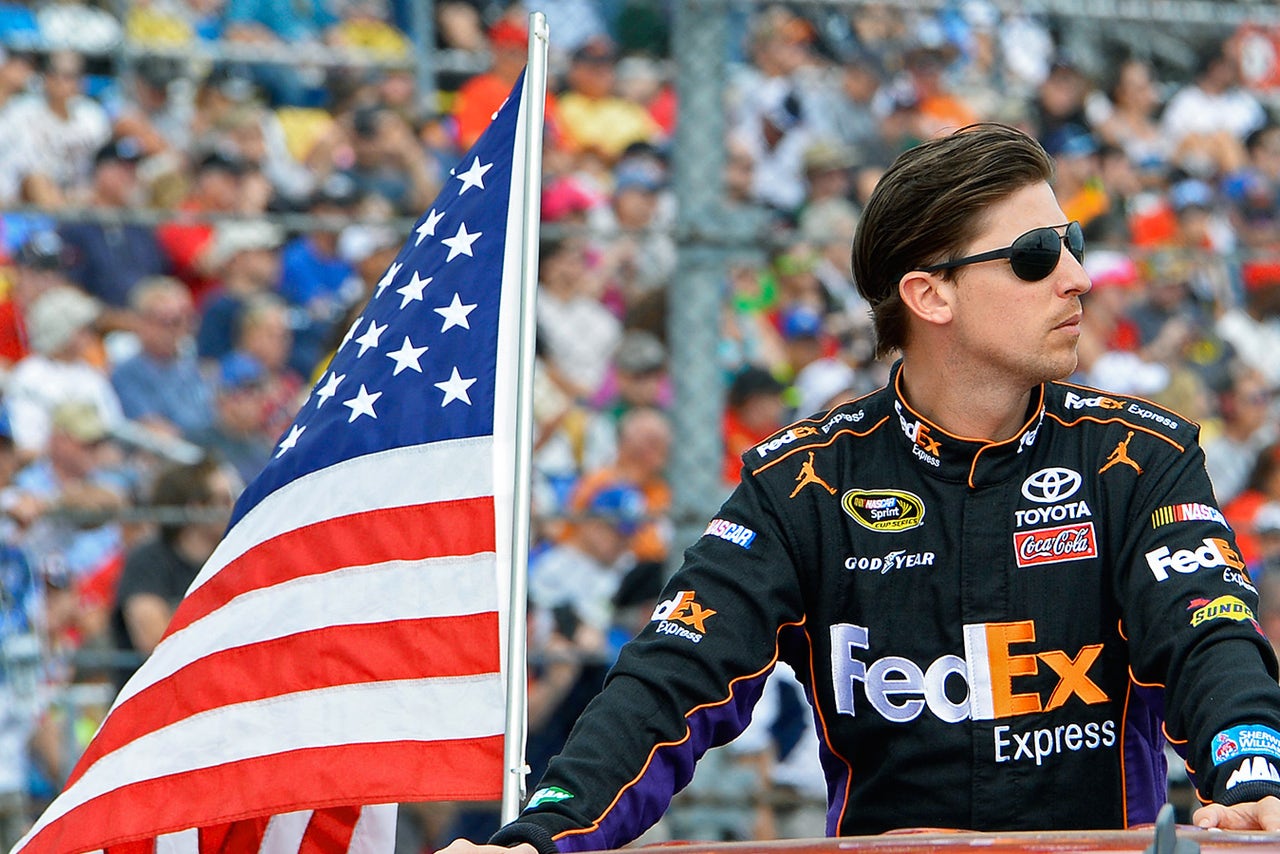 Denny Hamlin finished second to Dale Earnhardt Jr. in the Daytona 500, despite radio silence from his spotter on Sunday.
During the 6-hour, 21-minute rain delay, Hamlin's radio became wet and his communication with spotter Chris Lambert was intermittent over the final 154 laps.
For Hamlin, the action became particularly dicey after a seven-car wreck triggered by Austin Dillon on Lap 194 set up the end game for a green-white-checkered finish.
"Our radios weren't working after we went back green after the rain, so just had to wing it on my own really for the most part after we went back," Hamlin said. "If I cut anyone off, I'm sorry. . . . I had to wing it those last 150 laps on my own.
"With not having a spotter there on the last green-white-checkered, I didn't know whether to back up more. They give us vital information for you to get runs, so that's why we kind of lost our luster after we came back after the rain. It was just me trying not to wreck anyone, trying not to get into any trouble, trying to spot all six corners by myself."
Brad Keselowski, Jeff Gordon and Jimmie Johnson rounded out the top five finishers. However, Hamlin described the closing laps as "intense," particularly trying to navigate in and out of the front 20 cars sans spotter.
"Everyone was content not to run the top line, which was good," Hamlin said. "I thought for sure we'd wreck more cars, but still that was a great race for the fans. It was a great race, from my standpoint. It was just so hard to pass."
As strong as Hamlin was earlier in Speedweeks -- winning both the Sprint Unlimited and the second Budweiser Duel -- it was clear the No. 11 FedEx Toyota would be a contender in the Daytona 500. However, as the week progressed, Hamlin felt the competition caught up with the Joe Gibbs Racing Toyotas.
"I think our performance declined a little bit as Speedweeks went on by a little bit," Hamlin said. "I think the competition got a little bit better and worked on their cars. But, I mean, this is a tough business. You're out there with twice the amount of cars of what you were earlier in the week.
"Our car, I thought, was OK. Given the right circumstances, it was a race winner. But we were just stuck in the position we were in."
Still, Hamlin led 16 laps -- 10 before the stoppage and six after the race resumed. Plus, he was one of the fortunate drivers who left Daytona International Speedway in one piece -- as well as second in the points standings heading into Phoenix International Raceway next weekend.
Hamlin's second-place finish was his third top-five on the 2.5-mile speedway and his best career effort in his ninth Great American Race.
"I feel good," Hamlin said. "It was a solid run for us. We didn't have the speed that we had before the rain came. . . . For some reason, whether guys picked up their intensity, it was tougher to pass out there. Once the 88 (Earnhardt) sat out front, you can kind of block your way to a victory as long as nothing crazy happens.
"It was well played by those guys, and really it was a fun race."
---
---