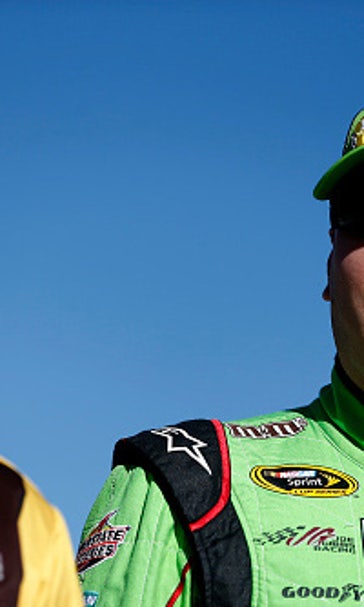 Adam Stevens, Kyle Busch crew chief, suspended for one race
May 11, 2016

Kyle Busch won last Saturday night's Sprint Cup race at Kansas Speedway, but on Wednesday NASCAR revealed that the victory came at a cost.
Crew chief Adam Stevens has been fined $20,000 and suspended through May 18, meaning he will be sidelined for this weekend's Dover race. Joe Gibbs Racing stated that it does not plan to appeal the penalties.
The fine and suspension come as the result of an apparent violation of NASCAR's new policy regarding all five lug nuts to be on all four wheels of a competitor's race car at all times -- although it's unclear to some extent because NASCAR no longer issues specific information to the public about its penalties.
In addition to Stevens' penalties, the No. 18 Joe Gibbs Racing Toyota team's front-tire changer, Josh Leslie, also was suspended for this weekend's race at Dover.
According to published reports, NASCAR said Stevens and Leslie violated one rule concerning lug nuts and another that dealt with "parts that are designed to fail their intended use."
Both Stevens and Leslie also were placed on probation through Dec. 31.
The No. 18 was penalized under sections 12:1 (actions detrimental to stock car racing), 10.11.3 (pit-road equipment) and 12.5.3.4.1 (which outlines the P3-level penalty) of the NASCAR Rule Book.

Busch started sixth and finished first at Kansas for his series-high third win of the season. The defending Sprint Cup champion also is the current series points leader.
In additon to the penalties handed out to Stevens and Leslie, NASCAR issued written warnings to the No. 43 team of driver Aric Almirola and the No. 78 team of driver Martin Truex Jr. (for failing pre-qualifying laser inspection twice); and to the following teams for failing pre-race qualifying template inspection twice each: Almirola's No. 43 team, the No. 48 team of driver Jimmie Johnson, the No. 47 team of driver AJ Allmendinger, and the No. 7 team of driver Regan Smith.
---
---