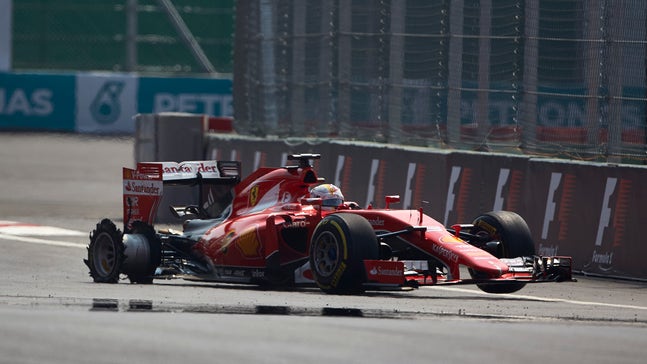 F1: Ferrari would like to put difficult weekend in Mexico behind them
Published
Nov. 2, 2015 1:13 p.m. ET

Ferrari endured one of its worst races in Mexico, when both Sebastian Vettel and Kimi Raikkonen were eliminated in accidents - leaving the team with no points.
Vettel received a puncture in a first corner clash with Infiniti Red Bull's Daniel Ricciardo, and later had a spin before crashing out. Raikkonen collided with William's Valtteri Bottas for the second time in two races.
"During the course of this season, we touched the sky," said team boss Maurizio Arrivabene. "Today, we touched the bottom.
"This is a good lesson for all of us, preparing ourselves and the character of the team for next year. I don't want to blame Kimi one way, I don't want to blame Seb [Vettel] in the other way. I mean, we don't have to make excuses, and they don't have to make excuses - we are a team."
Arrivabene also feels the incident between Raikkonen and Bottas was the product of a typical racing situation.
"They are racing accidents," said Arrivabene. "I mean, in Russia it happened, it happened here - this is Formula 1.
"The most important thing is that nobody was injured - this is the most important thing for safety. I don't want to blame anybody."
On the plus side, the red cars of Ferrari did show some strength, even if it wasn't up to Mercedes' form.
"The race pace was very, very good today," said Arrivabene. "I was watching the timing, and the pace was very good.                                                  
"We were a bit concerned about the weather, because if it was raining for us, it was potentially a problem. But, I was happy with the pace."
---
---