Trevor Bauer
Trevor Bauer
Trevor Bauer on recent struggles: 'I don't know, so stop asking me'
Published
Aug. 14, 2015 11:31 a.m. ET

What's eating Trevor Bauer?
He doesn't know.
The Indians starter was roughed up by the Yankees Thursday night, yielding six runs off of seven hits, including two home runs in 3 1/3 innings -- his shortest outing of the season.
For Bauer, his struggles have become a trend in recent weeks. In his last seven outings, he's 2-4 with a 5.40 ERA, giving up 42 and 26 earned runs in 43 1/3 innings pitched.
After the game, Bauer was hit with questions from reporters about his poor performance and he wasn't exactly cooperative in answering them.
Here's part of the transcript of his postgame press conference, from TJ Zuppe of CBS Cleveland:
What was Mickey Callaway's message during your first-inning meeting?
"We were just talking about the guy at second base, making sure we were on the same page with the catcher, stuff like that."

What happened on the next pitch to Brian McCann?
"Guy hit a home run."

Is there a common theme which has led to the increased home run totals?

[Long pause]

"Nope."

[Long pause]

"You can ask me, keep asking me about it, but that's the answer -- I don't know. I'll figure it out at some point, but right now, I don't know, so it doesn't make any sense to keep asking me about it. I thought the team did a really good job today battling back, so write about that. Write about the guys that went out and scored runs on a tough pitcher and were down really big early and battled and play well. Write about that. Don't ask me about giving up home runs and personal stuff when it doesn't matter. I gave up six. Who cares how they scored? We lost.
Bauer's frustrations are understandable, especially considering the overall success the team has had this past week. When you're the guy responsible for snapping your team's winning streak, it's hard to keep emotions in check.
But hopefully, for Bauer, he can regroup and turn things around both on and off the mound. He's only 24 years old, so he still has plenty of time to figure it out.
(h/t CBS Cleveland)

---
---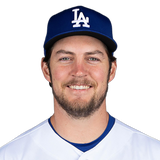 Get more from Trevor Bauer
Follow your favorites to get information about games, news and more
---