Chris Sale
Chris Sale
Tigers' Verlander to face rival Sale of Red Sox (Jun 10, 2017)
Published
Jun. 10, 2017 4:18 a.m. ET

BOSTON -- Former American League Central Division rivals Justin Verlander and Chris Sale face each other for the sixth time in Saturday night's second game of a three-game series between the Detroit Tigers and Boston Red Sox.
The Tigers have won all five previous meetings between their ace, Verlander, and Sale -- four of them when Sale was with the Chicago White Sox and the other April 10 of this season. Detroit has given Verlander twice as much support than either the White Sox or Red Sox have provided for Sale in the five games.
Verlander, who left his previous start with right groin tightness, is 2-0 with a 1.46 ERA in the five games, while Sale is 0-2 with a 2.78 against the Tigers, a right-handed power team that is facing three lefties this weekend.
Verlander left his last start last Sunday as a precaution but threw 33 pitches in a bullpen session Thursday and was cleared for Saturday's start after reporting no after-effects Friday.
"The morning after, I was a little concerned but it started getting better very quickly," Verlander said Friday. "I've always been a quick healer."
He said he will wear compression shots to support his leg, adding, "I'm confident -- the last thing I want to do is put the bullpen in jeopardy. After 12 years, you get smarter about things and you're able to slow things down."
The right-hander, 4-4 with a 4.63 ERA this season, is 5-5 with a 2.77 lifetime ERA against the Red Sox and 3-3 with a 3.36 at Fenway Park. But he is 2-1 with an 0.82 ERA in his last five starts against Boston.
Sale, who will try to give the Red Sox two straight wins in the series (they rallied from three runs down to win Friday night), has won six straight to go to 7-2 with his new team. He is 8-8 with a 3.01 ERA lifetime in 30 games, 20 of them starts against the Tigers.
After a rough first inning, marred by some shaky defense, in his last start at Baltimore, Sale settled down and worked six innings.
He leads the majors with 119 strikeouts and a 12.75 strikeout per nine innings ratio. He has lost only once this season in his new home ballpark and felt right at home from his first start.
"He felt the energy of this ballpark," manager John Farrell said Friday. "It was invigorating to him."
As far as the way Sale pitches, the manager said, "You love the aggressive nature. You love the quick pace. Certainly everyone loves the stuff. I think there's been enough examples in the early part of the season where ... whether it's the first inning down in Baltimore where he's got to really dig deep to get through it and finds a way to get you into the second inning. I think that's the testament to a very good pitcher."
On April 10, Sale struck out 10 and allowed two runs over 7 2/3 innings, taking the loss. Verlander allowed three hits and an unearned run in his seven innings (no-decision) as the Tigers rallied in the eighth for the victory.
The current Red Sox are hitting a combined .187 with no homers and 10 RBIs in 139 career at-bats against Verlander. Mitch Moreland leads the way with a 9-for-27 (.333) but he has nine strikeouts. Mookie Betts is 0-for-12, Dustin Pedroia 3-for-25 (.120) and Hanley Ramirez 2-for-10 (.200).
The current Tigers have had some success against Sale, led by Victor Martinez's 21-for-49 (.429) batting performance with four homers and nine RBIs, Jose Iglesias' 9-for-29 (.310) mark and Ian Kinsler's three homers.
---
---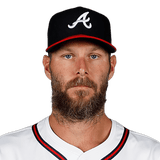 Get more from Chris Sale
Follow your favorites to get information about games, news and more
---