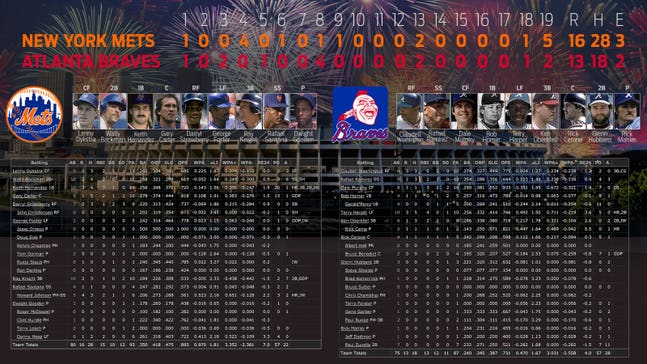 Thirty years ago in Atlanta, a baseball marathon led to fireworks going off at 4 a.m.
Published
Jul. 2, 2015 8:00 a.m. ET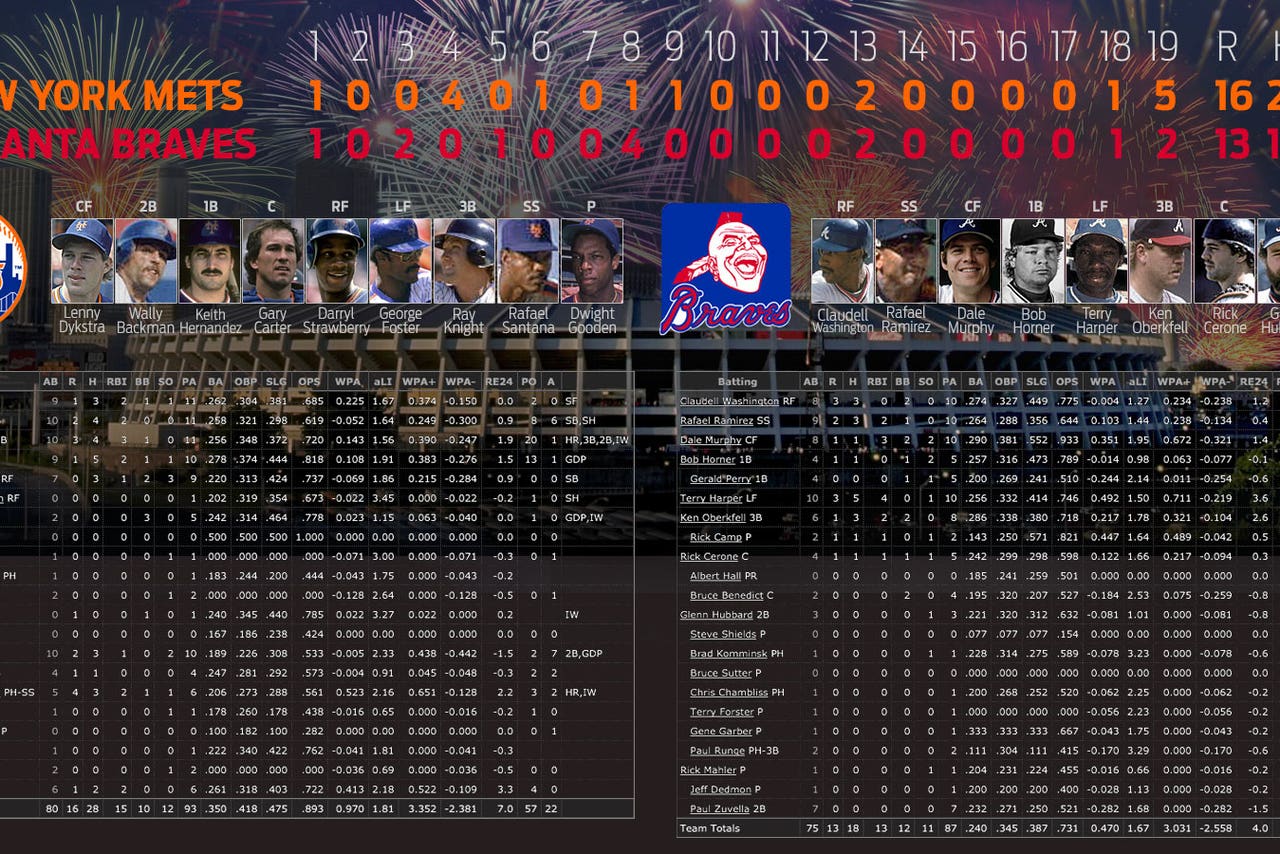 Over the course of the 2,430 regular-season games in a Major League Baseball season, there are going to be long games and weird games and long, weird games. In the history of the sport, there has perhaps never been a game that was both as long and as weird as the one played between the Atlanta Braves and New York Mets 30 years ago this week.
On July 4, 1985, the National League rivals convened at Fulton County Stadium in Atlanta for the fifth of 12 meetings between the teams that season, and by all accounts, most expected it to come and go like the first four, three of which were won by the Mets.
Little did the sellout crowd that packed "The Launching Pad" know, the game wouldn't end until well into July 5 -- at 3:55 a.m., to be exact, the latest finish in history by more than a half-hour at the time -- and would feature a little bit of everything for those who stuck around long enough to see it, all the way down to a 4 a.m. postgame fireworks show that had locals calling the police terrified that the city was under attack.
"It was just one of those weird, weird nights," said Dale Murphy, the Braves' starting center fielder and one of nine players between the clubs to play all 19 innings in a 16-13 Mets win that saw a total of 43 players take the field. "It was one of those nights where, after you're done, you kind of looked around and said, 'What just happened?' "
Of the 44,947 who entered the stadium that Thursday evening, there weren't more than a few thousand, at most, who stuck around until the end. But if you were to ask around today, there are probably countless fans across Atlanta who claim they did.
Those fans would probably be more than happy to tell you about the two hours' worth of rain delays, including 1 hour and 24 minutes that pushed Rick Mahler's first pitch back until 9:04 p.m. ET and left the outfield littered with deep, ball-stopping puddles, and then 41 more minutes of rain in the bottom of the third inning that chased eventual Cy Young Award winner Dwight Gooden.
They'd also probably mention the hits (46) and walks (22), the runners left on base (37), errors (five), ejections (two, both coming just before 3 a.m.), Davey Johnson's protest, Keith Hernandez's cycle, Jesse Orosco's meltdown and the Braves' two game-tying homers in extra innings -- both off the same pitcher, five innings apart, with the latter coming off the bat of a veteran reliever with a career batting average of .060 when he hit it.
Simply put, the game had it all, a night at the ballpark that no one had experienced before, one that will probably never be repeated and one that no one who witnessed it will forget.
"(At the end of the game), you were so tired, but yet you're so wired, so alive, because this game was surreal," said Record sportswriter Bob Klapisch, who covered the game as a second-year Mets beat writer for the New York Post. "There's no other word to describe how that game went. You could play that game a million times and it wouldn't ever happen that way again."
-----
An Independence Day tilt is usually enough, on its own, to fill a stadium, but this one was particularly packed because of the Mets' starting pitcher, Gooden. The reigning National League Rookie of the Year, Gooden was a draw in every park he visited, and he generally didn't disappoint.
In '85, Gooden went 24-4 with a 1.53 ERA en route to the NL Cy Young, making him the only pitcher in the live-ball era to win 24 games with an ERA under 1.70. Of Gooden's 35 starts, 16 were complete games and eight were shutouts. While he'd given up five runs and taken the loss in his only career start against Atlanta to that point (in July 1984), few expected a repeat performance.
Gooden taking the mound was something of a surprise that night, as Johnson, the Mets manager, shuffled the rotation and pitched him on three days' rest for the first time in his career in an effort to squeeze three starts out of his ace before the All-Star break. However, in a bit of good fortune for the Braves, Gooden never got a chance to find his rhythm before rain ended his night early.
After the pregame delay, the Mets scored when Gary Carter drove in Keith Hernandez with a single in the top of the first. Atlanta responded with a run in the bottom of the inning, as Claudell Washington led the frame off with a triple, then scored on a Rafael Ramirez groundout. Gooden, who warmed up twice during the initial delay, continued to struggle, walking three of the next four batters to load the bases with two outs, but escaped the jam by forcing a Rick Cerone groundout to end the threat.
From that point, Gooden looked more like the Gooden everyone showed up expecting to see, but when rain stopped the game again with one on and one out in the bottom of the third, Johnson had a decision to make.
"I'm sure we were all hoping that Davey would take (Gooden) out and not send him back out there, because I only remember one guy on our club, (Chris) Chambliss, really having success against Doc his first few seasons," Murphy said. "It was not a fun at-bat against Doc in those years."
Given that Gooden was already at 49 pitches and had been cold, once again, for nearly an hour, Johnson ultimately made the call to go to his bullpen.
"Dwight, in '85, was almost unhittable," Mets pitcher Ron Darling said. "It was one of the greatest years any pitcher has ever had. So that was one of the few wasted starts for him that season, and it makes sense, in that game, that the Cy Young Award winner, in the best season that he ever had in his career, gets knocked out in the third inning."
"I know (Gooden) could probably do it, I know he wanted to do it," Johnson explained to the New York Times at the time. "I could see the disappointment in his face, but in my heart I just couldn't take the chance."
Once the skies cleared, the Mets returned to the soggy field with Roger McDowell on the hill, marking the second of just seven times in McDowell's career that he entered a game as a reliever in the third inning or earlier. It didn't go well, either, as McDowell allowed a leadoff single to Terry Harper and a two-run double to the next batter, Ken Oberkfell, to give the Braves a 3-1 lead.
It's possible that Johnson was trying to limit the damage in the third with the anticipation that more rain could halt the game after the fifth and make the score official. And it's almost certain that Johnson did not intend to throw McDowell for two-thirds of an inning.
In fact, the Mets actually played the game under protest after crew chief Terry Tata ruled that McDowell had officially entered the game when he came onto the field to inspect the mound after the delay, telling Johnson that he would not be allowed to utilize a double-switch that would have kept McDowell from having to hit in the top of the fourth.
The showers never returned, and the decision to burn McDowell early -- however accidental or controversial -- left the Mets without their best starter or best reliever and would later come back to haunt.
"It was weird that he'd throw Roger there," said Mets third baseman Ray Knight, now a television analyst for the Nationals. "That's one of the things that was strange to me, because he was our right-handed closer, with Jesse being the left-handed closer. When you do that, you've got your best right-handed arm out of the game in the third inning."
Unlike Johnson, Braves skipper Eddie Haas stuck with his starter despite the rain delay, but Haas' faith in Mahler was not rewarded, either, as Mahler gave up singles to two of the first three batters in the top of the fourth. Haas then called upon Jeff Dedmon to clean up the mess, but Dedmon gave up an RBI single to Wally Backman, a two-run triple to Keith Hernandez and another RBI single to Carter, as the Mets took a 5-3 lead.
In the bottom of the fourth, Terry Leach came on to pitch for McDowell, who had been pinch-hit for by Clint Hurdle in the top of the frame and Leach pitched effectively, allowing one run on four hits over the next four innings. After a Darryl Strawberry RBI single in the sixth and a Hernandez solo homer in the top of the eighth, Leach left the game with a 7-4 lead and the ball in Orosco's hands.
"I was doing a lot of long and middle relief, so it was not unusual for me to come in in that spot," Leach said. "We were doing OK, so as long as I was shutting down the middle part of the game, everything was going to be good.
"I remember I had the win when I came out, so I was pretty happy and thought I was in pretty good shape. Davey told me he wanted Jesse to be able to get some work in because Jesse had not pitched in several days. So I said that was fine because Jesse very seldom had a bad game. It just turned out to be one of those games where he couldn't get on track."
Oberkfell led off the bottom of the eighth with a single, and after a passed ball and a walk, the Braves had runners on first and second with no outs. Orosco responded by striking out pinch hitter Brad Komminsk and coaxing a flyout out of Paul Zuvella, who came on in a double-switch in the top of the sixth, but Orosco then walked Washington to load the bases.
"A three-run lead is not comfortable in the seventh inning," Hernandez said. "It's nice to have it, but anything could happen. Usually with Jesse and Roger, things were pretty much under control, but (Orosco) just didn't get it done that night. If you give me a five or six-run lead in the seventh, OK, I'll relax, but not with a three-run lead."
Orosco then walked Ramirez to force in a run that cut the lead to 7-5. At that point, Johnson had seen enough, but since McDowell had long since hit the showers, the manager called upon Doug Sisk to get out of the jam. The move did not pay off, as Sisk allowed a bases-clearing double to his first batter, Murphy.
"It's just one of those days," Murphy said. "And I know people say it all the time, but it's true -- there's just that quirky nature of baseball where you can always see something that's never been done before, never been seen before."
"Hitters start getting in these feeding frenzies," Leach added. "They're like sharks. It's hard to stop them, and a game will go from being good to very bad really quick."
Like most things in that game, however, the excitement was short-lived.
In the top of the ninth, Bruce Sutter allowed an RBI single to Lenny Dykstra, Sutter's sixth of 12 blown saves that year, and the Mets tied the game at 8-8. Two batters later, Hernandez had a chance to win it with runners on first and third and two outs, but Hernandez, who at that point was just a single shy of the cycle, flew out to left.
"Once we scored four runs off Jesse Orosco, we probably thought we would win the game," Oberkfell said. "But unfortunately, it wasn't meant to be."
The 10th and 11th innings passed by rather harmlessly, as neither team was able to plate a run, but in the top of the 12th, with Terry Forster on the mound for the Braves, Hernandez hit a single to complete the only cycle of his career, and the fourth in Mets history at the time. Now a Mets broadcaster, Hernandez remembers the cycle not for what it was, but what it could have been.
"It's nice, but I should have had it in regulation time," Hernandez said. "I got the final single in extra innings. I remember in (the sixth inning), Terry Tata blew a call in the outfield. Dale Murphy made a diving catch that he dropped, but (Tata) didn't see him drop it. If there would have been challenges back then, it would have been overturned and I would have had another hit."
In any case, the base knock wasn't enough to spark a rally for the Mets, and after Sisk shut down the Braves bats in the bottom of the 12th, the teams entered the 13th still knotted at 8-8.
Then things really got strange.
-----
Forster largely kept the Mets in check after entering the game in the 10th, allowing a walk and the single to Hernandez in his first three innings of work.
The veteran lefty didn't appear to have lost his groove to start the 13th, either, striking out Strawberry and retiring pinch hitter Kelvin Chapman on a popup to shortstop to start the inning. But with two outs, Knight managed a single, bringing power-hitting shortstop Howard Johnson up to bat.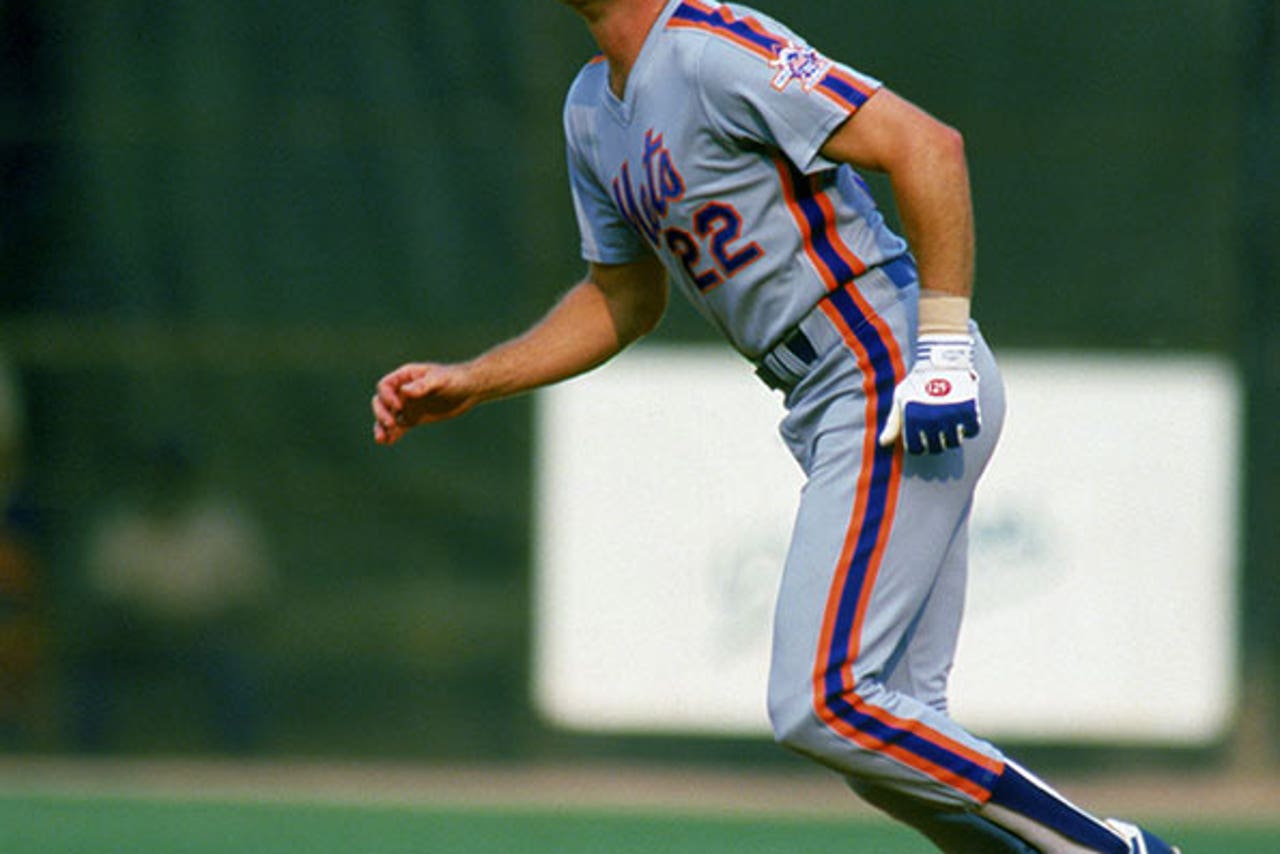 Ray Knight made the most of being a night owl.

"Once you get to the 11th, 12th, 13th inning, it's almost like you're just up there trying to hit the ball out of the park," Knight said. "I think that's part of the reason we couldn't do much offensively. Everybody is trying to end it with one swing.
"I was 0 for 6 before 2 a.m. and 3 for 4 after 2 a.m," Knight added. "I've always been a night owl, so I guess that's what I needed, and at that point, we thought that if anybody scored it would be over. So, just being on base, I thought we certainly had a chance to win that game."
Previously, in the 11th, Forster had gotten Johnson to ground out to short in the first meeting between the two, but Johnson would get the better of him the second time around, blasting a two-run home run to give the Mets a 10-8 lead.
From there, it was a matter of the Mets putting a bow on the game in the bottom of the 13th, but once again, Johnson was without his regular closer -- or anyone else in the bullpen, for that matter, after using four other relievers in the game -- so it was Tom Gorman, known during his playing days as Gorfax, who got the call to come in.
"Vern Hoscheit was our bullpen manager, and Verne was about 65," Gorman said. "When the phone rang, I looked at him and said, 'Well, Verne, it's either you or me.' So there weren't many options left."
Gorman's first career save opportunity did not go according to plan.
"It was probably 1:30 or so, and then I go out and give up a hit, but then strike (Murphy and Gerald Perry) out, like, bam-bam," Gorman said. "Then I've got two strikes on Harper and he hits one down the line -- hits it good, too -- and it hits the foul pole screen to tie it up."
"He was throwing me a lot of off-speed pitches, so I was kind of looking for something like that, and when I got the pitch, I was kind of sitting on it," said Harper, now a hitting instructor near Atlanta. "I was able to put a good swing on it, and when I hit it, I thought it was going to be foul, because it was hooking. But it just so happened that it hooked into the foul pole.
"When I first hit it, I said, 'Oh yeah,' but then when I watched it, I was thinking, 'Oh no.' "
'Oh no' was also a common thought in the Mets clubhouse, where some players had already started chowing down on their postgame meals.
"I was anticipating the game being over with, so I went in and started showering up and cleaning up, and back in the old days -- I don't know if they still have it or not -- they had beer in the clubhouse," Leach said. "So if you were out of the game, you'd have a beer. So I had a beer, and then had one in the ninth, and one in the 10th, one in the 11th. The game went so long I had to cut myself off.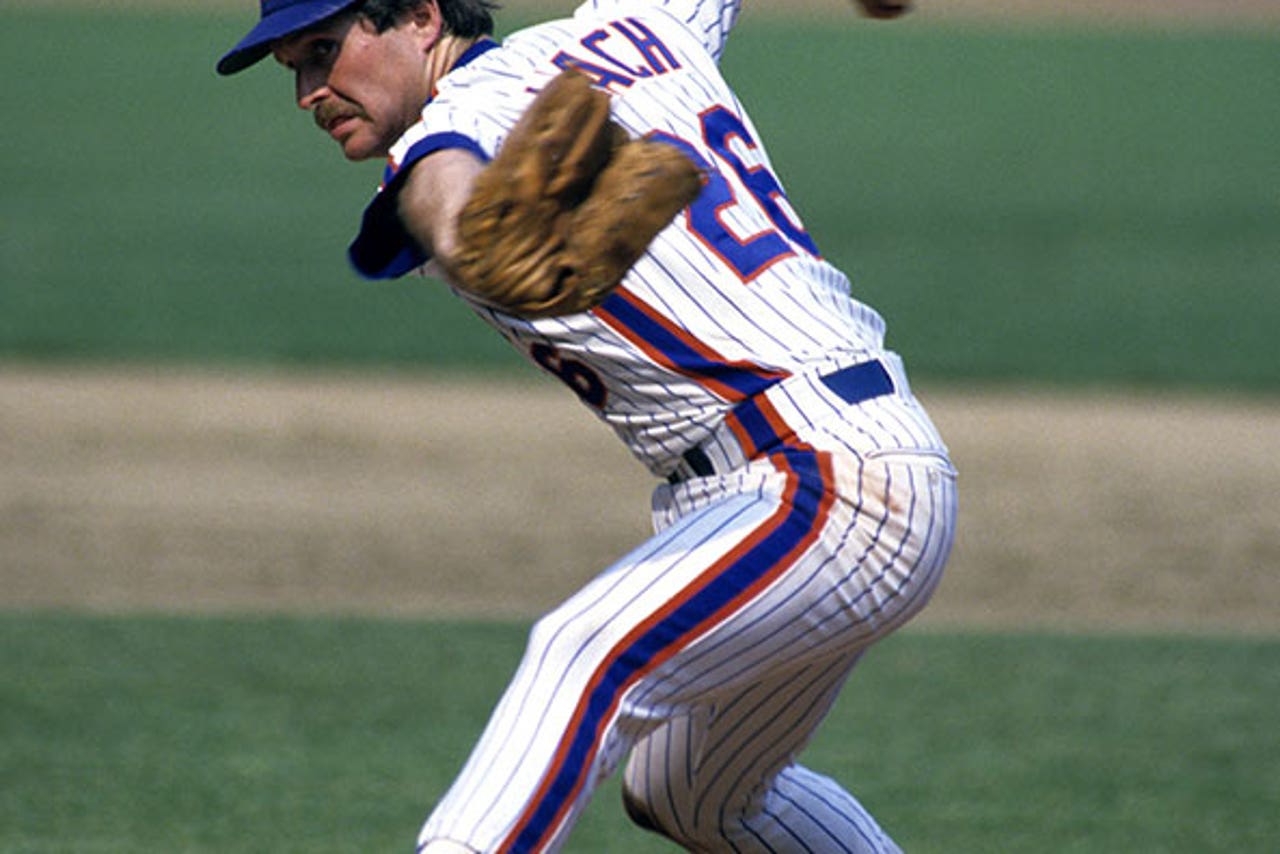 Terry Leach had to cut himself off in the clubhouse.
"When we'd get a lead, the clubhouse guys would bring in all the catered food, and then (the Braves would) tie it up and they'd have to take it all back out," Leach continued. "Then we'd get a lead again, they'd bring the food back in, and then they'd tie it back up and they'd take it back out again.
"They must have done it two or three times, and finally, after (Harper's home run), Davey happened to be coming through there and he told them just to keep it out of the clubhouse. He told them, 'Do not bring that back in here until the game is over.' He must have thought it was bad luck."
Little did they know, it would be several more innings before they could bring it back for good.
In the top of the 14th, Atlanta made another pitching change, bringing in Gene Garber. The right-hander came in well-rested after 12 days without an appearance, and it showed, as he started mowing down the Mets lineup. Over the next three innings, Garber and Gorman each only allowed one runner to reach scoring position.
"That year was the year that Bruce Sutter came to Atlanta, so I wasn't the No. 1 short reliever that year, and so I was always anxious to get any opportunity to pitch," Garber said. "I hadn't pitched in a while, but then, as it turned out, I ended up pitching two innings the next night and three (in a doubleheader) on Sunday, too. I don't even think a reliever can do that anymore. Now if a guy goes three innings, they give him a week off."
One of those runners was Oberkfell, in the bottom of the 16th, but pinch hitter Paul Runge was unable to drive him in
"To come off the bench that late, to get your first taste of the game in the 16th -- I'd waited a long time, and by then it was the wee hours of the morning," Runge said. "So to come in with runners on first and second and a chance to win it, that was what I wanted. I hit a decent fly ball to left field, but didn't get it all."
With Garber's job done, Haas made the switch to right-handed Georgia native Rick Camp in the top of the 17th. At that point, the game was starting to fray some nerves, and players on both sides were beginning to lose their cool.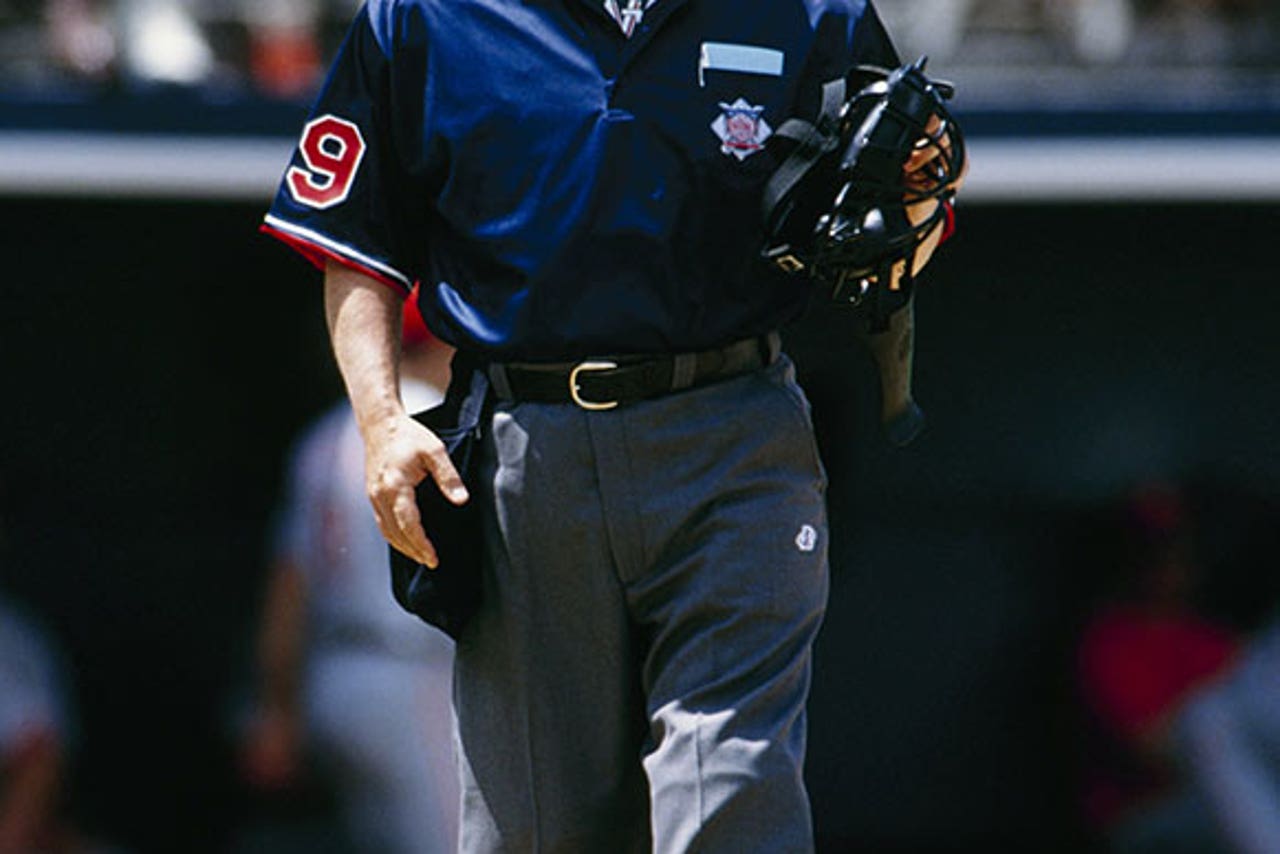 Hime plate ump Terry Tata tossed Darryl Strawberry and Davey Johnson.
After Carter led off the 17th with a single, Strawberry struck out looking, and immediately took issue with the call with the home-plate umpire, Tata. Tata then tossed Strawberry -- not an insignificant ejection in the 17th inning, with limited position players left on the bench -- then ran Johnson from the game when he came out to argue the call, as well.
"I was really hot, and I turned my hat around and got right in his kisser, and as I'm looking into the stands, they had a digital clock over the Braves dugout, embedded back into the stadium," said Tata, now retired and living in Connecticut. "The clock said 2:55, and I said to him, 'Davey, at 3:00, anything's a strike.' "
That brought up Gorman, owner of one hit in 12 career at-bats coming into the game, to try to get a one-out rally started.
"I was batting behind Strawberry in the lineup, for some reason," said Gorman, forced to hit for a second time because the Mets used their last bench outfielder, John Christensen, to replace Strawberry. "After all that, when I came up to the plate, I asked (Tata), 'Does that mean I have to swing at everything?' Terry had a couple choice words for me and then told me to get in the box."
Of course, at that time of night, Gorman wasn't even sure who he was facing.
"Garber was pitching before Camp, and they both had beards," said Gorman. "So I'm batting in like the 15th inning, and (Garber) gets me out, and then I come back up again in the 17th and I thought it was still Garber.
"So (Camp) strikes me out, and I go back to the dugout and I look at Hernandez, and I say, 'I'll tell you what, Garber is throwing gas this inning.' He stops me and goes, 'You stupid idiot, that's not Garber, that's Camp.' Things were a little fuzzy at 3:00, 4:00 in the morning."
In due time, however, everyone in the ballpark would know Camp's name.
-----
After pitching a scoreless 17th, Camp started to unravel in the top of the 18th before saving the game -- however temporarily -- a short time later.
Johnson, the Mets' savior from the 13th, led off with a single. A Camp throwing error on a Danny Heep sacrifice bunt put runners on first and third with no outs. Dykstra then hit a sac fly to center to score Johnson, and the Mets took an 11-10 lead.
Camp was able to get himself out of the jam on the mound and preserve the one-run deficit heading into the bottom of the 18th inning, but after Perry and Harper each grounded out, Camp suddenly found himself in a position where he'd have to redeem himself with his bat, which is not what anyone wanted.
"Rick Camp was thought of as the worst-hitting pitcher in baseball," said John Sterling, who called the first four-and-a-half innings on radio that night before doing the last 13½ on TBS, splitting the duties with Ernie Johnson Sr., Skip Caray and Pete Van Wieren. "Some time earlier, I'd quoted the great old Giants announcer Russ Hodges (on air), and I said, 'Russ Hodges would say that anyone's dangerous up there swinging the shillelagh.' Then Skip said, 'Well, he obviously hasn't seen Rick Camp.' "
Added Darling: "Rick Camp -- and I say this with affection -- was just not a good-hitting pitcher. He was probably among the five worst-hitting pitchers in the National League."
It wasn't just broadcasters or opponents who questioned Camp's skills with the bat, either.
"He was just not a very good hitter at all, and that might have been his first hit on the season," said the Atlanta second-baseman Zuvella, who finished 0 for 7, the only hitter from either team with more than three plate appearances to not reach base in the game. "You're down and he's up, and you just think, 'OK, we're done.' "
"We had exhausted everybody," added Runge. "All we had left on the bench was a couple of pitchers, and I don't think any of them would have been available to take Rick's place to pitch. I think it was (Steve) Bedrosian, Pascual Perez and Zane Smith. So we couldn't very well hit for Camp, even though some of those guys were probably better hitters."
Said the Braves' first-baseman, Perry, succinctly: "Rick Camp couldn't hit a lick."
And for the first two pitches of the at-bat, Camp held true to form, falling quickly into an 0-2 count while Carter waived the Mets outfield in to avoid a potential bloop single. Before Gorman's second strike, which Camp took, Sterling told his broadcast partner, "Ernie, if he hits a home run to tie this game, this game will be certified as absolutely the nuttiest in the history of baseball."
Then, disaster.
"Mel Stottlemyre comes out to the mound (with one out and an 0-2 count on Harper), and Mel goes, 'Fax, they've run out of pinch hitters and Camp's got to hit for himself,' " Gorman said. "I told him, 'Great,' and Keith was right there, and he said, 'Come on, Fax, let's get out of here, this is ridiculous.'
"So I get two quick strikes on him, you know, and if I had rolled it up there, Camp would have swung at it. But I hung a forkball, pretty much the same pitch Harper hit out, and it was right in his wheelhouse, and he crushed it. I knew it was gone once it hit the bat."
A bewildered Sterling could hardly contain himself as he made the call.
"He hits it to deep left, Heep goes back, and it's gone!" Sterling bellowed. "Holy cow, oh my goodness! I don't believe it! Rick Camp! Rick Camp! I don't believe it!
"Remember what I just said?" Sterling continued. "That certifies this game as the wackiest, wildest, most improbable game in history! On an 0-2 pitch, Rick Camp hit it over the left-center field wall. I don't believe it. If you only knew. On the Braves, we kid Rick Camp about his hitting more than anything.
"If you told me that John Sterling was going to run for president and win, that wouldn't be any more improbable," he later added. "The odds on that have to be a million to one. Ten million to one."
Even today, Sterling, the longtime radio voice of the Yankees, can't believe the hit.
"It's funny," he said. "With Hank Aaron and David Justice's home run (to ultimately clinch the 1995 World Series) and Chipper (Jones) had some big ones, Rick Camp is still responsible for one of the top five most memorable home runs in Braves history."
"(The reporters in the press box) were like screaming in agony and laughing," added Klapisch, the only reporter in the press box still writing on deadline when Camp came up to bat. "It was alternating between sheer panic, like you couldn't believe what was going on, and in some weird way appreciating that this is a once-in-a-lifetime phenomenon that would never happen again.
"We were sort of torn about it," he continued. "I mean, do we want this thing to end, or do we want to keep watching this incredible spectacle go on and on? We knew there was never going to be another game like it, and we were a part of history."
Meanwhile, in the Braves dugout, Camp reveled in the aftermath of the biggest hit of his career.
"Rick always talked like he was going to hit, but from what we saw over the years, he was the last guy you expected to hit a home run," Harper said. "(After the homer), he was talking so highly of himself. He said, 'Coach, you're going to have to start using me as a pinch hitter,' talking that kind of talk, and we were just laughing at him cutting up."
The Mets were equally stunned. Dykstra fell to the ground in center field as the ball went out and Heep, who watched Camp's homer sail right over his head, tossed his glove in the air.
"I remember, at that point, we were telling (Gorman), 'Don't worry about it, just throw the ball down the middle, let's get this thing going,'" said Heep, now the head baseball coach at Incarnate Word. "We were all playing a little shallow anyway, weren't doing much, and all of a sudden, oh my God, he hits this ball out.
"I don't even think anybody got the ball. It was just sitting there, and I just looked at it through the chain link fence and thought, 'Oh my God, this is never going to stop.' "
-----
As unfathomable as Camp's home run was, the thrill quickly wore off as Camp, exhausted, himself, gave up five runs in the top of the 19th and New York regained the lead at 16-11.
Carter started the inning with a single and Christensen, in the game in place of Strawberry, bunted him over to second. Rusty Staub drew an intentional walk pinch-hitting for Gorman -- "I had a very easy night," he told FOX Sports -- and Knight hit a double to the wall to score Carter and Staub.
"The winning run, I hit a ball over Claudell Washington's head in that 19th inning, and a lot of people, when we looked at the film, thought it looked like he almost short-armed the ball," Knight said. "It looked like he was going to catch it and he just didn't quite get to it, and there were a lot of people saying, 'Hey, he was just ready to go home.' "
The same may have been true at that point for Camp, who issued an intentional walk to Johnson to set up a force at any base before allowing a single to Heep that ended up clearing the bases after a Washington throwing error.
"I think (Camp) got tired and started throwing balls right down the middle just so we could get this thing over with," Heep said. "I got that base hit, and I don't think he threw a single curveball or changeup. Just fastballs right down the middle so we could get the heck out of there. He didn't want to go out and throw another six or seven innings, and we didn't want to stay. It was like, 'Let's just flip for it and start over tomorrow.' "
A Backman single ended up scoring Heep, and the Mets took a 16-11 lead into the bottom of the 19th after Hernandez grounded out to end the inning.
"I had a ball I should have killed and I hit a routine ground ball to second base," Hernandez said. "I saw the second baseman field it, I saw the throw was on line, and once the first baseman caught it, I just stopped running. It was the only time in my career I didn't run out a ground ball. I was a little over halfway down the line and I just stopped. I had no more energy in me. I was done."
That exhaustion carried over into the bottom of the 19th, too, as Hernandez, winner of 11 consecutive Gold Glove awards in the '70s and '80s, misplayed a routine Washington ground ball to first to put Washington on with one out. It was one of four errors in more than 1,400 chances that season for Hernandez, and perhaps the only thing more unusual than a gaffe from Hernandez was the sight of Darling on the mound when it happened.
Darling, a starter his entire career, threw eight innings two nights earlier in a win over the Pittsburgh Pirates and hadn't come out of the bullpen since 1980, when he made a relief appearance in the Cape Cod League All-Star Game at Yankee Stadium during his college days at Yale. With the Mets out of relievers, however, he was forced into action.
"It was my day to throw that day, so I had already thrown on the side prior to the game," Darling said. "I guess I had 12 hours of rest (after my bullpen session), so that was enough. When you get into those types of games, you know which starting pitcher is going to be the least on-call. I wasn't that guy, so if it got to a certain point, I knew my turn was going to come up."
When his turn finally did come up, Darling embraced the opportunity to add his name to the box score.
"You always want to be a part of a game like that," Darling said. "As the game goes on and on, you realize that history is being made. You knew it was an iconic kind of game.
"I think of the 33-inning game the Pawtucket Red Sox played (against the Rochester Red Wings) in 1981 when I think of our game," he continued. "It was just one of those games that was different from anything I'd ever been in. At times it was baseball well-played, and at times it was like the 'Three Stooges.' That (1981) game was played over two days, I think. Ours just felt like two days."
The Braves didn't make it easy on Darling, though. After the Hernandez error put Washington on second, Rafael Ramirez popped out to Johnson at short, but Darling then walked Murphy and Perry to load the bases with two outs. The next batter, Harper, hit a two-run single, which cut the lead to 16-13 with two outs and runners on the corners.
"We were just trying to give it a good finish," Harper said. "Ron Darling was a good pitcher, had real good stuff, but those kind of games go back and forth, and you feel like you're still in it to the last out."
"Let me tell you one thing," added Rafael Santana, the Mets' starting shortstop, who came out of the game in the ninth. "We never expect to play extra innings, but when you get that far, you expect to win the ballgame."
Only problem was, the next man up was Camp.
"When (Camp) came up to the plate, I told him, 'I don't give a s--t, hit another one out, and we'll stay here all night, till the birds come home,' " Tata recalled with a laugh.
Darling wound up retiring Camp to end the game, but the league's most unlikely power hitter didn't go down without a battle. At one point, Camp made solid contact with a pitch that ended up foul before striking out on a high fastball.
"I think he was in that mode of 'swing as hard as you can, in case you make contact,' " Darling said. "He had kind of a Happy Gilmore-type of approach, but why wouldn't he?
"The last pitch was like neck-high, and he swung through it for the last out," Darling said. "But if you watch the end of the game, instead of being euphoric about us winning, my shoulders kind of sag, like, 'Oh, OK, it's over with,' and Gary Carter kind of walks out and shakes my hand. We all kind of look at each other like, 'Let's go home.' "
-----
As the players retreated to the dugout to finally dig into the catering Johnson has previously banned, those fans still in attendance were treated to a fireworks show that was first sparked at 4:01 a.m.
"It was a big crowd, but by the time the game was over there was hardly anybody there except for players," Oberkfell said. "It was kind of weird to start the game, sellout crowd, everybody is pumped up, and however many hours later -- seven, eight, nine, 10 hours later -- you're still playing baseball and you're like, 'Where'd everybody go?'
"It was weird, but I guess the weirdest thing for me was after the game, sitting in the clubhouse, they're shooting those fireworks off. I can only imagine what the people in that neighborhood felt. They probably thought we were getting bombed or something."
Among those left in the park when the game ended were a friend of Zuvella's, who had come in from out of town to stay with him in Atlanta for the holiday weekend, and a large collection of family and friends of Knight, who grew up in nearby Albany.
"My ex-wife's mother and grandmother were at the game, and she was 85 years old," Knight said. "They had driven up from Florida to watch the game for the Fourth of July and stayed for the weekend, and she stayed through every pitch.
"I could not believe that when I came out of the clubhouse at 4 in the morning, whatever time it was, that she was waiting there for me," Knight continued. "Nobody left. None of my family left, all 50 of them stayed. I wasn't feeling too good about that 0-for-6 (start), brother, but they all stayed and then we went over to Waffle House and had breakfast, then we finally shuffled back into the hotel."
For others, it was daylight by the time they got back home or to the team hotel.
"I remember going back to my hotel that night and seeing the morning newspapers in front of my door," Strawberry said. "That's never a good sign."
"As we were heading back, the sun was coming up," added Heep. "They'd had so much rain -- I'm surprised we even got the game in -- that we were going across a low area heading into downtown Atlanta, and one of the guys said, 'Hey, I think this bus is floating.' I'm still not sure if we had tires on the pavement."
Said Garber: "It was probably 5 or 5:30, somewhere in there, so I had breakfast and a cup of coffee and went to bed."
The funny thing about baseball, though, is that there's always tomorrow, and as sure as the sun rose on the bus ride home, the Braves and Mets took the field again at 2:40 the next afternoon, less than 11 hours after the July fourth marathon ended. The Mets won again the following day and then swept the doubleheader on Sunday after rain postponed Saturday's game.
The rest of the series could have never lived up to the precedent set that steamy July 4 night, and nothing has since, but in the eyes of the people who were there to see and experience the wildest game ever firsthand, it was a fitting way for things to end.
"With baseball, you've got to come back the next day and play," Harper said. "You can't harp on it. In the moment you might feel a little bit like you let it get away, but you've got to perform the next day and you've got to bounce back real quick. Baseball doesn't allow you to sulk. You just get back in there and try to get them the next day."
Added Klapisch: "It ended the way it was supposed to. This weird, crazy game finally came back to its senses, and the world returned to its axis when Rick Camp struck out."
You can follow Sam Gardner on Twitter or email him at samgardnerfox@gmail.com.
---
---