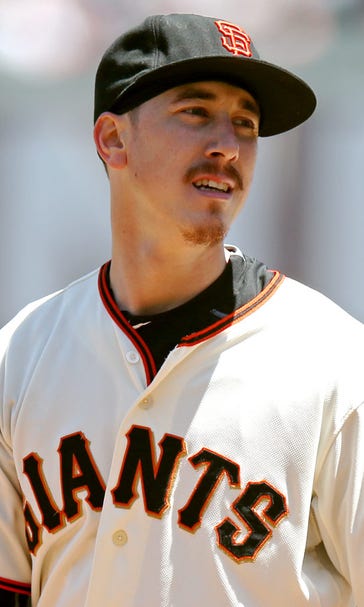 Report: Giants, Lincecum interested in reunion -- but there's a catch
BY foxsports • February 19, 2016
Tim Lincecum is still on the free-agent market, seeking a contract for the 2016 season.
He hasn't suited up for a team other than the San Francisco Giants in his nine-season major-league career, and that streak might continue. 
As Jon Heyman of MLB Network reported Friday, there is interest from both sides in a potential reunion in San Francisco. However, there's a potential roadblock:
The Giants head into the 2016 season with a loaded rotation featuring Madison Bumgarner, newcomers Jeff Samardzija and Johnny Cueto, Jake Peavy and Matt Cain (with other names on the depth chart, too). There isn't a guaranteed spot for "Tim Lincecum, starting pitcher" as it stands now. 
Other clubs, including the Baltimore Orioles, reportedly have been interested in Lincecum's services, though he hasn't thrown a showcase yet. Heyman had an update on that: 
The 31-year-old right-hander has had some tough seasons lately. In 2015, Lincecum finished 7-4 with a 4.13 ERA. He made only 15 starts and had some command issues (his 4.5 BB/9 ratio was the highest of his career).
Over the span of his nine seasons in San Francisco, Lincecum has appeared as a starting pitcher in all but eight of his 269 games. So the concept of transitioning into an everyday reliever in 2016 is something that doesn't seem likely at the moment.
Whoever signs Lincecum will likely do so with plans of using him in the rotation -- something that might prevent the Giants from bringing him back.
---
---