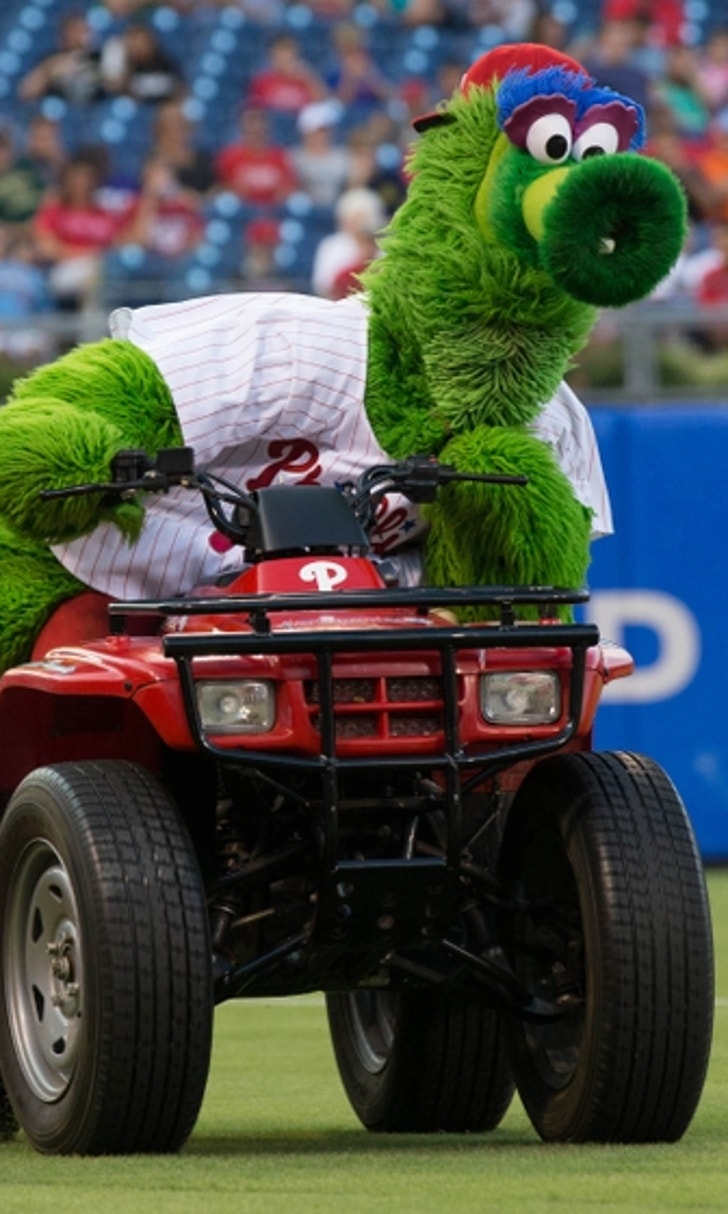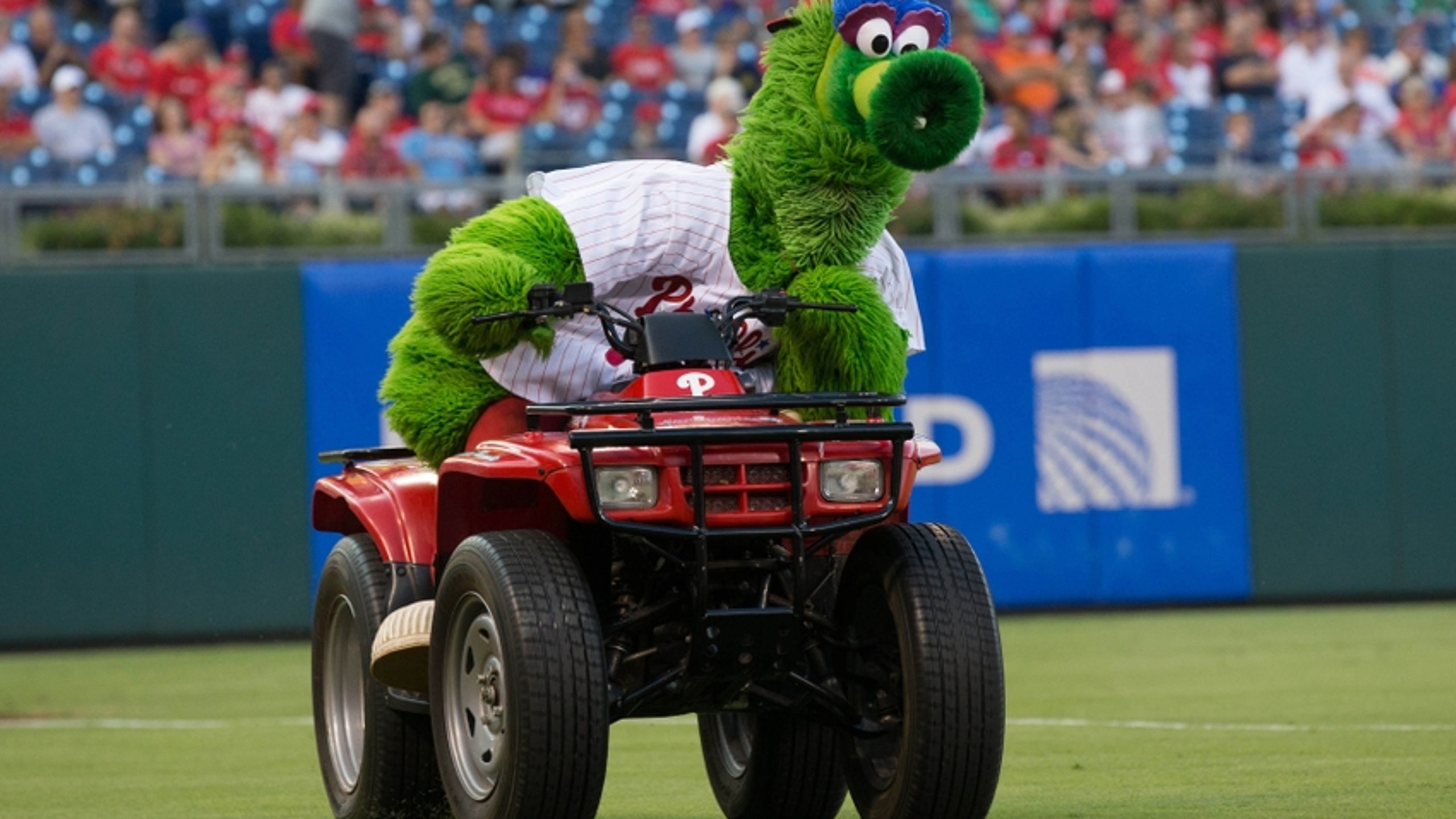 Phillies: Five Storylines to Watch For Heading into the Upcoming Season
BY Fansided and John Town/FanSided via That Balls Outta Here • January 2, 2017
Aug 20, 2016; Philadelphia, PA, USA; The Phillies Phanatic in a game against the St. Louis Cardinals at Citizens Bank Park. Mandatory Credit: Bill Streicher-USA TODAY Sports
Despite being a losing team in 2016, the Phillies are shaping up to have an intriguing spring training heading into this season.
In 2016, the Phillies had some intrigue around them in spring training, but for the most part there was little to look forward to for the team that just came off a 63-99 season. This time around, they are coming off a 71-91 record and are shaping up to be even better in 2017.
As the calendar turns and we find ourselves calling 2017 "this season" and 2016 "last season" let's examine what storylines to watch for as the season draws ever closer.
Jul 18, 2016; Philadelphia, PA, USA; Philadelphia Phillies starting pitcher Aaron Nola (27) reacts after being hit by a line drive as catcher Cameron Rupp (29) calls for time during the sixth inning against the Miami Marlins at Citizens Bank Park. The Marlins defeated the Phillies, 3-2 in 11 innings. Mandatory Credit: Eric Hartline-USA TODAY Sports
Is Aaron Nola Healthy?
Phillies fans were devastated to find out that their shining star in the rotation, Aaron Nola, went on the 15-day disabled list with an elbow strain just hours before he was scheduled to start in early August. The outlook only got worse when Nola was moved to the 60-day disabled list after Dr. James Andrews diagnosed him with "a low-grade sprain of his UCL and a low-grade strain of his flexor pronator tendon," according to Todd Zolecki of MLB.com.
To aid his recovery, Nola received a platelet-rich plasma injection. GM Matt Klentak maintained that surgery was not in Nola's future, and that has rang true so far. Nola underwent a throwing program in Clearwater, and he is expected to be ready for spring training.
However, it is one thing for Nola to complete a throwing program, and another to face live hitters come spring training and the regular season. It will imperative for the team and fans to follow how Nola is feeling after each start in spring training. If he feels any pain at all, it may be force him to undergo Tommy John surgery. He would miss not only all of 2017, but a large chunk of 2018 as well. That would be the last thing the Phillies need as they try to find who will be in their rotation heading towards the future.
Sep 20, 2016; Philadelphia, PA, USA; Philadelphia Phillies right fielder Aaron Altherr (L) and center fielder Roman Quinn (R) prior to action against the Chicago White Sox at Citizens Bank Park. Mandatory Credit: Bill Streicher-USA TODAY Sports
Who Will Play Right Field?
Outside of Odubel Herrera, the Phillies outfield was a complete mess in 2016. Cody Asche, Peter Bourjos, Tyler Goeddel, and Aaron Altherr struggled to contribute. Roman Quinn provided a glimpse of success in September, but it was only a glimpse.
The team filled one hole in the outfield by trading for Howie Kendrick from the Dodgers. He will start in left field but can also play several infield positions need be.
Meanwhile, right field is wide open. Altherr manned the position after he returned from injury, but he did anything but lock it down. He finished 2016 with a .202/.304/.293 line, four home runs, 23 RBI, and seven stolen bases in 57 games.
Altherr was worth -0.3 fWAR. Quinn showed some brief success, hitting for a .706 OPS and stealing five bases in 15 games, but an injury cut his season short, as happens so often with him.
This leaves the team in a pinch as they try to figure out who will start the year in right field. Quinn is the more dynamic of the two players with his speed and hitting ability, but he is also extremely injury-prone. I've previously made the case of why Quinn should be in the starting lineup, but I can also see why the team would like to have him back in Triple-A for some extra development time.
It is possible Altherr's wrist injury hurt his ability to perform at the plate, but he should be fully healed after a getting full offseason to rest and recover. If he reverts to his 2015 form at the plate during spring training, it could afford Quinn the ability to start the year at Triple-A and delay his service time clock.
May 1, 2016; Philadelphia, PA, USA; Philadelphia Phillies relief pitcher Hector Neris (50) celebrates final out during the ninth inning against the Cleveland Indians at Citizens Bank Park. The Phillies defeated the Indians, 2-1. Mandatory Credit: Eric Hartline-USA TODAY Sports
The Budding Closing Battle
Like their outfield, the Phillies bullpen was putrid in 2016. They finished third-worst in ERA (5.05), fourth-worst in fWAR (0.4), and allowed the second-most home runs (82). September was especially bad for them, as they walked 5.72 batters per nine innings and posted a league-high 7.88 ERA in that month.
The front office added two veteran relievers in Pat Neshek and Joaquin Benoit to bolster a paltry 'pen. Combined with Hector Neris, who easily was the team's best reliever in 2016, the trio could form a solid late-inning combination.
More from That Balls Outta Here
But who will actually be the one to close out the games? Benoit is the only one with any major-league experience as a closer. He recorded 24 saves for the Tigers back in 2013 as he carried a 2.01 ERA and 1.03 WHIP that season.
However, if the team is looking for a long-term solution, Neris would be the better option. Neris is coming off his first full season in the majors in which he made 79 appearances and struck out 102 batters in 80.1 innings. He was Mackanin's go-to reliever last year, and he very well could grow into the role we saw Andrew Miller fill for the Indians in the 2016 playoffs.
Of course, the team will give Jeanmar Gomez the chance to retain his role as the closer. Gomez emerged as the closer a week into the season as no one truly stood out during spring training. Unfortunately, he bottomed out in September, posting a 19.13 ERA in the last month of the season and showing why he was never a closer in previous years.
Gomez, Neris, and Benoit are all the early favorites in the closer race. Each provides their own value as a closer, but they could also contribute in earlier innings.
Apr 19, 2016; Philadelphia, PA, USA; Philadelphia Phillies starting pitcher Vince Velasquez (28) pitches during the first inning against the New York Mets at Citizens Bank Park. Mandatory Credit: Bill Streicher-USA TODAY Sports
Can Vince Velasquez Go Deep Into Starts?
Vince Velasquez showed Philadelphia exactly what he could do in just his second appearance in a Phillies uniform when he struck out 16 Padres on his way to a complete-game, shutout win. It was easily his best start of the year and one of, if not, the best starts for all Phillies pitchers in 2016.
After his complete game early in the season, Velasquez went past six innings just twice in his next 22 starts. He left before the sixth inning in ten of his 24 starts. One of Velasquez's biggest criticisms was that he racked up pitch counts very quickly, which was precisely the case in 2016.
Velasquez's biggest focus during spring training and the 2017 season needs to be inducing more quick outs rather than trying to overpower and strike out every batter. If Velasquez cannot accomplish this task, he may be forced to move to the bullpen where his strikeout-heavy approach will have more success.
Sep 23, 2016; New York City, NY, USA; Philadelphia Phillies starting pitcher Jeremy Hellickson (58) pitches against the New York Mets during the first inning at Citi Field. Mandatory Credit: Bill Streicher-USA TODAY Sports
Trade Chips Galore on the Roster
Throughout the offseason, the Phillies maintained that they did not want to block any of their prospects with the moves they made. That mantra led to the acquisitions of Howie Kendrick, Pat Neshek, Joaquin Benoit, and Clay Buchholz. In addition, Jeremy Hellickson accepted the team's qualifying offer after testing the free-agency waters.
While all these moves afforded the team roster and payroll flexibility, they also gave the Phillies numerous trade chips come July. Matt Klentak acknowledged this after the Buchholz trade, saying "[W]e have a lot of meaningful players in the last years of their contracts — not just pitchers, but a number of players that could be trade chips."
The team employed this same strategy last year when they acquired veterans Charlie Morton and Hellickson. While the team was not able to trade either of these players, they have even more options this year.
If any one of the players above are performing well when the trade deadline nears, don't be surprised if teams come calling to make a move. A hypothetical trade would net the Phillies another decent prospect or two while also clearing up room if one their own prospects is ready to debut in the majors.
---
---