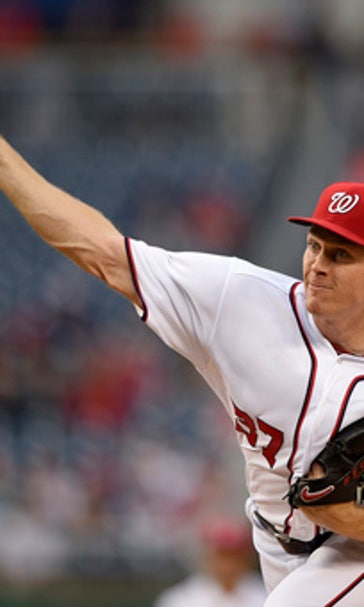 Notes: Paying Strasburg is a nice start, but Nats need to do more
May 10, 2016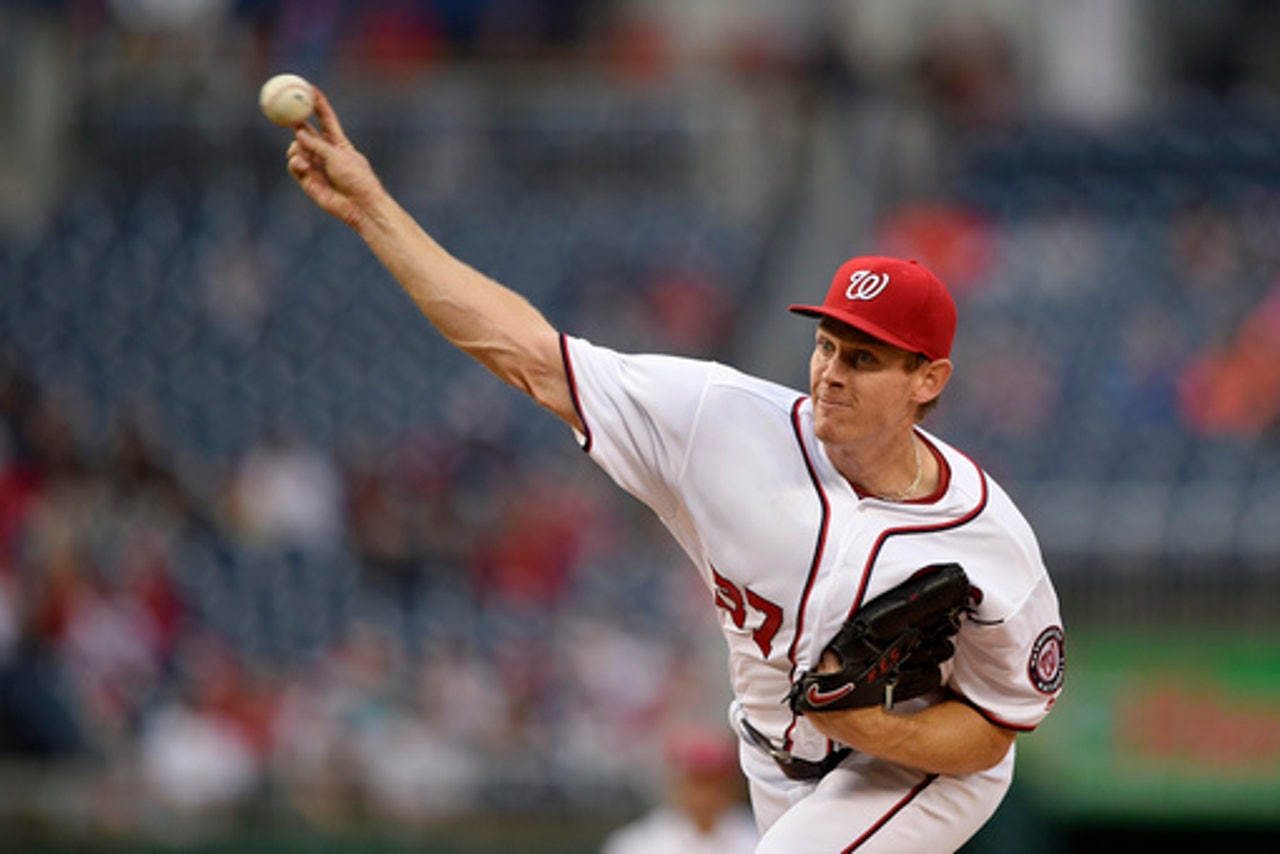 The Washington Nationals' owners should not stop with their signing of prized right-hander Stephen Strasburg to a seven-year, $175 million extension.
Next, they need to abandon their recent practice of rejecting payroll increases in-season, which forces their front office to make cash-neutral trades.
The Nats should be in a reasonably flexible financial position -- they rank 11th in the majors with a $147.1 million payroll, down from $165.7 million last season, according to spotrac.com. 
And the team, while 20-12, already is showing holes.
The Bryce Harper walkathon at Wrigley Field underscored the Nats' need for another big bat -- Yoenis Cespedes, Jason Heyward and Ben Zobrist were among the free agents they failed to land last season.
The Brewers' Ryan Braun would make sense for the Nats; so would a number of other outfielders. First base is another position that the team could try to upgrade if Ryan Zimmerman continues to struggle, though he is signed through 2019.
The Nats, as I reported in my most recent Full Count video, also are likely to be a player for Aroldis Chapman or Andrew Miller if the Yankees make them available -- again, assuming ownership is willing to spend.
The team's farm system is deep enough for general manager Mike Rizzo to continue making cash-neutral trades, but such a plan would rob the future to satisfy the present. 
For now, the Nats could make an internal move without spending any additional money, promoting Trea Turner to play shortstop and reducing Danny Espinosa to a utility role.
Turner, batting .320 with an .836 OPS at Triple A, could combine with the just-activated Ben Revere to add speed to the lineup. Espinosa is a better defender with a far better arm, but is hitting .202 with a .596 OPS.
You know a team is going well when its biggest pitching concern is the identity of its fifth starter. The White Sox are on such a roll, they might even have found an answer to that problem.
Right-hander Miguel Gonzalez pitched impressively in his second start with the club Monday night, allowing the Rangers just one run in 5 2/3 innings at the hitter-friendly Globe Life Park.
If Gonzalez falters, the White Sox could turn back to right-hander Erik Johnson, who made his 2016 debut last Thursday before returning to Triple A, or right-hander Jacob Turner, who has a 3.69 ERA in six Triple A starts. The team's top pitching prospect, right-hander Carson Fulmer, currently is at Double A, and could be an option later in the season.
Right-hander Tim Lincecum? He probably would prefer to avoid changing leagues so that he can rebuild his value in a spacious NL park. Left-hander Mark Buehrle? He hasn't officially announced his retirement, but most in the industry would be shocked if he pitched again.
The White Sox's other issue is their need for a left-handed power bat to stick between Jose Abreu and Todd Frazier. But one of their past right-handed disappointments, designated hitter Avisail Garcia, is currently sporting an .827 OPS, reducing the urgency at least temporarily.
Then there is the bullpen, which to this point leads the majors in ERA by nearly a half-run per nine innings. The White Sox expect to be in the market for a reliever regardless, so eventually they must pick and choose which needs to prioritize – they are unlikely to address them all.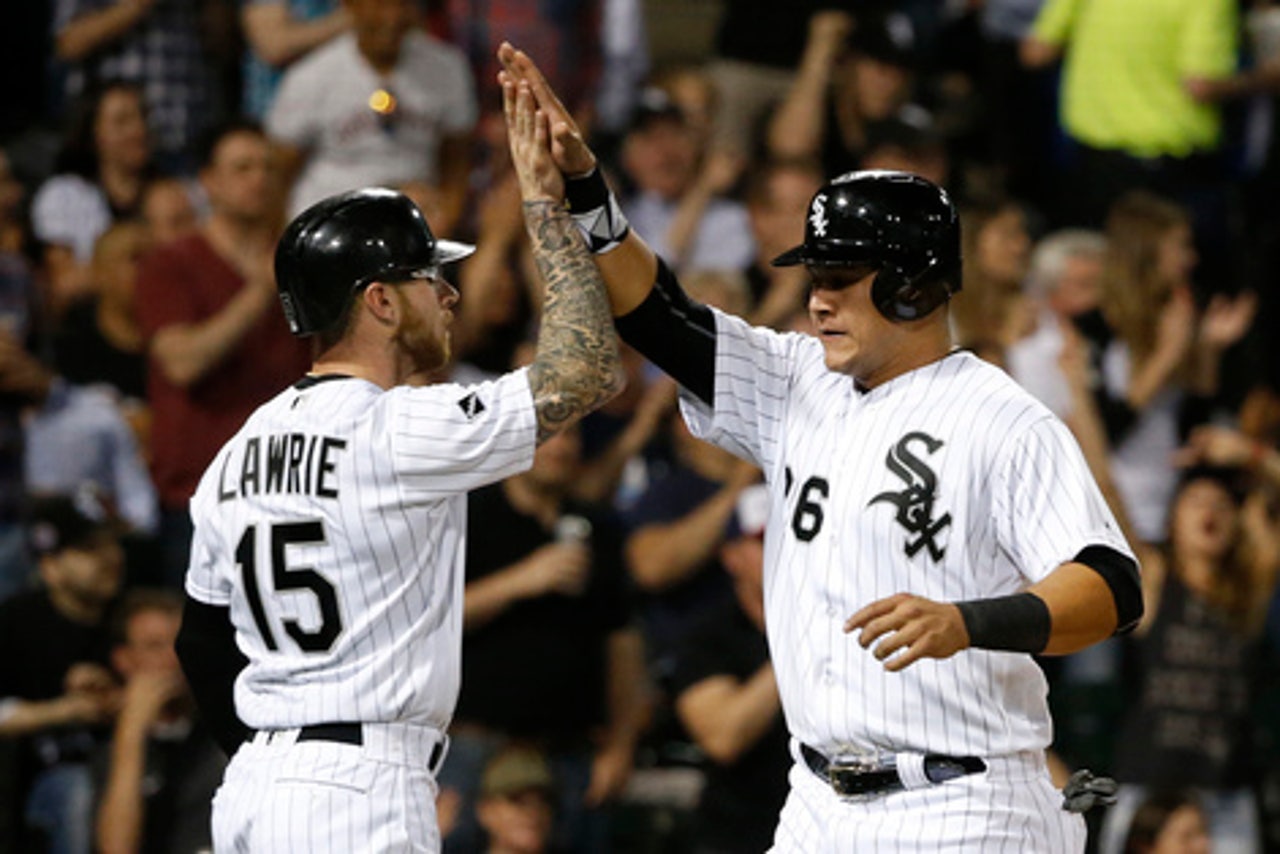 Shortstop Tim Anderson, the team's top position prospect, is batting only .230 with a .515 OPS at Triple A, but the White Sox anticipated that he might struggle in his first year at that level. They still view him as their long-term answer at short, and not as a candidate to trade.
Jonny Gomes, after signing with a Japanese club in February, said, "The last couple of years for me, it's been World Series or bust. This is World Series or bust with a little twist. I'll go win over there."
Gomes' journey, however, did not work out as planned, and he recently left the Rakuten Golden Eagles by mutual consent to return to the U.S.
Gomes, 35, batted only .169 with a .526 OPS in 75 plate appearances for Rakuten. He also was rattled by his inability to communicate with teammates and a pair of earthquakes in mid-April.
"I hated not being able to talk to all my teammates because of the language," Gomes said. "I would just sit in front of my locker solo and sit in the dugout and couldn't talk.
"The earthquake also was scary -- if something happened, I couldn't communicate. Everything else was awesome. Great team, city, food, all of the above."
Does Gomes want to return to the majors?
"Yeah, I want to play," he said. "I want to play when I'm 50 but I understand where I am and where the game is right now.
"I also know I can bring way more to a team than my numbers, and I don't think that's blowing smoke with my past."
Jason Hammel's wife, Elissa, was nearly seven months pregnant with their second child when the Cubs traded him and Jeff Samardzija to the Athletics in a deal that brought back shortstop Addison Russell on July 4, 2014.
The Cubs had told Hammel he probably would be moved -- they had sent right-hander Scott Feldman to the Orioles for, ahem, righties Jake Arrieta and Pedro Strop the previous year. But in Elissa's mind, a trade was the worst-case scenario, Jason said.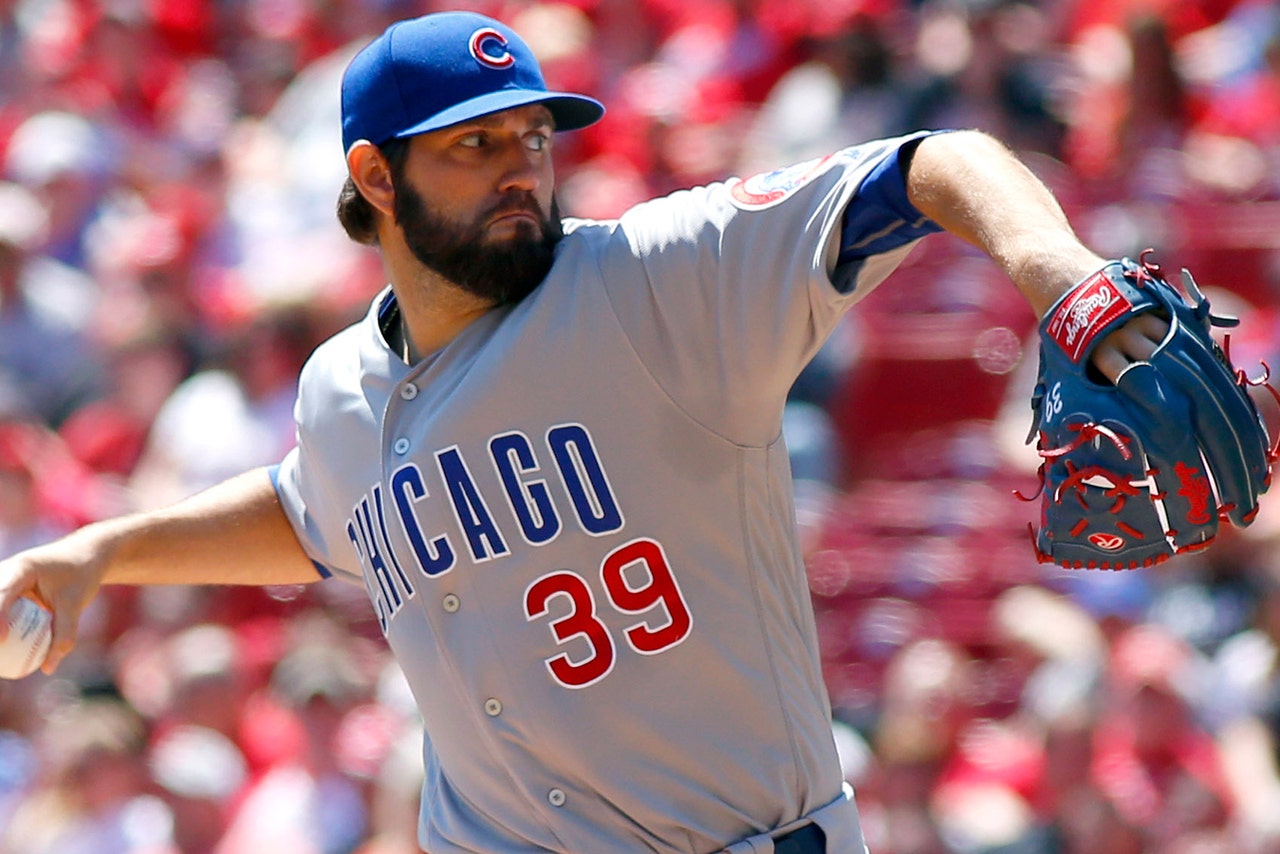 Elissa held out hope, thinking that Jason was pitching too well for the Cubs to move him. On the fateful day, the team was in Washington, D.C. The Hammels had just returned to the team hotel from the city's July 4th celebration when the team's president of baseball operations, Theo Epstein, called.
As Jason recalls, Elissa saw Epstein's name pop up on his phone, screamed, "No!" and burst into tears. Hammel said he told Epstein, "I'm going to make sure you bring me back. I'm going to pitch well enough that you bring me back."
The story, of course, had a happy ending. Elissa gave birth to a daughter, Colby, that Sept. 19 (the Hammels' son, Beckett is 4). Hammel actually didn't pitch as well for the A's as he did for the Cubs, but Epstein re-signed him that offseason to a two-year, $18 million free-agent deal.
So far, so good for Phillies right-hander Vince Velasquez, who in six starts has struck out 44 and walked 11 in 37 1/3 innings while pitching to a 2.17 ERA.
Some in the industry, however, question Velasquez's durability, noting that he already has suffered a number of injuries in his career.
Velasquez, who turns 24 on June 7, has never pitched more than 124 2/3 innings in a season, and that was at two levels of Class A in 2013.
He missed all of 2011 after undergoing Tommy John surgery. A strained groin cost him two months in '14, and he suffered a right lat injury in the Arizona Fall League later that year, setting him back the following spring.
The Phillies were aware of Velasquez's history when they acquired him in the Ken Giles trade. But to this point he has had "zero issues," one club official said, pitching like "an absolute horse."
Perhaps Velasquez will stay that way -- Max Scherzer spent years hearing that he was a breakdown candidate, and has not been on the disabled list since 2009.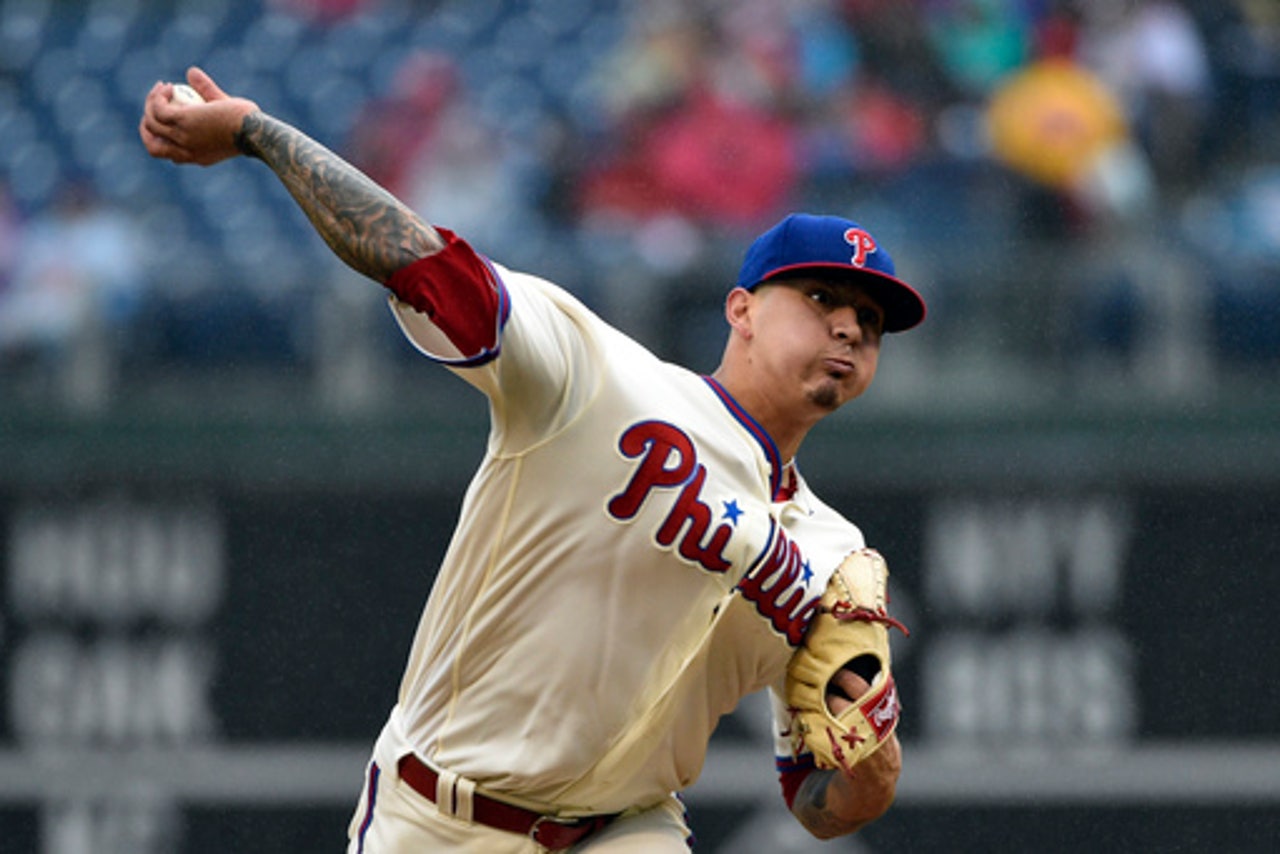 Still, it's best to reserve judgment on the seven-player Giles trade until it becomes clear whether Velasquez is a keeper as a starter, or a pitcher better suited to relief.
* The Strasburg extension was a surprise and a bit of a gamble by the Nationals, considering that the pitcher underwent Tommy John surgery in 2010.
The Nats, according to The Washington Post, fear for the health of pitchers eight years after the surgery -- and Strasburg's seventh year is next season.
The extension, according to a source, includes an opt-out that Strasburg can exercise after the third or fourth season.
Strasburg is represented by Scott Boras, who generally prefers his clients to establish their values on the open market. But the $175 million deal is the largest ever for a pitcher who underwent a Tommy John surgery, surpassing Jordan Zimmermann's $110 million free-agent contract with the Tigers.
* Aroldis Chapman is back, but all one Yankees player could talk about on Monday was Dellin Betances, musing that the right-hander will command a monster salary in his first year of arbitration this offseason.
Betances, 28, is unique for a late-inning reliever, capable of getting more than three outs. In fact, he led the American League in relief innings pitched the past two seasons, with 90 in 2014 and 84 in '15.
A recent stretch of home runs in three consecutive appearances was jarring, but Betances rebounded with three scoreless outings, and for the season has now struck out 27 and walked only three in 14 innings.
* The Dodgers made a seemingly curious move when they claimed right-hander Casey Fien on waivers from the Twins, absorbing the remainder of his $2.275 million salary after he allowed 24 base-runners -- and five homers -- in 13 2/3 innings.
Fien, though, was quite consistent from 2013 to '15 with the Twins, and the Dodgers viewed his stuff this season as similar, a source said. In addition, his walk rate was low, which should make him a good match for a team that ranks fourth in the majors in defensive efficiency.
The five homers? Not good, but the Dodgers figured that Fien would not keep giving them up at that rate; he has never allowed more than nine in a season.
The team optioned Fien, 32, to Triple A, viewing him as depth for later in the season.
* Speaking of the Dodgers, a rival scout offered this evaluation after seeing their top two pitching prospects recently:
"(Julio) Urias. Wow. (Jose) DeLeon. Wow."
The Dodgers already have discussed the possibility of adding the left-handed Urias as a reliever. The right-handed DeLeon, however, started the season late due to a sprained ankle, and experienced arm soreness after his debut last week, according to the Los Angeles Times.
The Dodgers will give him extra rest before his next start.
* David Ross' favorite memories from catching Jake Arrieta's no-hitter?
The first was a tweet that Arrieta's wife, Brittany, sent to Ross right after the game: "Want you to know Jake's first text to me was, 'Did it for Rossy.' #rethinkyourretirement."
The second was when almost the entire team retreated to Dexter Fowler's hotel suite in Cincinnati to eat pizza and watch the Warriors on TV. Many of the players reflected upon their emotions during the no-hitter; Ross said it was cool to hear his teammates' thoughts.
* The Rockies, in an odd twist, are 11-8 on the road and 4-9 at home. The good news: Right-handers Jon Gray and Eddie Butler both pitched well in San Francisco over the weekend, increasing the possibility that the team is building a genuinely respectable rotation.
Gray and Butler, once the team's top pitching prospects, failed to distinguish themselves last season. Righties Chad Bettis and Tyler Chatwood since have become the team's top starters, and righty Jeff Hoffman, lefty Kyle Freeland and righties Antonio Senzatela and German Marquez are the hot prospects on the rise.
The increased competition, one scout said, did Gray and Butler good.
"For two years, they were the golden boys," the scout said. "This spring, they were the red-headed stepchildren. Everyone was looking at the other guys."
* Shortstop Erick Aybar has been utterly horrible for the Braves, batting .187 with a .436 OPS and looking shaky on defense.
Here's a suggestion: Send him back to Anaheim, the one place where he might actually revive.
The Angels have an opening -- shortstop Andrelton Simmons is expected to miss at least two months after undergoing left thumb surgery. Aybar could move to second base once Simmons returns; Johnny Giovatella is hitting miserably.
The teams would need to figure out how to divide the rest of Aybar's $8.5 million salary. If the Braves picked up enough money and/or added another player, perhaps they could acquire a Georgia native such as reliever Cory Rasmus or third baseman Kaleb Cowart in return.
---
---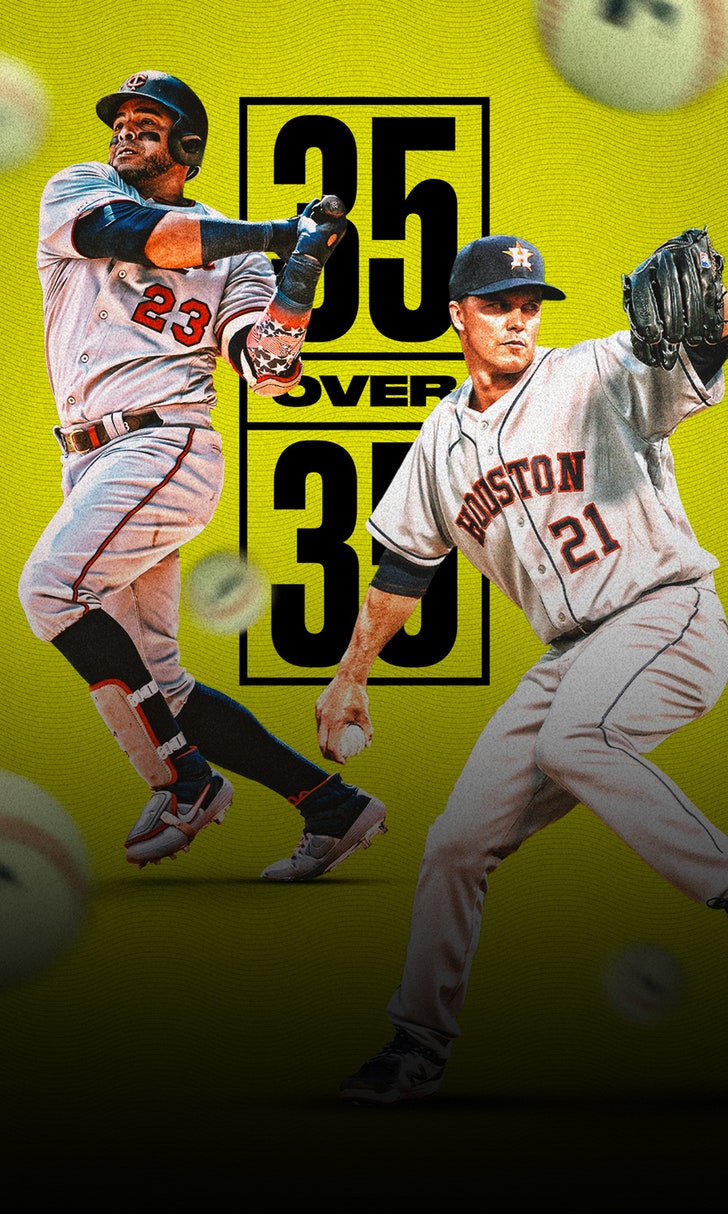 The top 35 Major League Baseball players over age 35