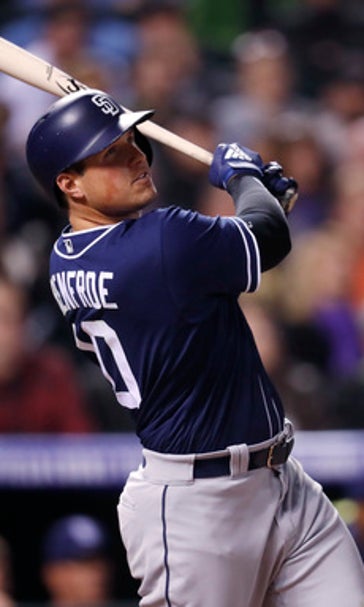 Lucchesi gets first win as Padres beat Rockies 5-2
April 11, 2018
DENVER (AP) One bad pitch at Coors Field could have rattled Padres rookie Joey Lucchesi. It didn't, and he settled down to pitch a gem for his first major league win.
Lucchesi overcame an early error and home run to dominate until the seventh inning, Hunter Renfroe hit a go-ahead homer and San Diego beat the Colorado Rockies 5-2 on Tuesday night.
Renfroe's three-run shot in the seventh backed Lucchesi's strong outing and gave the Padres their first series victory of the season.
''It feels awesome,'' said Lucchesi, who was given a beer shower by his teammates after the game. ''It feels great.''
Lucchesi (1-0) shut down Colorado in his third career start. He struck out eight and allowed two unearned runs before leaving two batters into the seventh.
''It was fun to watch that kid pitch. He was really good,'' San Diego manager Andy Green said. ''I was hoping to get him through the seventh inning. Up to that point he hadn't shown any signs of wearing down at all. He looked strong. All day very good after that blip in the first inning.''
Austin Hedges also homered, Jose Pirela had three hits and Brad Hand pitched the ninth for his fourth save.
Padres outfielder Manuel Margot left in the ninth inning after getting hit in the ribs by Scott Oberg's fastball. Green said he was getting checked out but there was no immediate update on his status.
''Obviously caught him flush in the ribs and stung him pretty good,'' Green said. ''We're hopeful he's feeling a little bit better pretty soon.''
Renfroe hit the first pitch from reliever Brian Shaw (1-1) with two out in the seventh. It was his first homer of the season and came after a pair of two-out singles. It also gave the outfielder a little payback after Shaw struck him out on a cutter in a seven-pitch at-bat Monday.
''Same pitch he swung through yesterday,'' Shaw said. ''Obviously, today he got it.''
Trevor Story's two-run homer in the first - his third of the season - came one out after Chris Iannetta reached on an error by Lucchesi. The rookie left-hander found a groove after that, retiring 16 of the next 18 batters and erasing the two runners with double plays. He left after Nolan Arenado led off the seventh with a triple off the scoreboard in right and Story walked.
''Went out in the first inning and felt great, felt loose, as I should be,'' Lucchesi said. ''I had one bad pitch and recuperated and was able to get the job done.''
Kazuhisa Makita came on and stranded both runners with a flyout, a strikeout and a foul out.
Colorado has lost three straight despite another strong outing from Tyler Anderson. The left-hander was effective over six innings but remains without a decision through three starts. He pitched six shutout innings last week in San Diego, and the Padres managed just two runs off him Tuesday before he left for a pinch-hitter.
''Other than those two walks, for the most part I was in the strike zone a lot, which is always good,'' Anderson said.
Pirela had an RBI double in the third and Hedges hit a leadoff homer in the fifth that tied it at 2.
TRAINER'S ROOM
Padres: 1B Wil Myers (right arm issue) is not expected to return from the 10-day DL when he is eligible Friday. Green said Myers will have to swing a bat for a few days and may go on a rehab assignment before returning.
Rockies: CF Charlie Blackmon was scratched from the lineup with tightness in his right quad. Blackmon left Saturday's game in the 10th inning with a back issue and sat out Sunday's game as a precaution. Mike Tauchman played center field in Blackmon's absence.
SCORING DROUGHT
Arenado has averaged 131 RBIs over the last three seasons but has just six after 12 games. Manager Bud Black said he isn't worried about his star player's production.
''I know at the end of the year the number's will be there,'' Black said. ''They are pitching him tough for sure. I saw that from Day One. The opposing pitching has been stingy with giving him pitches to hit.''
Arenado has been productive still. He singled and tripled Tuesday and is hitting .318 in the first 12 games.
GOING ROGUE
When Makita came on in the seventh, Green's plan was to concede the run from third and get a double play to limit the damage.
''I had the interpreter come to the mound and basically told him, `Hey, that guy at third, let him score,''' Green said. ''`Let's get everyone else out.' He didn't listen to me.''
Makita tried to follow Green's orders but instead got out of the frame unscathed.
''I tried to get the double play but it is what it is,'' Makita said.
UP NEXT
The Padres will send RHP Luis Perdomo (1-1, 6.00 ERA) against Colorado RHP German Marquez (0-1, 6.52) in the series finale Wednesday. Perdomo will make his eighth career start against the Rockies while Marquez will face San Diego for the first time.
---
More AP baseball: https://apnews.com/tag/MLBbaseball
---
---