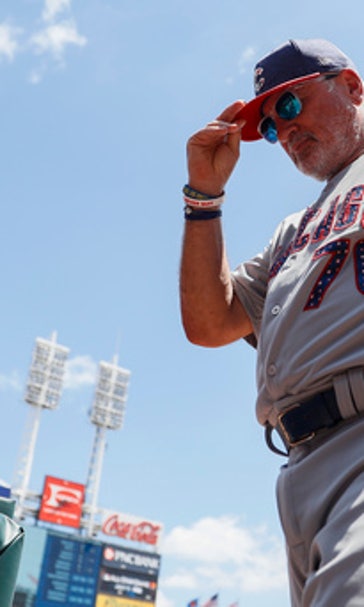 LEADING OFF: Judge closing in on DiMaggio; Maddon vs Rays
BY AP • July 5, 2017
A look at what's happening all around the majors today:
---
GET WELL, TITO
Indians manager Terry Francona is hoping to get past some recent health issues. Francona was admitted to the Cleveland Clinic for tests and missed Tuesday night's game against San Diego. The 58-year-old skipper was hospitalized twice last month after becoming lightheaded and having a rapid heart rate. He was fitted with a heart monitor last week and said at the time doctors had ruled out any serious health problems. Team president Chris Antonetti said Francona did not experience the previous symptoms again, and the tests were being done to help determine what's causing the issue. Antonetti didn't know if Francona would spend the night at the hospital or when he would resume his managerial duties. Bench coach Brad Mills has run the Indians in Francona's absence.
CHASING JOE D
New York Yankees sensation Aaron Judge leads the majors with 28 home runs and needs one to tie Hall of Famer Joe DiMaggio's franchise record for rookies set in 1939. ''He strikes fear into you, that's for sure,'' Toronto manager John Gibbons said. Judge and the Yankees face Blue Jays righty Marco Estrada (4-6) in the rubber match of a three-game set. Estrada is 0-4 in six starts since beating Texas on May 27. New York has lost 15 of 21 after a 38-23 start and is 0-5-1 in its last six series.
OLD FRIENDS
Joe Maddon and the Chicago Cubs wrap up a two-game interleague series at Wrigley Field against his former team, the Tampa Bay Rays. Maddon managed against the Rays on Tuesday for the first time since he left the club following the 2014 season. Tampa Bay took the opener, 6-5. Maddon chatted with Evan Longoria and some of his former staffers, such as pitching coach Jim Hickey and third base coach Tom Foley, as the Rays took batting practice. ''They're a great bunch of guys,'' Maddon said. ''There's a lot of humor on that side, and I got my giggles in.'' Before leading the Cubs to a World Series title last season, their first in 108 years, Maddon deftly guided small-market Tampa Bay to a 754-705 record, four playoff appearances, two AL East titles and the 2008 AL pennant during his nine-year run.
ON A ROLL
Royals lefty Jason Vargas (12-2) goes for his AL-leading 13th win before heading off to the All-Star Game next week. Vargas, who pitches against Seattle, leads the AL in wins and ERA (2.22) and has won his past seven starts.
NEED A STOPPER
Jacob deGrom (8-3, 3.55 ERA) pitches for the Mets as they try to avoid a three-game sweep by NL East-leading Washington. The right-hander is 4-0 with a 0.84 ERA in his last four outings, but nobody on the New York staff has been able to slow down ex-teammate Daniel Murphy. The All-Star second baseman is batting .405 against his only previous big league team. ''I saw it live and in person for five years,'' Mets manager Terry Collins lamented. ''You've got to locate or he's going to get a hit.'' Mets outfielders Yoenis Cespedes (leg cramps) and Curtis Granderson (hip) are banged up, but Nationals right-hander Tanner Roark (6-6, 5.27) has an 11.88 ERA over his last four starts.
YOU, AGAIN
All-Star righty Ervin Santana (10-5, 3.07 ERA) faces his old team as Minnesota tries for a three-game sweep of the Angels. Santana is 1-3 in four career starts against the Angels, and hasn't beaten them since July 23, 2015.
ON THE MEND
Orioles closer Zach Britton is expected to be activated. Britton, on the disabled list since April with a left forearm strain, was 47 for 47 in save chances last year and had a 0.54 ERA in 69 games. He is 0-0 with five saves and a 1.00 ERA in eight games this season. ... Cardinals 2B Kolten Wong begins a rehab assignment with Double-A Springfield. Wong was placed on the 10-day disabled list June 15 with a triceps injury.
---
More AP baseball coverage: https://apnews.com/tag/MLBbaseball
---
---