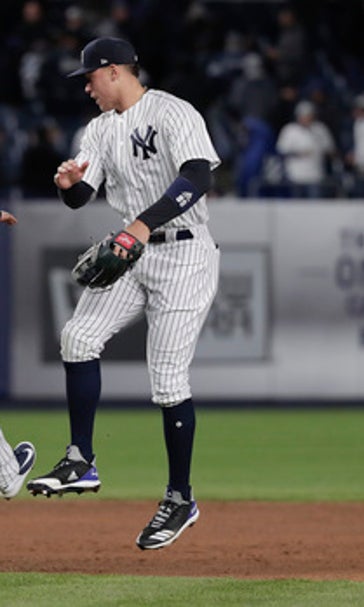 Judge homers, Robertson escapes jam to lift Yanks over Jays
April 19, 2018
NEW YORK (AP) David Robertson went wild and loaded the bases in the eighth inning, and the Yankees weren't all that concerned.
''Whenever it's a tough situation like that, I want D-Rob on the mound,'' Aaron Judge said.
Or as manager Aaron Boone put it: ''He doesn't blink.''
Judge hit his fifth home run, Robertson pitched out of a self-inflicted jam and New York overcame some shaky defense on a chilly night to beat the Toronto Blue Jays 4-3 on Thursday.
Robertson loaded the bases with no outs on consecutive walks but limited Toronto to one run on pinch-hitter Curtis Granderson's RBI single. Robertson struck out two and got a flyout from Luke Maile to hold a one-run lead.
''He's the one guy that, even if it gets a little sideways for a minute, you always feel like he can bring it right back in,'' Boone said.
Not that Robertson wasn't feeling some stress.
''I had to do something,'' he said. ''I was going to blow the game.''
Toronto was eyeing a big inning for a second straight game. Granderson hit his ninth career grand slam in a 15-5 win over Kansas City on Wednesday.
''That guy Robertson? He's not going to melt,'' Blue Jays manager John Gibbons said.
Judge lofted a solo shot to make it 4-2 in the seventh. He turned on a 3-2 splitter from Tyler Clippard, spoiling the reliever's first outing at Yankee Stadium since New York traded him to the White Sox last July.
CC Sabathia allowed two unearned runs over 4 1/3 innings and 71 pitches in his first start since straining his right hip on April 6. He is 9-0 with a 1.88 ERA in his last 13 regular-season starts following a Yankees loss.
''He gave us what we needed,'' Boone said.
Chad Green (1-0) retired five straight batters, Dellin Betances pitched a perfect seventh and Robertson delivered a lead to Aroldis Chapman, who struck out the side on 12 pitches for his third save, twice topping 100 mph.
Aaron Sanchez (1-2) held New York to three runs over six innings. He allowed seven hits, one start after no-hitting Baltimore into the eighth inning.
''They dunked a couple of balls in early and scored,'' Gibbons said. ''But for a tough lineup to face, I thought he was pretty good.''
Moved from cleanup to the three-spot and flipping slots with struggling slugger Giancarlo Stanton, Didi Gregorius put New York ahead 3-2 with an RBI single in the fifth. Gregorius entered leading the majors in OPS (1.268) and tied for second in the AL with 16 RBIs.
Stanton followed with an infield single to snap an 0-for-15 skid. He was 1 for 3 with a walk and is 4 for 38 with 20 strikeouts at Yankee Stadium this season.
Neil Walker sparked New York's two-run second inning by snapping an 0-for-16 skid with a double off the right-field wall. He scored on a single by Ronald Torreyes.
GLOVE SICK
New York entered tied for the AL lead with 17 errors and struggled defensively once again.
Gary Sanchez let in Toronto's first run when the catcher let Sabathia's fastball clank off his mitt with a runner at third. Sabathia said he crossed up Sanchez, throwing a cutter even though Sanchez called for a slider.
Sanchez had another passed ball in the fifth, his third in two games after going without one in his first 10 games behind the plate. He tied for the major league high with 16 passed balls last year.
''I think he's in a good place,'' Boone said. ''We're constantly on it, staying on it, and he's doing his due diligence with his work.''
In the fourth, Torreyes misplayed a hot shot to third by Yangervis Solarte, then bounced a casual throw that first baseman Neil Walker couldn't pick. Solarte scored when Maile's grounder bounced between diving infielders Gregorius and Tyler Wade.
''Kind of forgot to move his feet and doesn't make a good throw,'' Boone said.
Before the game, Boone said New York was planning a defensive practice session Friday, something that's been in the works for about a week.
''It's something that needs to improve, and I'm confident we'll continue to improve,'' Boone said.
TRAINER'S ROOM
Blue Jays: 3B Josh Donaldson (right shoulder) played catch in Dunedin, Florida, and ''felt great,'' according to manager John Gibbons. There's still no timetable for Donaldson's return. ... OFs Dalton Pompey and Anthony Alford were activated from the DL and optioned to Triple-A Buffalo.
Yankees: Reliever Tommy Kahnle will be shut down for 10 days and likely miss a few weeks after an MRI revealed biceps and shoulder tendinitis. ... OF Clint Frazier (concussion) was set to take batting practice and do outfield work with Class A Tampa and could play in a game soon. ... INF Brandon Drury (severe migraines) took batting practice with New York. ... 1B Greg Bird (right ankle surgery) ran on the field, played catch and hit.
UP NEXT
New York's Sonny Gray (1-1, 6.20 ERA) opposes Toronto's Marco Estrada (1-1, 4.24) on Friday. Gray struck out eight over four innings against the Blue Jays on April 1 but got a no-decision.
---
More AP baseball: https://apnews.com/tag/MLBbaseball
---
---