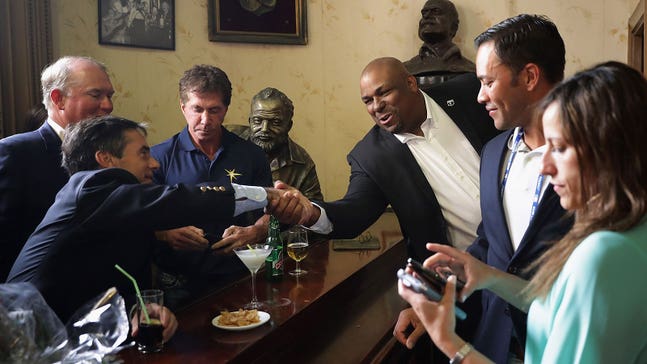 I traded baseball hot takes with the locals in Cuba and it was fantastic
Published
Mar. 21, 2016 9:15 p.m. ET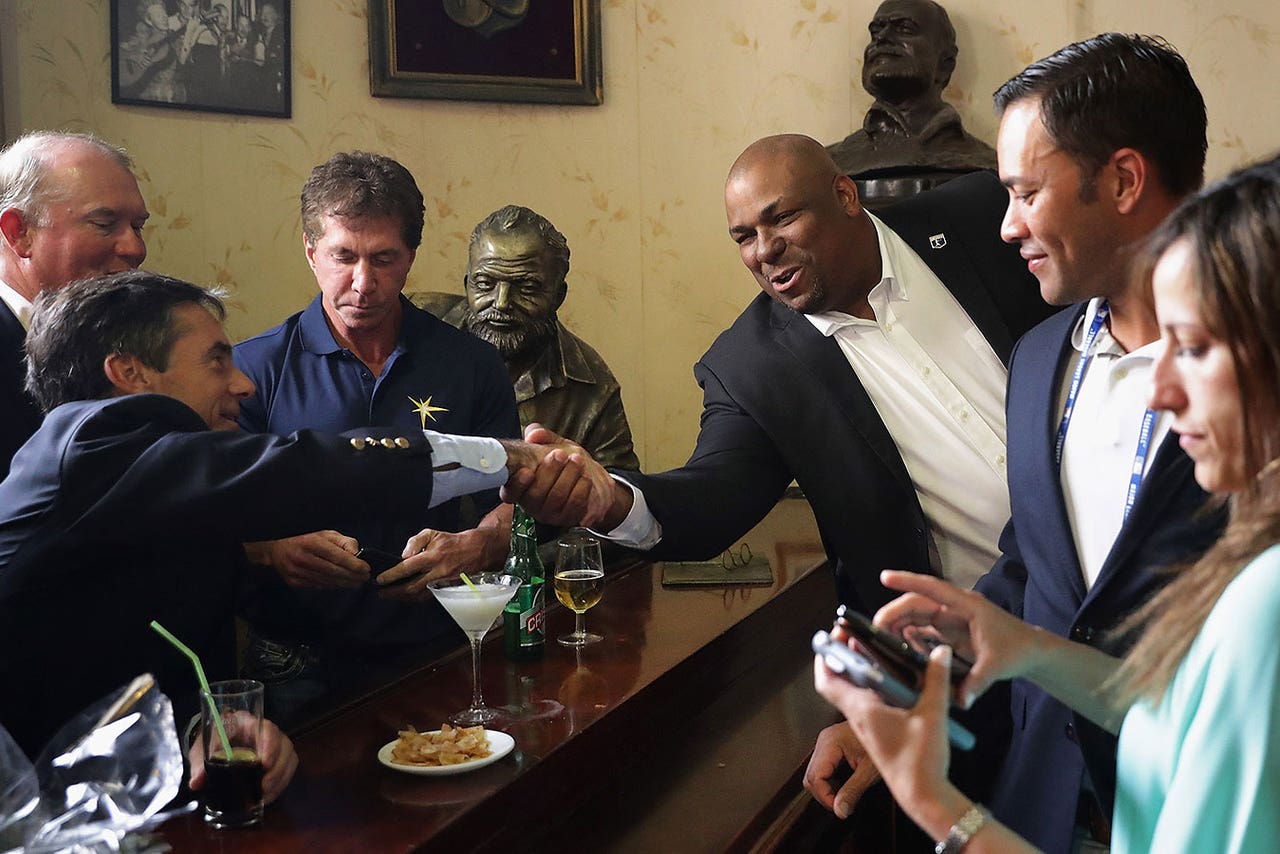 HAVANA -- President Obama is here, the Tampa Bay Rays will play the Cuban national team in a baseball game Tuesday, and undoubtedly you have heard of goodwill building between two countries. You may be inclined to regard that sentiment with skepticism.
But before you do, please allow me to tell you about an experience I had -- something that affirms the power of sport, the immense potential in a cooperative relationship between the U.S. and Cuba, and, above all, the genuine goodness of the Cuban people.
Monday afternoon, I visited La Esquina Caliente -- literal translation: The Hot Corner -- an area of Havana's Parque Central dedicated to baseball discussion.
Actually, let me rephrase that: Discussion is far too tame. Imagine the most raucous sports argument in your life, volume and temperature rising by the syllable, gesticulating elevated to an art form, politics introduced without offense being taken, subtopics zigzagging every minute or two, until a half-hour has passed. But rather than reach the point of insults or fisticuffs, it ends with smiles, handshakes, keepsakes, and well wishes.
La Esquina Caliente is a perpetual -- and yes, government-sanctioned -- debate about Cuba's national pastime in the heart of its capital city. I'd learned of it several years ago and dreamed of participating myself. I wanted to hear a deeply personal perspective on Cuban baseball from the Cubans themselves, to meet the people who sustain one of the most passionate sports cultures in the world -- even as so many of their top players leave the island for Major League Baseball.
I'll admit to being an international baseball idealist, and so my expectations were profoundly high.
The reality was even better.
I arrived at La Esquina Caliente with three baseball writing colleagues and friends: Jesse Sanchez of MLB.com, Joel Sherman of the New York Post, and Tim Brown of Yahoo! Sports. Parque Central buzzed, as a crowd lined two or three deep along Paseo de Jose Marti. Why the commotion? "Obama," one young man told Jesse. The President's motorcade was expected to pass by soon, we were told.
And yet, 30 yards away, a dozen baseball fanatics were immersed in a heated analysis of the Cuban national team. A sitting U.S. president was in Cuba for the first time in 88 years -- he was, you know, allegedly about to drive right by -- but these guys were more concerned with how la seleccion nacional would look against the Rays in 24 hours.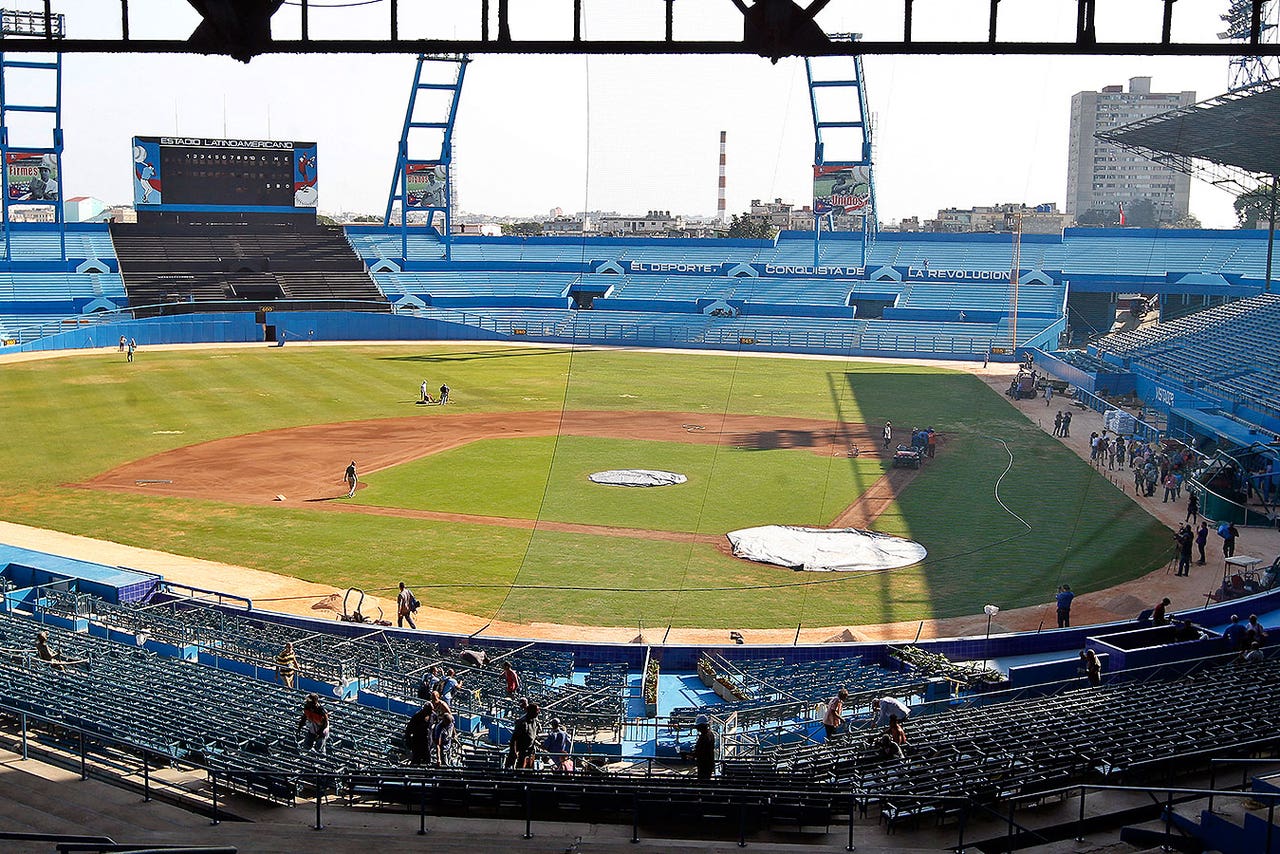 Latinoamericano Stadium, which will host the game between the Rays and the Cuban national team.

Here's where I need to credit another baseball writing friend, Jeff Blair of Rogers Sportsnet in Canada. A couple weeks ago, he suggested that I bring a couple American baseball magazines to share with the faithful at La Esquina Caliente. I dutifully purchased the Sporting News and Lindy's preseason annuals and tucked them under my arm as I approached. During a brief respite in the dialogue -- and I mean brief -- I walked into the fray, held out the glossy Sporting News, and handed it to the most vociferous of them all, a man who, were he American, would have long ago been called upon to host a polemical sports television program.
His name, we would later learn, is Antonio Castro. (No relation, I was told.) He accepted my gift with an ear-to-ear grin and reached into his pocket. He produced a Mariano Rivera baseball card and gave it to me, a simple token of goodwill that I'll cherish. His buddies craned their necks, desperate to catch a glimpse of a magazine you'd see in any American supermarket at this time of year.
And with that, we were off.
I struggled through my Spanish questions but was proud that my new friends mostly understood what I was saying. Jesse, one of the most gracious people I know, helped me when I stumbled, which was often.
We asked them questions. They asked us questions. Very quickly, a few things became apparent:
1. They know baseball.
2. They love baseball.
3. They are realists.
They did not sugarcoat their concerns over the diminished quality of play in Cuba's domestic league (la Serie Nacional) or on the national team: They've lost too many players recently -- 125 in the last 20 months, by Jesse's reporting -- for an economically threadbare island to compete against top baseball countries. Cuba is fifth in the most recent World Baseball Softball Confederation global rankings, its worst standing since 2009.
I asked Antonio how many current national team players would be starting now if the likes of Jose Abreu, Yasiel Puig, Yoenis Cespedes, Jose Fernandez, Aroldis Chapman, and Jose Iglesias hadn't left.
"Zero," he said.
The others nodded in agreement.
Would Cuban fans welcome Abreu, Puig, and Cespedes on the national team, if the federation changed its stance regarding defectors?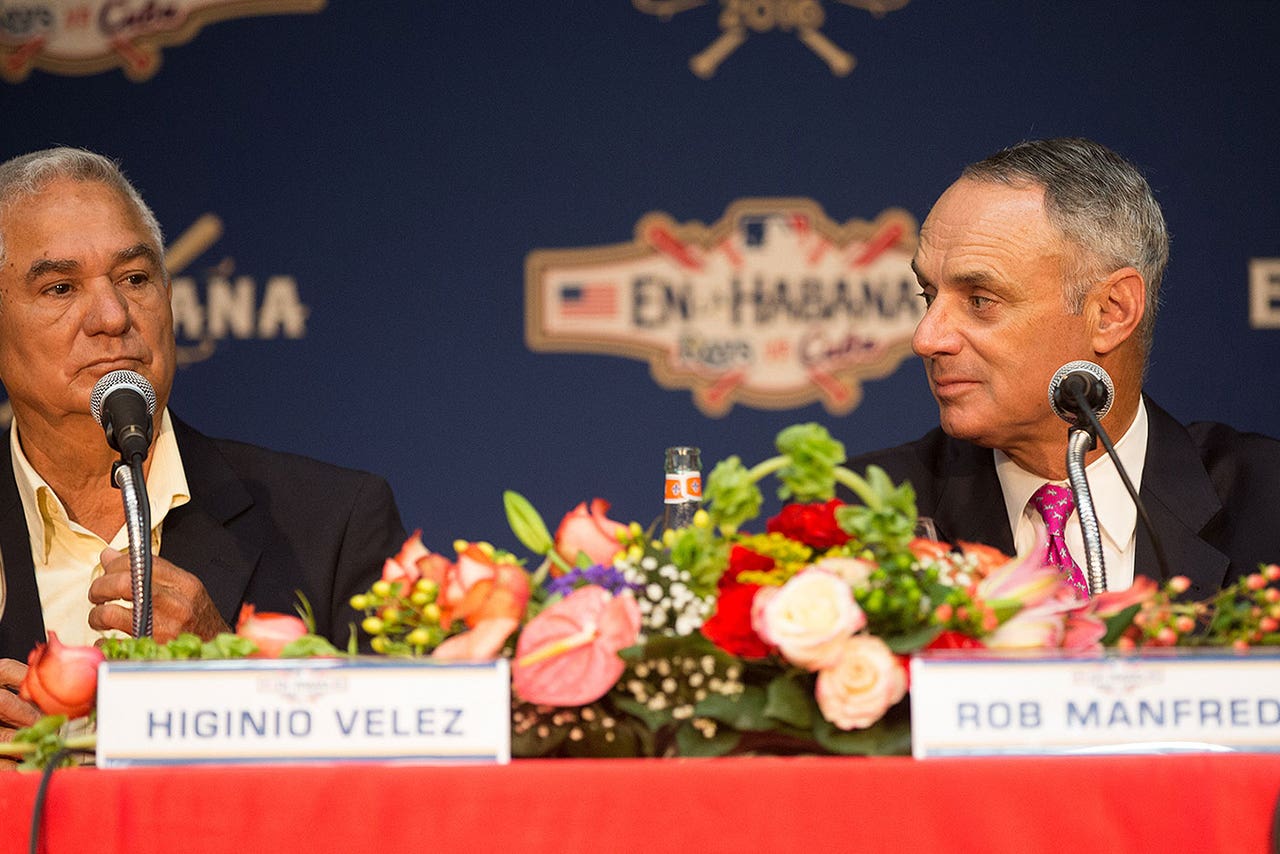 Cuban Baseball Federation president Higinio Velez and Major League Baseball commissioner Rob Manfred, at a Monday press conference in Havana.

Again, the answer was unanimous.
"One hundred percent," a young man told me.
At one point, Joel asked an excellent question, which Jesse translated with care: Did our Cuban friends see a parallel between the country's struggles and those of the national pastime? One man leaned his own shoulder against Joel's for effect.
Si, he said. Hombro a hombro.
Shoulder to shoulder.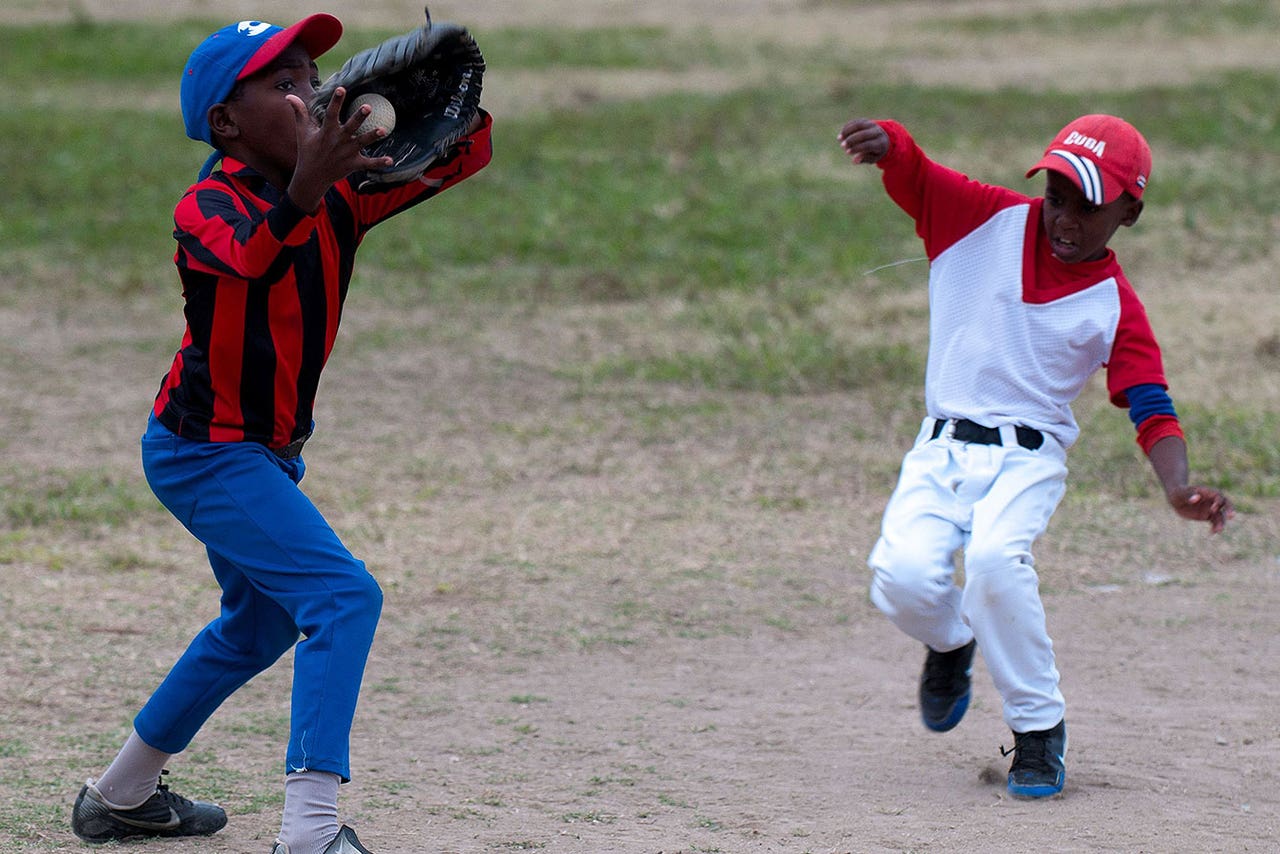 Cuban children play baseball in Havana, one week before the historic arrivals of Major League Baseball representatives ... and President Barack Obama.

There were plenty of lighter moments, including the time when -- as I struggled to find the proper Spanish words -- I said something that approximated, "With pitchers like Jose Fernandez, Cuba would have as good of a starting rotation as any nation in the World Baseball Classic." It was a byproduct of trying to say something nice. ... and trying to say something that I knew how to say.
The reaction was puzzlement on faces all around me, in a pack that had swelled to 25 or 30.
They ticked off the names -- Roenis Elias, Raisel Iglesias, Odrisamer Despaigne -- and I corrected myself quickly. Yeah, we've got Kershaw, Greinke ...
It was all hopeful and perplexing and bittersweet, this exchange with friendly strangers that -- in many ways -- was the thing I wanted most out of this historic trip. Reasonable people can disagree on whether the American embargo or Cuban socialism has played the greater role in Cuba's current economic circumstances. But those same individuals ought to see virtue in altering the approaches to U.S.-Cuba relations that have rendered little benefit for either side for the past half-century.
MLB officials want a safer mechanism for select Cuban players to reach the U.S., without continuing the deluge of defections that have harmed the quality of Cuban baseball. Similarly, the Cuban federation can credibly say that it should be compensated financially when its top players leave -- as is the case for professional leagues in Japan and Korea. Of course, that can't happen unless (a) Congress lifts the embargo or (b) baseball officials agree on a work-around blessed by governments in Washington and Havana.
The added revenue for Cuba's baseball federation would lead to a better on-field product there. Moreover, perhaps a new agreement would allow Abreu, Puig, Cespedes, and others to spend a few weeks playing in Cuba each winter -- or at least the national team -- as is the case for major leaguers from other foreign countries.
At least, it all made sense to our huddle in Old Havana on Monday afternoon, as we talked passionately about the game we love without worry or inhibition, then walked away with greater understanding -- and hope that things will be a little different when we meet again.
---
---