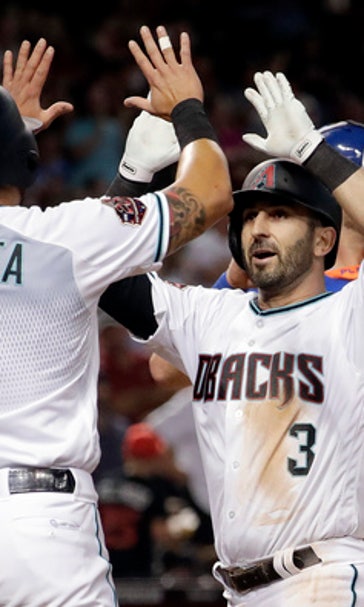 Goldschmidt, Descalso power D-backs past sinking Mets 7-3
June 16, 2018
PHOENIX (AP) The Arizona Diamondbacks have put their miserable May in the rearview mirror. The New York Mets are in a June swoon that keeps dragging on.
Paul Goldschmidt and Daniel Descalso homered, Zack Godley pitched effectively into the seventh inning and the Diamondbacks beat the staggering Mets 7-3 on Friday night.
The NL West leaders have won seven of eight and 11 of 14. The freefalling Mets have dropped four straight, 12 of 13 and 19 of 23.
After starting the season 12-2, the Mets (28-38) have gone from 10 games over .500 to 10 games under earlier than any team in major league history. The previous mark was held by the 2011 Marlins, who did it in their 76th game.
It wasn't that long ago that the tables were turned. When the Mets swept three from the Diamondbacks in New York from May 18-20, Arizona was in the midst of losing 15 times in 17 games. Since then, the Diamondbacks are 13-4.
''We were scuffling pretty bad the last time we played these guys, right in the middle of that pretty terrible stretch,'' Descalso said. ''It seems like since we've been home after that road trip and kind of got right it's been a much better ballclub, a much more offensive ballclub and we've been playing a lot better.''
New York's stagnant offense has mustered just 21 runs in the last 13 games, scoring three or fewer in 11 straight.
Rookie manager Mickey Callaway insists he's seeing subtle signs his team is breaking out of it.
''We were very close. We had lots of baserunners tonight,'' he said. ''We put ourselves in position where we didn't even need hits to score runs. We just needed some groundballs. ... It felt different during the game. When you get in here at the end of the night it feels like the same thing, but we're slowly coming out of it.''
Goldschmidt gave Arizona a lead in the first with his second solo home run in two nights. The slugging first baseman, having a torrid June after a horrendous May, has nine homers and 21 RBIs in his past 20 games. He also singled twice and drove in two runs.
Descalso had a sacrifice fly to go with a two-run homer off Seth Lugo (2-2) that put Arizona up 5-2 in the fifth. Jon Jay added three hits, including a triple.
Dominic Smith, brought up from Triple-A Las Vegas on Tuesday, homered and doubled for the Mets on his 23rd birthday.
Godley (7-5) dodged trouble through the first four innings before retiring 10 of the last 11 batters he faced. He went 6 2/3 innings, allowing two runs and five hits while striking out eight and walking three.
''I had to fight myself pretty much for the first three innings,'' Godley said. ''After that I kind of settled in a little bit, got some quick outs and was able to go deep in the game.''
With two runners on, Brad Boxberger retired Michael Conforto for his 16th save.
Lugo led off the third with a single, Conforto was hit by a pitch and Todd Frazier followed with an RBI double. But the damage was limited when Godley fanned the next three batters to keep it tied at 1.
David Peralta singled with one out in the fifth ahead of Descalso's eighth home run of the season.
''I left that changeup up to Descalso,'' Lugo said. ''I think if I execute that pitch we're in a different ballgame.''
In the sixth, Jarrod Dyson drew a one-out walk, stole second and third and scored on Jay's single to make it 6-2. Jay tripled in the eighth and Goldschmidt singled him home.
TRAINER'S ROOM
Mets: Activated INF Wilmer Flores (back) from the 10-day disabled list and optioned INF-OF Ty Kelly to Triple-A Las Vegas. Flores entered in a double switch in the sixth and had an RBI double in the ninth.
Diamondbacks: LHP Robbie Ray (strained right oblique) made his first rehab start Thursday night for Class A Visalia, allowing five runs, two earned, and five hits with three strikeouts. He threw 45 pitches in 2 1/3 innings. His next start will be Tuesday for Triple-A Reno, when he is to throw 65-75 pitches. ... RHP Randall Delgado threw 1 2/3 scoreless innings in a rehab appearance for Reno on Thursday. He is to throw an inning of relief for Reno on Monday.
UP NEXT
The Diamondbacks send left-hander Patrick Corbin (6-2, 3.21 ERA) to the mound and the Mets counter with lefty Steven Matz (2-4, 3.53) on Saturday night in the third matchup of the four-game series.
---
More AP baseball: https://apnews.com/tag/MLBbaseball
---
---