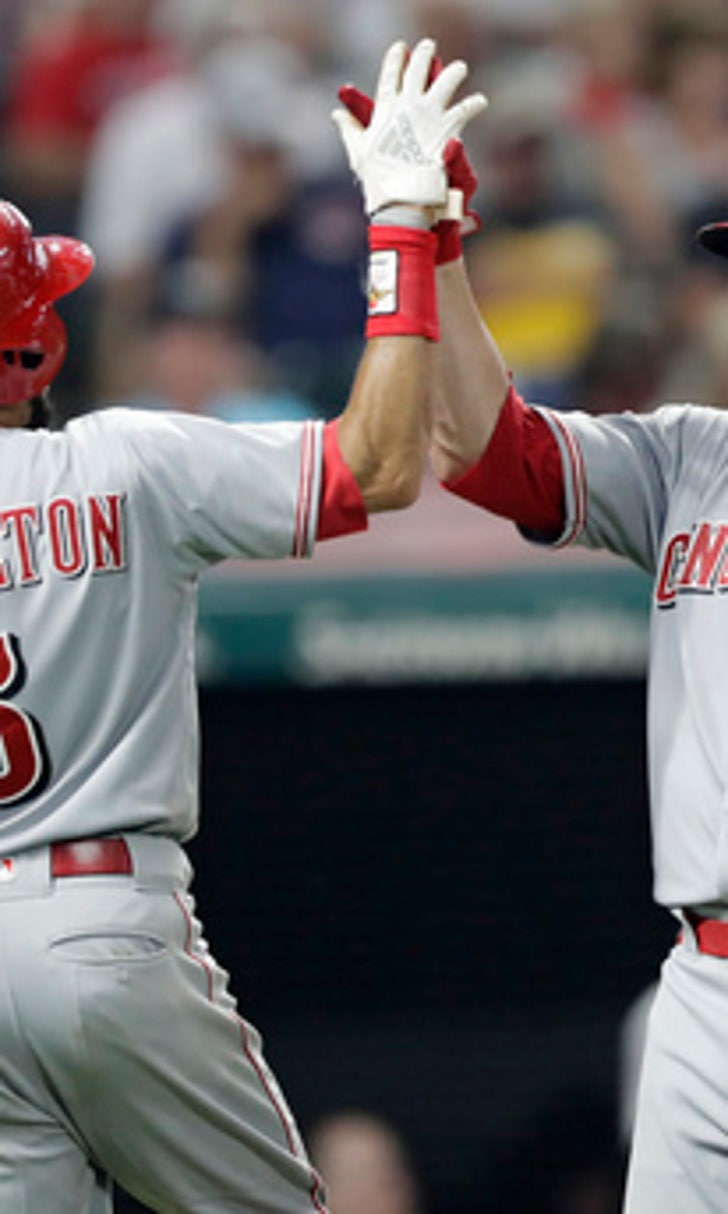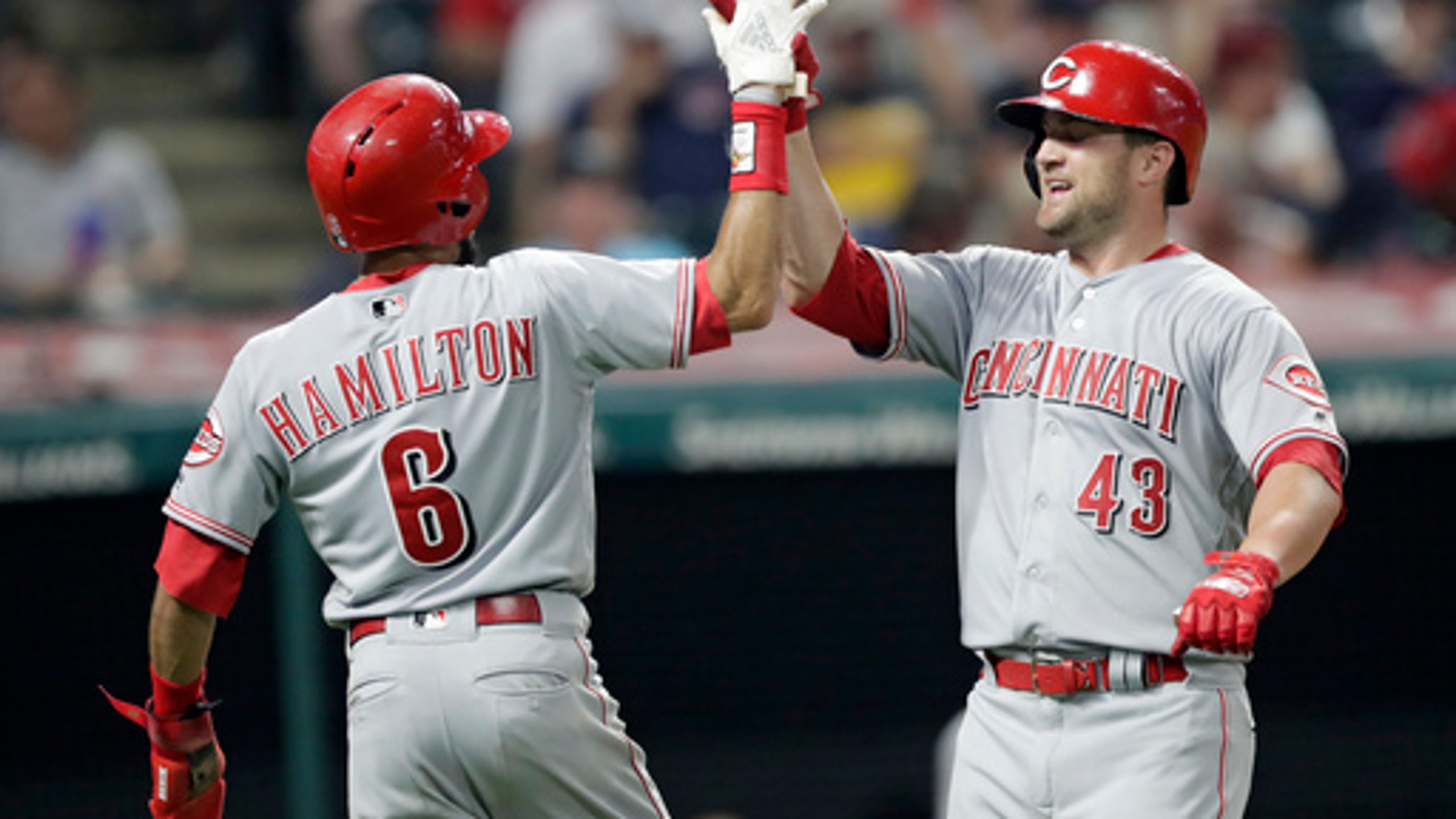 DeSclafani allows 1 run, Schebler homers; Reds top Indians
July 9, 2018
CLEVELAND (AP) Anthony DeSclafani gave the Cincinnati Reds seven strong innings Monday night.
Raisel Iglesias made sure they hung on in a tense ninth for a 7-5 win over the Cleveland Indians.
DeSclafani (4-1) allowed one run and Scott Schebler was 4 for 5 with a homer for Cincinnati, which took the opener of the team's annual battle for the Ohio Cup and sent the AL Central leaders to their third straight loss.
Cincinnati took a 7-1 lead into the ninth, but needed its closer to seal the win.
''We certainly were hanging on the edge there, but he got the job done,'' interim manager Jim Riggleman said. ''I love the way our guys are competing and this was a good solid game.''
Jason Kipnis hit a two-run homer in the ninth off Amir Garrett, cutting the lead to 7-3. Tanner Rainey allowed two hits and recorded an out before Iglesias relieved.
Francisco Lindor's sacrifice fly and Michael Brantley's RBI double made it a two-run game, but Iglesias struck out All-Star Jose Ramirez on three pitches for his 18th save.
''I'd rather not be down six, but if you can get the tying run to the plate, especially with Jose hitting, you give yourself a chance,'' Indians manager Terry Francona said.
All-Star first baseman Joey Votto also homered and Cincinnati improved to 9-2 against American League teams. The Reds are 37-36 since Riggleman replaced Bryan Price on April 19.
DeSclafani (4-1) held the Indians to five hits. Yonder Alonso's solo homer broke Cleveland's 17-inning scoreless streak in the fourth.
DeSclafani, making his seventh start, strained his left oblique in spring training and began the season on the 60-day disabled list. The right-hander missed last season because of a sprained elbow ligament and made his longest outing in two years.
''That was great for me, getting through the seventh inning,'' DeSclafani said. ''It was kind of a milestone since I've come back and felt real good.''
Votto hit a fifth-inning home run off Mike Clevinger (7-4), who matched a career high with 11 strikeouts in six-plus innings. Cleveland's right-hander allowed five runs and needed two outstanding defensive plays to keep the Indians in the game.
Schebler had an RBI single in the seventh and a two-run homer in the ninth.
Tucker Barnhart's RBI double put Cincinnati ahead in the second. Jesse Winker had an RBI double in the fourth that was followed by Barnhart's run-scoring single.
Schebler singled on the game's first pitch, but was nearly picked off with Jose Peraza batting. Schebler went back to the bag standing up on Clevinger's pickoff throw and was called out by James Hoye. The Reds challenged the play and the call was overturned.
Clevinger struck out the next two hitters and Tyler Naquin robbed Scooter Gennett of a run-scoring hit with a diving catch on the warning track in right.
Barnhart's double scored Eugenio Suarez, who drew a leadoff walk in the second. Greg Allen crashed into the center field wall while making a leaping catch of Adam Duvall's drive.
''They're really hot right now,'' Clevinger said. ''I don't want to downplay what they're doing offensively, but it was almost like I was leading them to the barrel. It's kind of how the night went.''
Votto hit his 266th career homer, moving into second place among Canadian-born players in MLB history and passed Matt Stairs. Larry Walker holds the record with 383.
LOOKING GOOD
Gennett, the Reds' All-Star second baseman, turned in a highlight-reel play in the third after Ramirez's hard grounder glanced off Votto's glove. Gennett went to shallow right field to back up the play, stopped, turned around to make a diving barehand grab and threw Ramirez out from his knees.
TOUGH NIGHT
Josh Tomlin's rocky season continued when he gave up Schebler's two-run homer in the ninth. Tomlin has allowed 21 homers in 49 innings this season.
TRANSITION TIME
Reds RHP Homer Bailey (right knee inflammation), moving into a relief role, tossed two scoreless innings on a rehab assignment with Triple-A Louisville on Sunday. He went 1-7 with a 6.68 ERA in 12 starts with Cincinnati before going on the disabled list on June 2.
''I know he's gone into this situation leery about how it will work, coming out of the bullpen,'' Riggleman said. ''Guys like (Dennis) Eckersley and (John) Smoltz have made this move before, but they did it in spring training to get ready for the year, so this is more of a challenge for Homer.''
TRAINER'S ROOM
Indians: LHP Andrew Miller (sore right knee) might face hitters in a simulated game Saturday. He threw 29 pitches in a bullpen session Monday and will throw off the mound again Wednesday. Miller has been out since May 26.
UP NEXT
Reds RHP Sal Romano (5-8, 5.40 ERA) takes on Indians RHP Trevor Bauer (8-6, 2.45 ERA). Bauer, named to the All-Star team Sunday, is seeking his MLB-record seventh straight quality start with at least eight strikeouts and zero homers allowed.
---
---