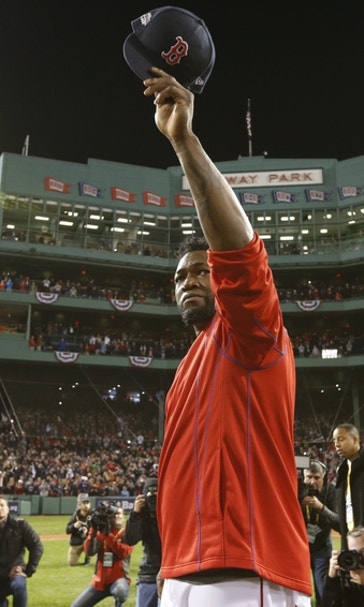 Boston Red Sox: Top 10 memorable moments of 2016
December 31, 2016

Fansided, Sean Penney/FanSided via BoSox Injection
Before the ball drops at midnight on New Year's Eve, let's count down the top 10 moments from 2016 for the Boston Red Sox.
Aug 20, 2016; Detroit, MI, USA; Boston Red Sox left fielder Andrew Benintendi (left) center fielder Jackie Bradley Jr. (center) and right fielder Mookie Betts (right) celebrate after the game against the Detroit Tigers at Comerica Park. Red Sox win 3-2. Mandatory Credit: Raj Mehta-USA TODAY Sports
It's almost time to ring in the New Year, one that promises to be eventful for a reloaded Boston Red Sox team that enters 2017 with high expectations.
This past year has been good to this team. Well, not the duck boat parade type of good, but Boston certainly took a tremendous leap in that general direction. Following a couple of glum seasons that left the Red Sox wallowing in the basement of the AL East, Boston is back on track to reclaim their place among the World Series contenders.
As much as there is to look forward to next season, there are plenty of fond moments for us to reflect on from a memorable 2016.
As midnight approaches, millions of people will count down the final 10 seconds of the year while watching a sparkling ball of lights fall from the sky. As thrilling as that annual tradition can be, we've got something even more exciting to count down.
Without further adieu, here are the ten best moments of 2016 for the Red Sox franchise.
Jul 17, 2016; Bronx, NY, USA; Boston Red Sox starting pitcher David Price (24) pitches against the New York Yankees during the second inning at Yankee Stadium. Mandatory Credit: Brad Penner-USA TODAY Sports
Opening Day
The first game of the 2016 season was postponed due to rain, but Opening Day proved to be worth the wait for the Red Sox.
Freshly minted ace David Price earned the win in his team debut, out-dueling Cleveland Indians star Corey Kluber in a 6-2 victory. Price tossed six innings, allowing only two runs while striking out 10.
Red Sox fans also caught their first regular season glimpse of the other big addition to the pitching staff, as Craig Kimbrel closed out the ninth. It wasn't a save situation, but the fire-breathing closer still looked sharp, collecting a pair of strikeouts in a scoreless inning.
Boston's offense was fueled by Mookie Betts, who homered in the third inning to give the Red Sox a lead they would not relinquish. With a pair of hits on Opening Day, a strong start foreshadowed a breakout season from Betts.
David Ortiz would tack on a couple of insurance runs in the ninth with a two-run blast, adding to his career home run total in the final Opening Day of his career.
The tables would turn on Price and the Red Sox six months later when they failed to pick up a win on this same field in Cleveland in the ALDS, but at least the season got off to a promising start.
Apr 23, 2015; St. Petersburg, FL, USA; Boston Red Sox catcher Sandy Leon (3) at bat against the Tampa Bay Rays at Tropicana Field. Mandatory Credit: Kim Klement-USA TODAY Sports
Sandyman breaks out
Not a singular moment, per se; however, Sandy Leon's breakout year became one of the best stories of the season for the Red Sox.
The light-hitting backup catcher was known more for his defensive skills behind the dish. Leon entered the season with a .186 career average over 209 at-bats, including a .184/.238/.202 slash line in 41 games for Boston in 2015.
Not much could be expected given his track record, but when Boston's depth at the catcher position became depleted by injury and ineffectiveness, Leon was given a shot. The 27-year old stunned the league by hitting a blistering .467 with a 1.062 OPS over sporadic playing time in June.
Unable to ignore this massive spike in production, the Red Sox turned the bulk of the catching duties over to Leon. His numbers did tail off with the increased workload, but he still hit well above .300 over the next two months. A September swoon spoiled a tremendous season, but there is a large enough sample size of top-notch productivity to suggest this improvement was no fluke.
While we shouldn't expect Leon to turn into the next Mike Piazza at the plate, he'll at least be given the opportunity to begin next season as the starting catcher to see if he can carry over this year's success.
Aug 23, 2016; St. Petersburg, FL, USA; Boston Red Sox left fielder Andrew Benintendi (40) looks on from the bench before the game against the Tampa Bay Rays at Tropicana Field. Mandatory Credit: Kim Klement-USA TODAY Sports
Prospect debuts
Fans have a tendency to get excited about top prospects getting their first taste of big league action and this year was no exception, with two of the best in Boston's farm system making their major league debuts this season.
Outfielder Andrew Benintendi made his first appearance as a pinch-hitter on August 2. It was an uneventful 0-for-2 debut for the 22-year old, but he would follow with a pair of hits in his first start as the new left fielder the next day.
Benintendi hit .324 in 21 games that month, while flashing impressive leather in the field, before a knee injury put him on the shelf for a few weeks. He would return in mid-September to give the Red Sox a boost down the stretch and proved to be one of the top threats in the lineup during their brief postseason experience, hitting .333 with a homer in the ALDS.
As the top ranked prospect in baseball, Yoan Moncada's arrival came with significantly more hype, but the 21-year old from Cuba didn't live up to those expectations right out of the gate. Moncada made his debut on September 2, drawing a walk that led to a run and also striking out in a blowout win in Oakland.
Initially it seemed that Moncada would take the league by storm, collecting four hits in his first ten at-bats. Except it didn't take long for opposing pitchers to figure out that the young infielder remains baffled by breaking balls. Pitchers exposed the holes in Moncada's swing by feeding him a steady diet of curves and sliders outside of the zone. After striking out in nine consecutive plate appearances, Moncada received a permanent spot on the bench to ride out the rest of the season.
With Moncada having since been traded away, it's Benintendi who will shine as Boston's Rookie of the Year candidate in 2017.
Jul 10, 2016; Boston, MA, USA; Boston Red Sox shortstop Xander Bogaerts (2) reacts with right fielder Mookie Betts (50) after defeating the Tampa Bay Rays at Fenway Park. Mandatory Credit: Bob DeChiara-USA TODAY Sports
All-Star Sox
The Red Sox sent only one player to the 2015 All-Star Game, only because of MLB's archaic rule that each team must be represented. Brock Holt got the nod based primarily on the value he could add with his versatility off the bench, which enticed AL manager Ned Yost into giving him a spot.
This year was entirely different. With the Red Sox back in contention, the team would send a star studded group to San Diego for the Midsummer Classic.
Boston sent a total of six players to this year's All-Star Game, including four that were voted in as starters by the fans. This marked the third time in franchise history that the Red Sox have sent at least four starters to the All-Star Game and the first time since 2008 that they have had at least six total All-Stars.
Ortiz made his 10th and final All-Star appearance as the designated hitter. The veteran slugger was joined by a trio of young position players that he'll now pass the torch to, as shortstop Xander Bogaerts, right fielder Mookie Betts and center fielder Jackie Bradley all made their first All-Star appearances.
Knuckleball pitcher Steven Wright was also selected, although he never made it into the game. Craig Kimbrel was also named to the team, but was unable to participate due to injury.
Sep 22, 2016; Baltimore, MD, USA; Boston Red Sox outfielder Jackie Bradley, Jr. (25) triples in the second inning against the Baltimore Orioles at Oriole Park at Camden Yards. Mandatory Credit: Evan Habeeb-USA TODAY Sports
Hit streaks
The longest hitting streak in the American League this year belonged to Jackie Bradley, who put together a 29-game streak from April 24 – May 25. The 26-year old center fielder had always been known primarily for his glove, but he had a breakout year at the plate fueled by this early streak.
Bradley hit a scorching .415 during that span, raising his season average from .222 to .350 in about a month. He wasn't relying heavily on a bunch of cheap hits to keep his streak going either. Bradley had multiple hits in 11 of the 29 games, plus seven home runs and 17 extra-base hits.
His bat would eventually cool off, but JBJ still finished the season with a career high .267 average and .835 OPS.
While he is credited with the league's longest hit streak, Bradley wasn't the only one in the Red Sox lineup that put together an impressive run. The league's second longest streak belonged to Xander Bogaerts with 26 games and Dustin Pedroia was tied for 7th with a 16-game streak.
With so many staples of the lineup producing hits seemingly every day, it's no wonder the Red Sox led the majors in runs scored by a mile.
Aug 14, 2016; Boston, MA, USA; Boston Red Sox right fielder Mookie Betts (50) smiles after he was doused with Powerade by shortstop Xander Bogaerts (2) after the Boston Red Sox 16-2 win over the Arizona Diamondbacks at Fenway Park. Betts had three home runs in the win. Mandatory Credit: Winslow Townson-USA TODAY Sports
Three-homer games
2016 was the year of the three-homer game for the Red Sox, as the rare accomplishment of a hitter connecting on a trio of home runs in the same game occurred three times this season.
Mookie Betts accounted for two of those occurrences. The first came on May 31 in Baltimore, when all three of his hits left the yard. Betts drove in five runs in the 6-2 victory over the Orioles. As impressive as that performance was, the MVP runner-up would top it on August 14 during a 16-2 shellacking of the Arizona Diamondbacks at Fenway. Betts went 4-for-6 at the plate with three home runs and eight RBI.
Betts became the first Red Sox hitter to bash three home runs in a game since Will Middlebrooks in April 2013. He is one of only four hitters in franchise history to do it twice, joining Nomar Garciaparra (1999, 2002), Mo Vaughn (1996, 1997) and Jim Rice (1977, 1983). The iconic Ted Williams is the only Red Sox hitter to do it three times in his career and he was the only one in franchise history to accomplish it twice in the same season before Betts. No Red Sox hitter has ever had four home runs in a game before.
Sandwiched in between the pair of three-homer games from Betts came one from Hanley Ramirez, who joined the club on July 20 in an 11-7 win over the San Francisco Giants. Ramirez went 3-for-4 with a career-high six RBI in the game.
After that three home run performance, Ramirez' total still only stood at 11 more than halfway through the season. That career night kick-started a second half power surge that would lead to the first 30 homer/100 RBI season of his career.
October 6, 2016; Cleveland, OH, USA; Boston Red Sox starting pitcher Rick Porcello (22) throws in the first inning against the Cleveland Indians during game one of the 2016 ALDS playoff baseball game at Progressive Field. Mandatory Credit: Ken Blaze-USA TODAY Sports
Cy Young pitcher
The Red Sox expected to have a Cy Young contender anchoring their rotation when they entered the season, but they had the wrong pitcher in mind. That was the role David Price was supposed to fill, but it was Rick Porcello that ended up having a career year to surpass his more accomplished teammate as the top ace on the staff.
Porcello delivered a stellar 22-4 record to lead the majors in wins. Granted he also had plenty of run support from the best offense in baseball, but Porcello did his part to earn those victories. He finished 5th in the league with a 3.15 ERA, second in WHIP at 1.01 and fourth with 223 innings.
Most impressive was his impeccable control. Porcello isn't an overpowering hurler with a top notch strikeout rate, but he makes up for it by avoiding free passes. The result was a major league-leading 5.91 K/BB rate.
Wins tend to be an overrated statistic for measure the value of a pitcher, but collecting over 20 of them in a season remains an impressive accomplishment. Even if you ignore the win total, Porcello provided elite production in plenty of categories to be considered a worthy Cy Young Award winner.
Sep 24, 2015; Bronx, NY, USA; Chicago White Sox starting pitcher Chris Sale (49) pitches against the New York Yankees in the third inning at Yankee Stadium. Mandatory Credit: Andy Marlin-USA TODAY Sports
Ace on Sale
The Red Sox rotation already boasts the reigning Cy Young winner, as well as a former recipient of the award who was signed to a record contract last winter. Dave Dombrowski wasn't content with  a pair of aces, so he dealt for a third.
Boston acquired left-handed starter Chris Sale from the Chicago White Sox earlier this month in a blockbuster trade that cost them two of their top prospects – infielder Yoan Moncada, widely viewed as the best prospect in baseball, as well as flame-throwing starter Michael Kopech.
The price was steep, but Sale is worth it. He's been an All-Star and finished in the top six in Cy Young voting in each of the last five seasons. The 27-year old has been a workhorse, topping 200 innings in three of the last four seasons. He also owns a career 3.00 ERA and 10.1 K/9 rate.
Sale is one of the top pitchers in the American League, yet he's signed to a bargain contract. Assuming both option years are picked up, the Red Sox will have Sale locked in for three years at a very reasonable total of $38 million. Better yet, he'll only count for $6.5 million against the luxury tax, which counts the average annual value of the contract.
Concerns over Boston's depleted farm system are understandable, but the opportunity to acquire Sale was too good to pass up. He immediately launches the Red Sox to the front runner position in the AL by solidifying what is now arguably the best rotation in baseball.
Aug 20, 2016; Detroit, MI, USA; Boston Red Sox designated hitter David Ortiz (34) celebrates with right fielder Mookie Betts (50) during the fifth inning against the Detroit Tigers at Comerica Park. Mandatory Credit: Raj Mehta-USA TODAY Sports
Return to October
After a pair of miserable seasons locked in the basement of the AL East, the Red Sox returned to the postseason with their first division title since 2013.
The night that Boston clinched the division was a surreal setting. The team suffered an epic meltdown in New York that ended with Mark Teixeira's walk-off grand slam. A somber Red Sox roster retreated to the clubhouse, only to learn that Toronto had also lost that night, allowing Boston to back into the division title.
The players initially seemed uncertain of how to react to the news. They wanted to celebrate the accomplishment, yet were all still fuming from the gut wrenching loss moments ago. Until manager John Farrell stepped in with a rousing speech that convinced the team that the results of that night didn't matter, it was the collective effort over the course of the season that earned them the right to call themselves division champs.
The champagne started spraying as teammates came together to bask in this achievement. That's when it finally started to sink in – the Red Sox would be back on the postseason stage.
Oct 10, 2016; Boston, MA, USA; Boston Red Sox designated hitter David Ortiz (34) salutes the fans after loosing to the Cleveland Indians 3-4 in game three of the 2016 ALDS playoff baseball series at Fenway Park. Mandatory Credit: Greg M. Cooper-USA TODAY Sports
Big Papi's Fenway farewell
Every city that the Red Sox visited this year greeted David Ortiz with a respectful tribute to his storied career.
Ortiz was swarmed with more attention than ever before in his final season, as everyone wanted to get one last moment with the iconic slugger. In his final appearance at each visiting ballpark, Ortiz was honored in a pre-game ceremony and showered with parting gifts.
A custom made Stetson cowboy hat in Houston, a surfboard in San Diego, a book filled with thoughtful inscriptions from former Yankees. Everyone had something to give to Big Papi to thank him for his contributions to the game.
As touching as it was to see opposing teams show their respect to Ortiz, nothing could compare to the tearful goodbye waiting for him at Fenway Park. The Red Sox held a three-day tribute during the final home stand of the regular season, recognizing his charitable contributions as much as his Hall of Fame worthy production on the field.
Several of his former teammates joined the ceremony to celebrate Ortiz's career, as well as representatives from the Patriots, Celtics and Bruins. Ortiz wasn't merely a Red Sox hero, he was a Boston icon and the entire city banded together to honor him.
The Red Sox also wasted no time in announcing that Ortiz's No. 34 will be retired at Fenway next season.
Ortiz's final Fenway appearance as an active member of the Red Sox came in a Game 3 loss to the Cleveland Indians in the ALDS. While the sting of postseason defeat would have sent most fans wallowing toward the exits, the Fenway faithful stuck around to salute Big Papi one last time. The image of Ortiz tipping his hat to the crowd is one that Red Sox fans won't soon forget.
More from BoSox Injection
This article originally appeared on
---
---