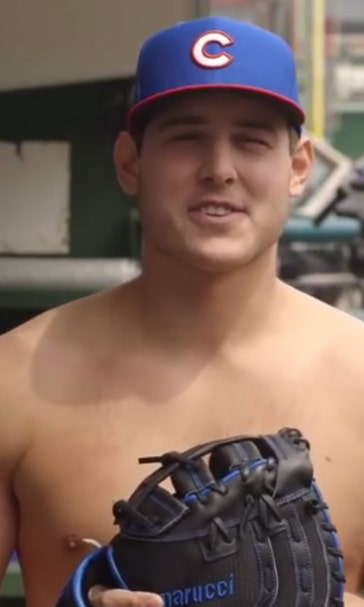 Anthony Rizzo's naked speeches inspired the Cubs' World Series run
March 14, 2017

Coming back from a 3-1 deficit to win the World Series was no easy feat for the Chicago Cubs, and many still wonder exactly how they were able to pull off such an impossible task.

But now it appears that question has been answered — and you can thank a naked Anthony Rizzo.

According to SI's Tom Verducci, Rizzo gave motivational speeches to his teammates while he was stripped down to his birthday suit to help rally his team ahead of the final three games of the Series.




Naked Rizzo quoted "Rocky" along with other famous movies, as SI described in this excerpt from Verducci's new bookThe Cubs Way: The Zen of Building the Best Team in Baseball and Breaking the Curse:

An hour before Game 5, Rizzo had broken out his pregame inspirational and comedic presentation, quoting motivational lines from movies with no clothes on. The Cubs won, so Rizzo did it before Game 6, too. They won again, so he did it before Game 7 as well.

An hour before the seventh game of the World Series, Rizzo stripped off all his clothes, cranked the theme from Rocky on the clubhouse stereo one more time, jumped on top of a coffee table, and began quoting lines from the movie and throwing his best shadow-boxing punches. Pitcher Hector Rondon, joining in on the hijinks, picked up an aerosol can of shoe cleaner and sprayed it in the direction of Rizzo's groin.

Startled and angered, Rizzo stopped and yelled, "What the heck, man!" He cut the music and stormed off toward the showers to clean off the spray. "I'm thinking, Dang, what's he doing?" Ross said. "We can't have this negative vibe right before the game. I go by there. I can tell he's a little irritated."

Ten minutes went by. Rizzo finally emerged from the shower. He walked back silently to his locker with a towel around this waist. The room was quiet and uneasy.

Ross walked up to Rizzo and broke the silence.

"Hey! It's not how many times you get knocked down … it's how many times you get up!"

Rizzo chuckled. "You know what?" he said. "You're right!" Said Ross, "He rips the towel off, runs up, turns the music on again, and he jumps back on the coffee table and starts doing the Rocky motions again."

And the rest, as they say, was history. The Cubs went on to capture a thrilling Game 7 victory over the Indians to win their first World Series title since 1908.

Verducci's book will be released March 28 and can be purchased here.


---
---