Los Angeles Angels
Los Angeles Angels
Angels' Maybin faces stiff challenge in Yankees' Pineda (Jun 14, 2017)
Published
Jun. 14, 2017 4:13 a.m. ET

ANAHEIM, Calif. -- It cannot be easy to be the guy that has to fill in for Mike Trout.
While Cameron Maybin certainly isn't expected to fill Trout's shoes offensively, Maybin is tasked with manning center field while the defending American League MVP recovers from surgery to repair a torn thumb ligament.
Maybin, who came to the Los Angeles Angels in an off-season trade with the Tigers for a minor leaguer, was expected to be the Angels' regular left fielder. But with Trout out, the Angels determined Maybin was their best option to anchor the Angels outfield in center.
Not long after Trout was injured, Maybin got hurt himself, straining an oblique muscle that landed him on the disabled list. But he is back now, and he is expected to get the start in center field Wednesday when the Angels face the New York Yankees in the final game of the three-game series.
The Yankees have not been kind to Maybin. He is hitting .164 (9-for-55) in 14 career games against New York. But after a slow start this season, Maybin is turning things around.
Besides taking Trout's spot in center, Maybin is primarily batting in the leadoff position, and his 19 stolen bases lead the league.
"Since the first month of the season, he's come alive," Angels manager Mike Scioscia said. "You see the player he is. This is the way he played last year when he was on his game. He's using the whole field on the offensive side and he's playing great defense. This is what we need."
After hitting .206 in April, he's hitting .292 since. Against the Yankees' scheduled Wednesday starter Michael Pineda, Maybin has two hits in nine at-bats.
Pineda (7-3, 3,39 ERA) has been consistently good all season, giving up three earned runs or fewer in 10 of his 12 starts. He is 1-1 with a 7.50 ERA in two career starts against the Angels, but they will be facing a different Pineda than they've seen in the past.
One of the biggest reasons for Pineda's improvement is the development of his changeup.
"It acts like a sinker almost sometimes," Yankees manager Joe Girardi told the New York Daily News. "And with the other two pitches going the other way, his fastball, which sometimes has a little cut, and his slider, I think it gives him pitches that go both ways and it gives him three different speeds. And I think that's what makes it effective."
Another aspect for Pineda, 28, is his ability to find a way to be effective even when he doesn't have his best stuff.
"It's easy to pitch when you have your best stuff," Pineda told the Daily News. "But when you don't have your best stuff, you need to grind on the mound and execute your pitches. That's what I'm doing, and I feel happy with that."
Matt Shoemaker (6-3, 4.22 ERA) will start for the Angels, and set to face the Yankees for the third time in his career. He lost both previous starts, giving up six runs and 15 hits in 13 1/3 innings.
---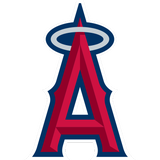 Get more from Los Angeles Angels
Follow your favorites to get information about games, news and more
---