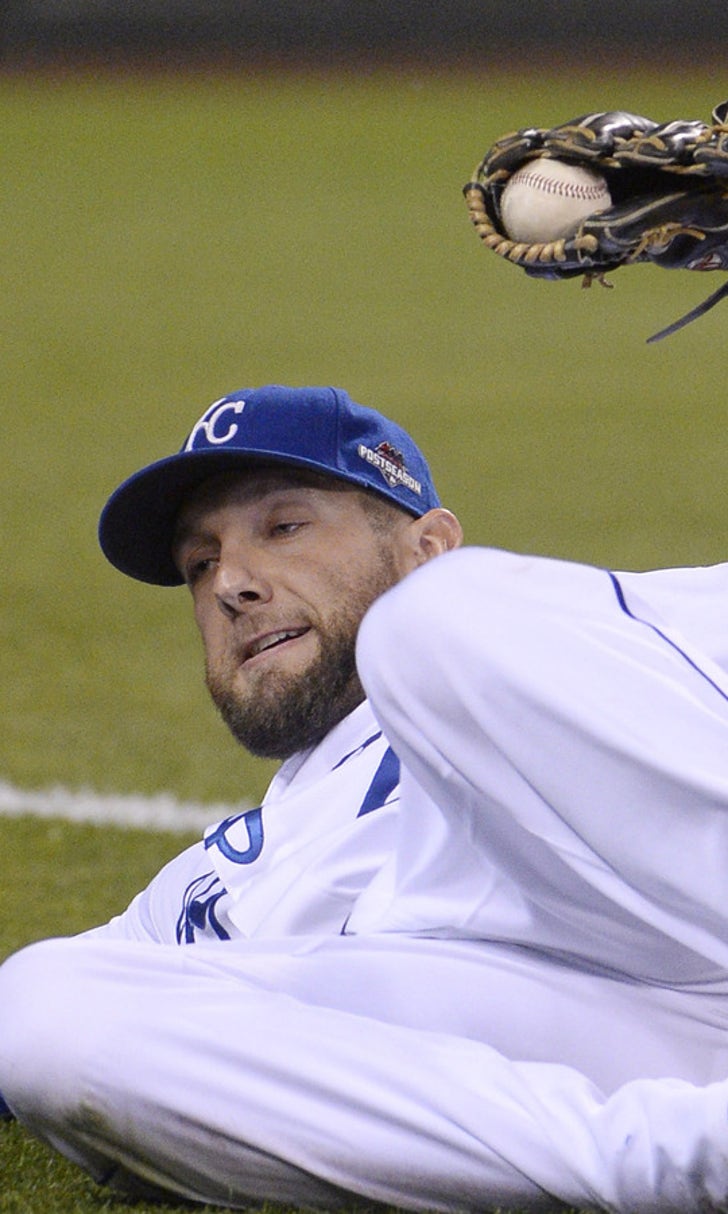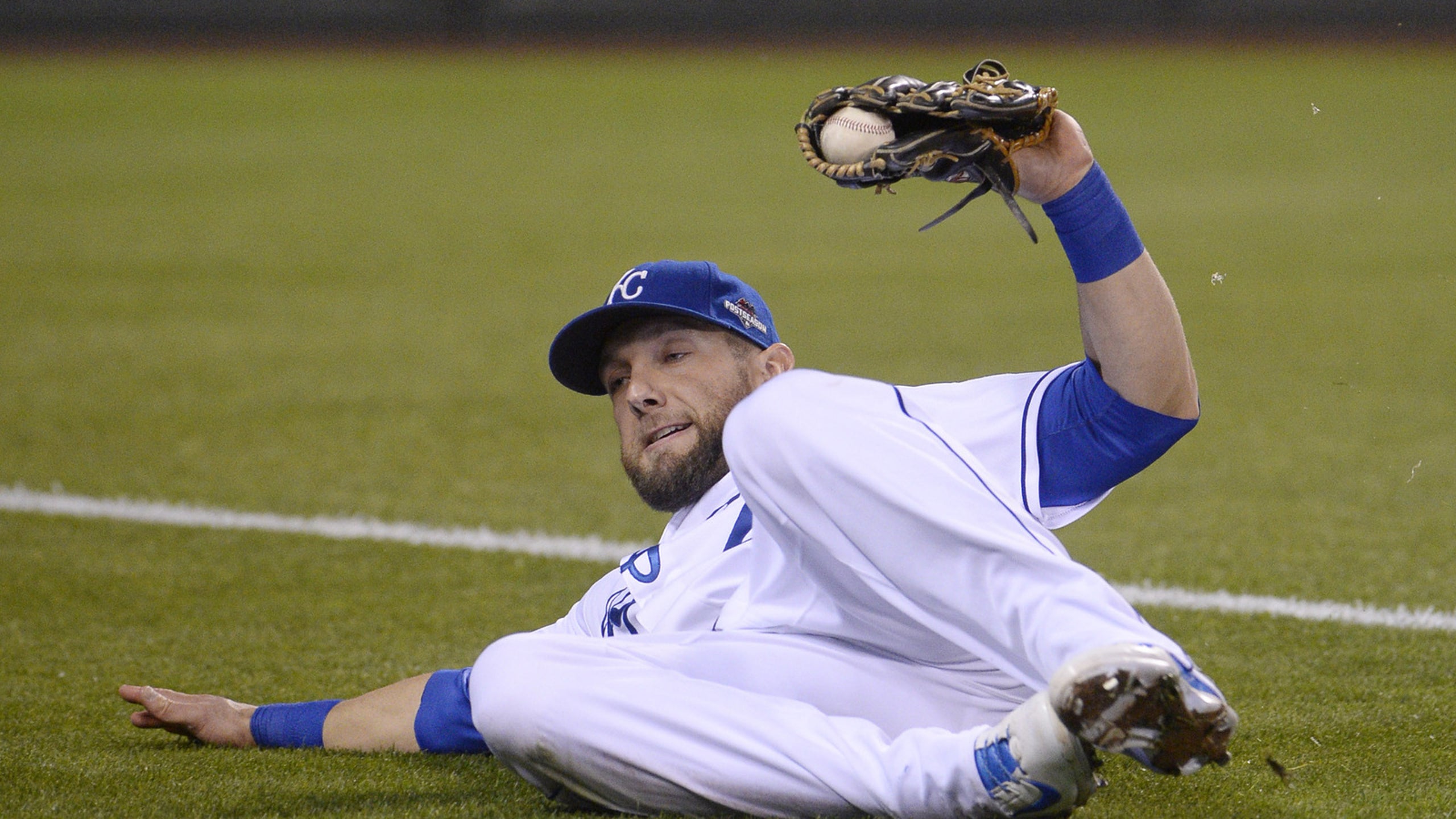 Alex Gordon and the Royals' defensive dominance
BY foxsports • November 4, 2015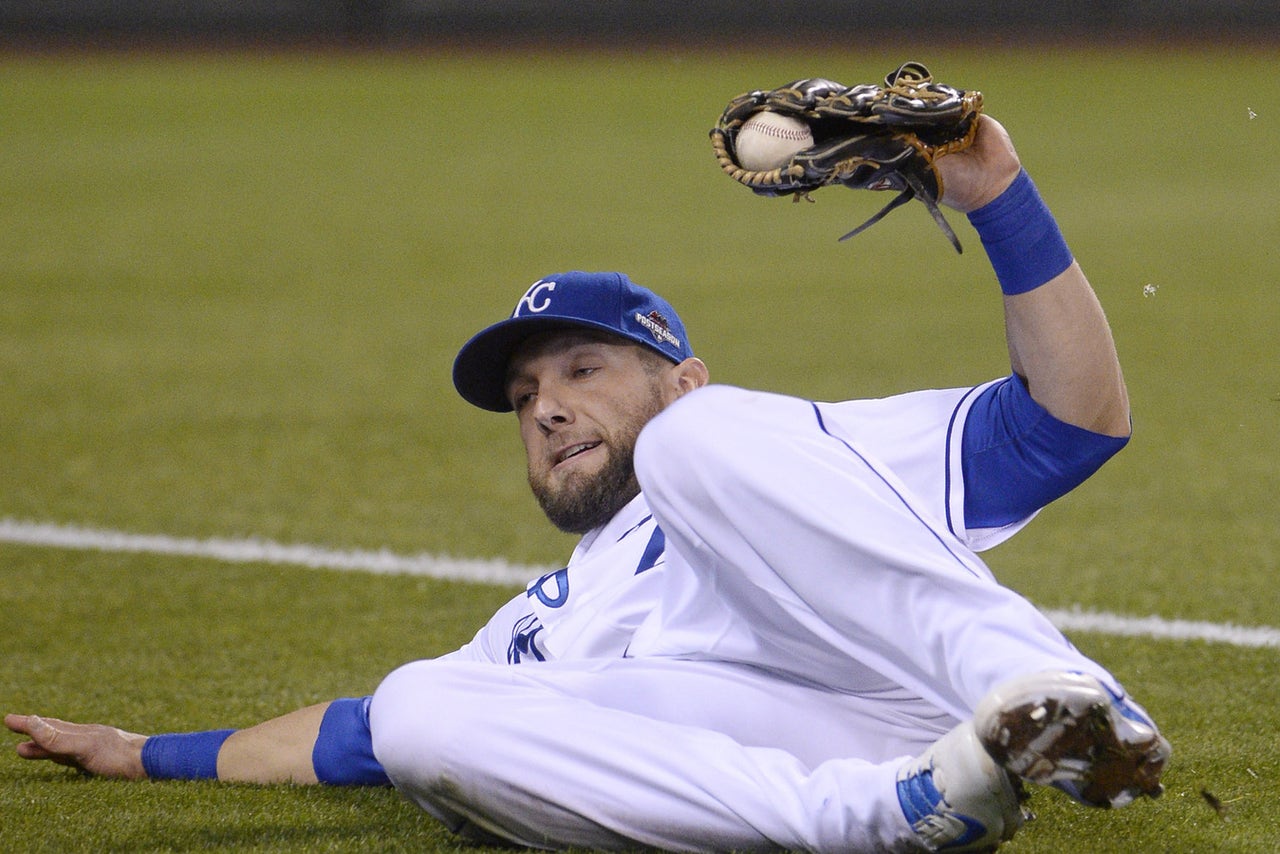 By Jeff Sullivan
Alex Gordon is going to be a hot commodity on the free-agent market. Little thought will be given to exercising his current 2016 option, and then he'll be available to anyone and everyone. The FanGraphs crowd expects him to sign for something in the neighborhood of five years and $90 million, and the crowd can end up low when predicting the higher tier. Relative to other free agents, the crowd puts Gordon's contract between Chris Davis' contract and Jeff Samardzija's contract in total cost.
Maybe Dayton Moore will be the guy who gives the contract. The Royals love Gordon, as anyone would, and he's been with the Royals his whole career, and you might've noticed those Royals recently winning a championship. On their side, then, there's new extra revenue, and there's a natural desire to keep the same core. On Gordon's side, he could be willing to entertain a bit of a discount, to remain where he's been. He likes the organization, and now the organization's successful. Good reason to stay.
There's a lot of money out there, though. This is business, and perhaps Gordon will elect to leave Kansas City on top. People are driven to pursue new, fresh opportunities. There's a strong chance Gordon doesn't return, is the point. Maybe it's 40%, or maybe it's 90%. Gordon has been an absolutely phenomenal defensive left fielder. So because this era might be about to change, I'd like to quickly review what's been a period of team-level defensive dominance.
Nothing about the Royals flies under the radar anymore. They've been in the spotlight two years in a row, and even their advance scouts now have drawn widespread praise. So the Royals are fairly recognized for having played great defense. You can see it when you watch — it's not hard to spot — but there's value in establishing context. How has the Royals' defense compared to other defenses?
It's easy to look at the yearly team leaderboards, but this hasn't been a one-year thing. The Royals have been strong in the field for a while. Lorenzo Cain has been something like an everyday player for three years. And the Royals overall have seen a three-year window of success, jumping from 72 to 86 wins headed into 2013. As a matter of fact, since 2013, the Royals have the most regular-season wins in the American League. So what I decided to do was look at team defensive performance over three-year spans. What we have here are Defensive Runs Saved and UZR. The former stretches back to 2003, while the latter stretches back to 2002.
They're not perfect measures of defense. There is no perfect measure of defense. That's the caveat, which you already knew. But I can't do better than this, personally, and the numbers do measure real signal. So, let's just start. Here are the top 10 three-year windows of team DRS. So this covers 2003 – 2015, with 330 individual three-year windows serving as the data pool.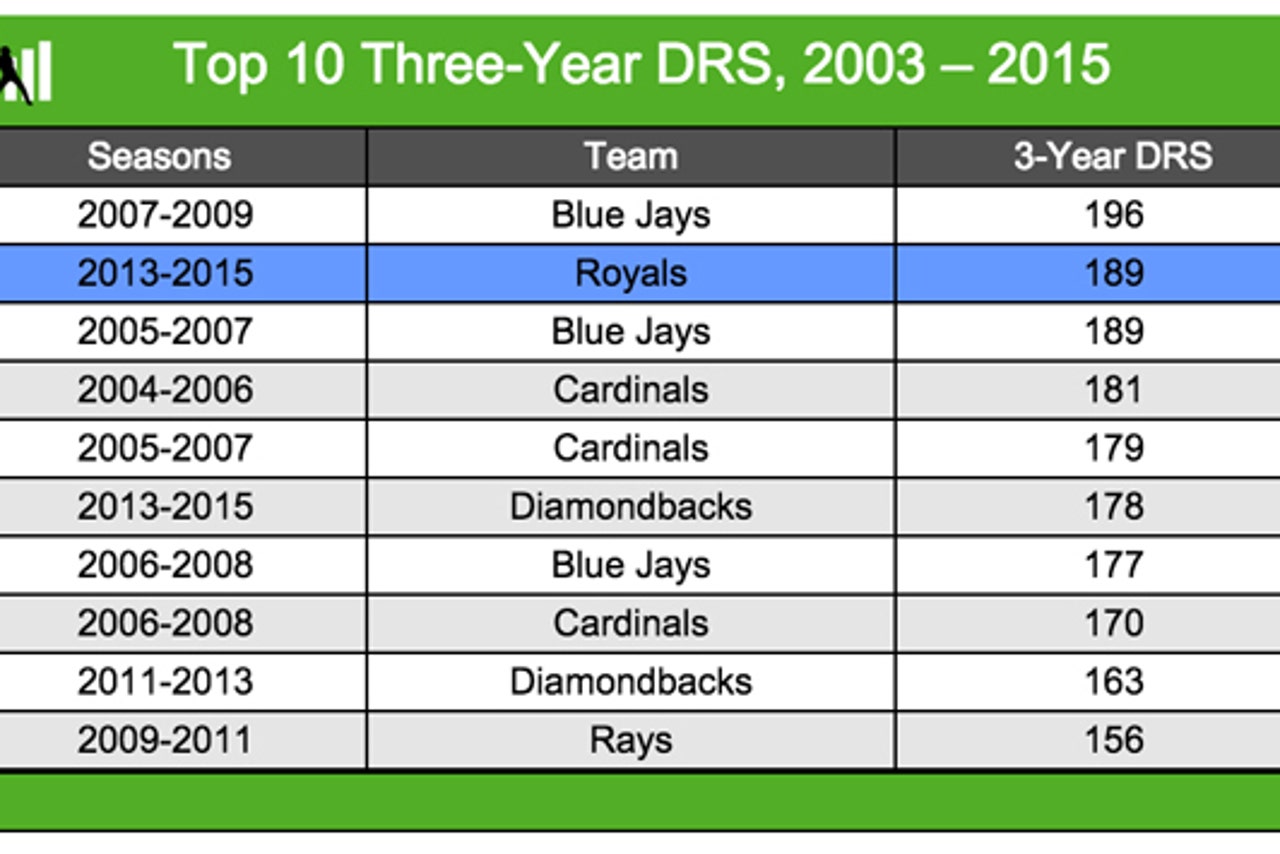 Here, you see the recent Royals in second place, trailing only three years of the Blue Jays from just before 2010. This says the Royals have saved about 189 runs in the field over three seasons, beating out the last three seasons of the Diamondbacks. But let's move on to UZR, increasing our sample to 360.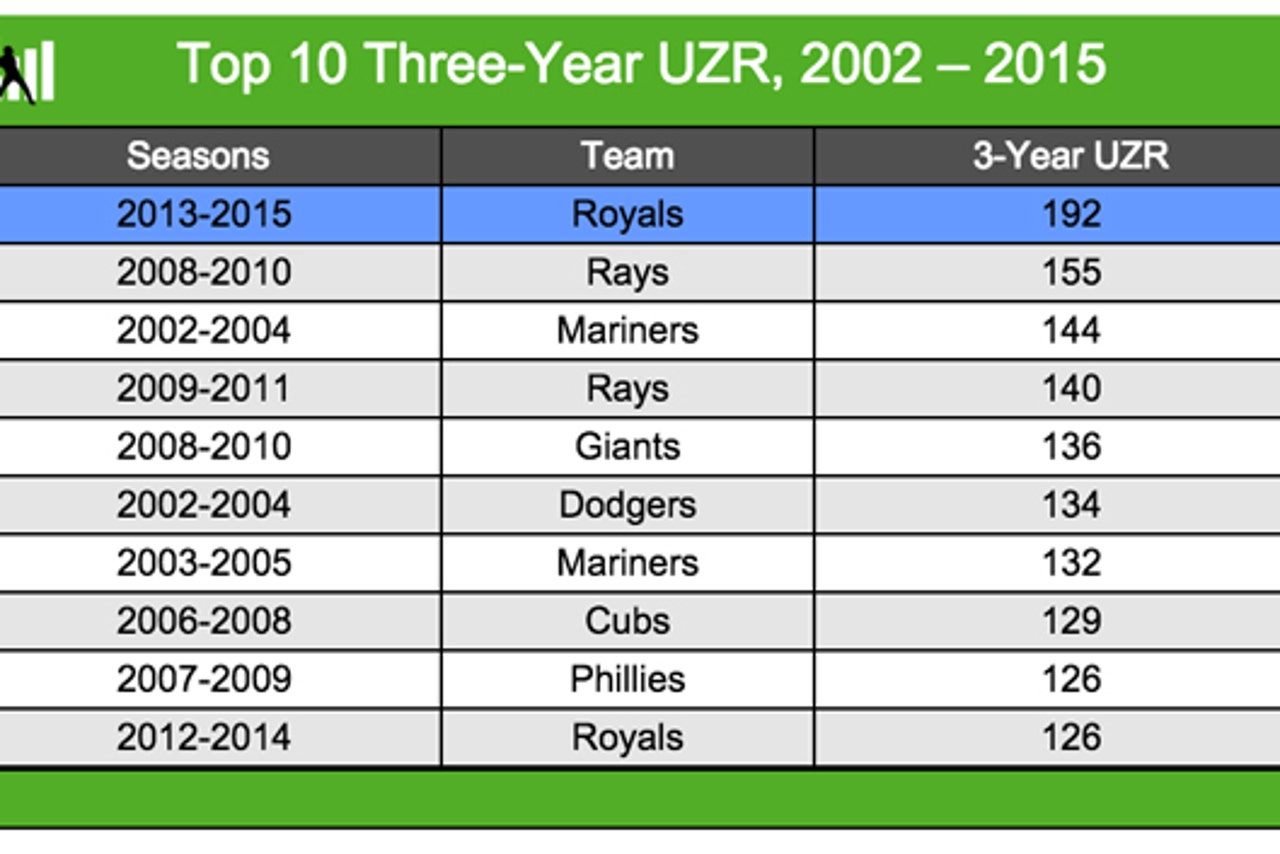 Now, by a similar but different measure, we have the Royals in first, and by a pretty substantial amount. That's a 37-run lead over second place, while 37 is also roughly the difference between second place and 12th. Sneaking in there at the bottom: three years of the Royals from before this most recent season. They weren't a bad defensive team in 2012 — they just hadn't yet peaked. This has been the peak. How about we look at one more table, where we average each team's DRS and UZR figures? So the sample goes back to 330.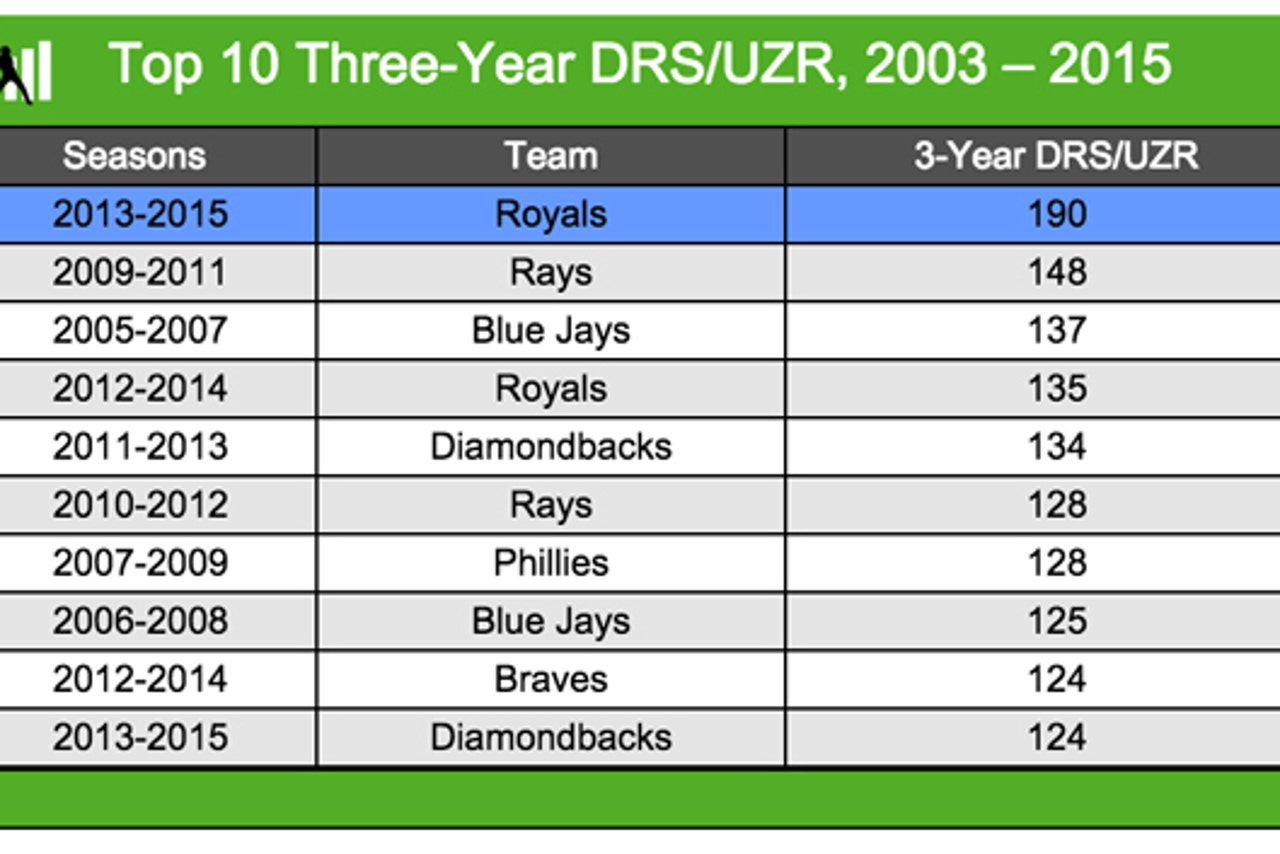 First place, and first place by 42 runs. In fourth place: many of these same Royals players. I do understand that shifts do funny things to this data, and that's increasingly been a problem as shifting has proliferated. I can't make you any promises. But this does pass my own personal smell test. The Royals have kept many of the same players together. Many of those players appear to be defensively talented. So it shouldn't be a surprise that the team defense has looked good, and remained good. Three years running, this has been a team strength, with the Royals having had arguably the very best three-year defensive window we have on record. The record doesn't even cover a decade and a half, so, oh well, but there's still been a lot of baseball that we've measured. In the field, the Royals appear to have dominated other teams. You can talk about their bullpen, and you can talk about their contact hitting, but if it weren't for the defense, the Royals never would've gotten as far as they did.
And this doesn't give them any credit they might well deserve for Salvador Perez's handling of the pitching staff. They swear by the guy, so you can fold him in, too. Perez is sticking around. Eric Hosmer is sticking around. Mike Moustakas and Alcides Escobar and Lorenzo Cain are sticking around. Jarrod Dyson is sticking around. Ben Zobrist is probably leaving, but Omar Infante is under contract. The Royals should once again be really good defensively in the season ahead. We'll just see what they do in the corners. Gordon, we know. He's outstanding. If they decide they can't afford him, I'd expect the replacement will be able to cover his share of ground. This is something the Royals treasure.
Years change, and rosters change, and performance levels change. There's no way to know what the Royals pull off in 2016 and beyond. But the Royals, as a team, have had what'll be at least a three-year peak. And defensively speaking, it's been maybe the best three-year peak for any team since 2002. That is, 2002, at least.
More from Fangraphs:
---
---