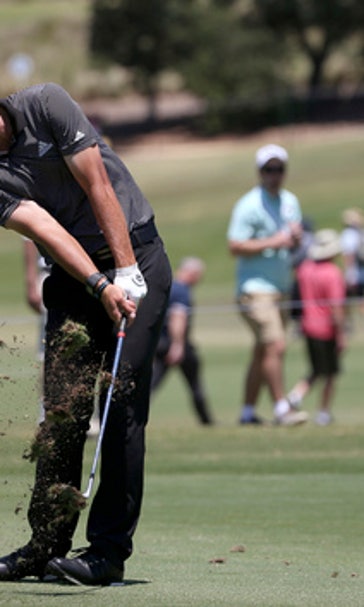 Pro vs amateur: Herbert feels the pressure as reality hits
BY AP • November 24, 2017
SYDNEY (AP) Lucas Herbert thought a lot of his financial problems would be over when he left behind his amateur status to become a professional golfer.
Instead, they were just beginning.
Herbert, who shot 5-under 66 at the Australian Open on Friday to lead Jason Day by one stroke after two rounds, also led the Australian Open into the final round of last year's tournament. In the nearly two years since turning pro, he has also led three provincial tournaments on the Australasian PGA Tour.
Last week, the 21-year-old Australian finished second in the New South Wales Open to collect the biggest prize money of his career: 40,400 Australian dollars ($31,000).
That helped stem the steady flow of outgoing cash from his account, but the pressure of playing golf for a living remains.
''Money, I haven't got much of that, although after last week, I'm all right,'' Herbert said after his second round at The Australian.
''As an amateur you stand there on that first tee and you're like, you could hit it in a five-yard slot. And then you stand up there as a pro and now it's for your living, and you're like `please hit the ball, please make contact and don't be a YouTube hit.' Once money is involved that's a massive challenge.''
Herbert said he made some decent prize money last week ''so the pressure's off a bit this week.''
''But when the bank balance is getting down ... before last week I was like, `my expenses for the rest of the year are probably weighing up to more than what I've got.' Fridays (cut day) started getting pretty nervous then.''
Herbert said it was tougher than he ever imagined turning pro.
'' I think leaving the amateur ranks and I think even some of the guys that come through ... getting invites on tour, flying in private jets everywhere, staying in five-star hotels and you think that's what you're going to get,'' he said. ''Then you turn pro and you're so horribly mistaken. You're like: `I'm playing a Pro-Am for how much again?' It's such a sudden realization.''
At least the pressure is off this week: Herbert will be around for the weekend.
In previous tournaments, ''I was really struggling on the Friday because I knew that was cut day and it was like, `be three inside a cut line' and be worried about that, not worried about trying to make three more birdies and get up near the lead,'' he said. ''So, money was a big one. It's kind of always going to be there. ''
---
---