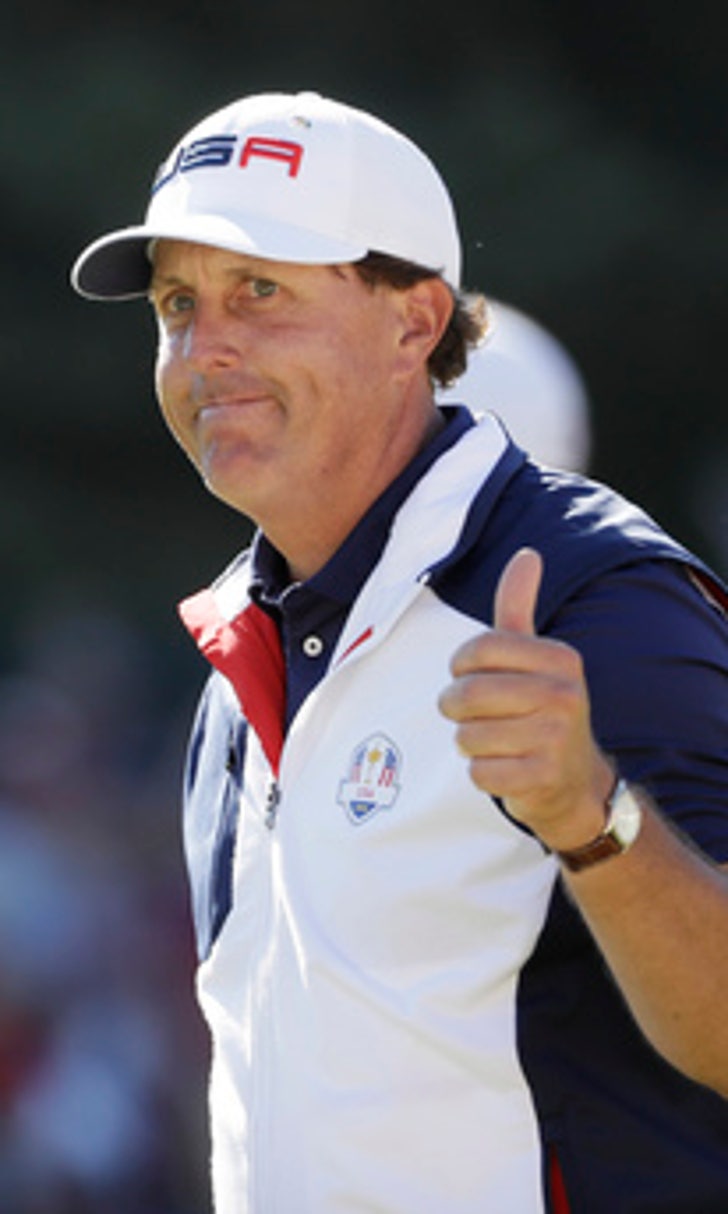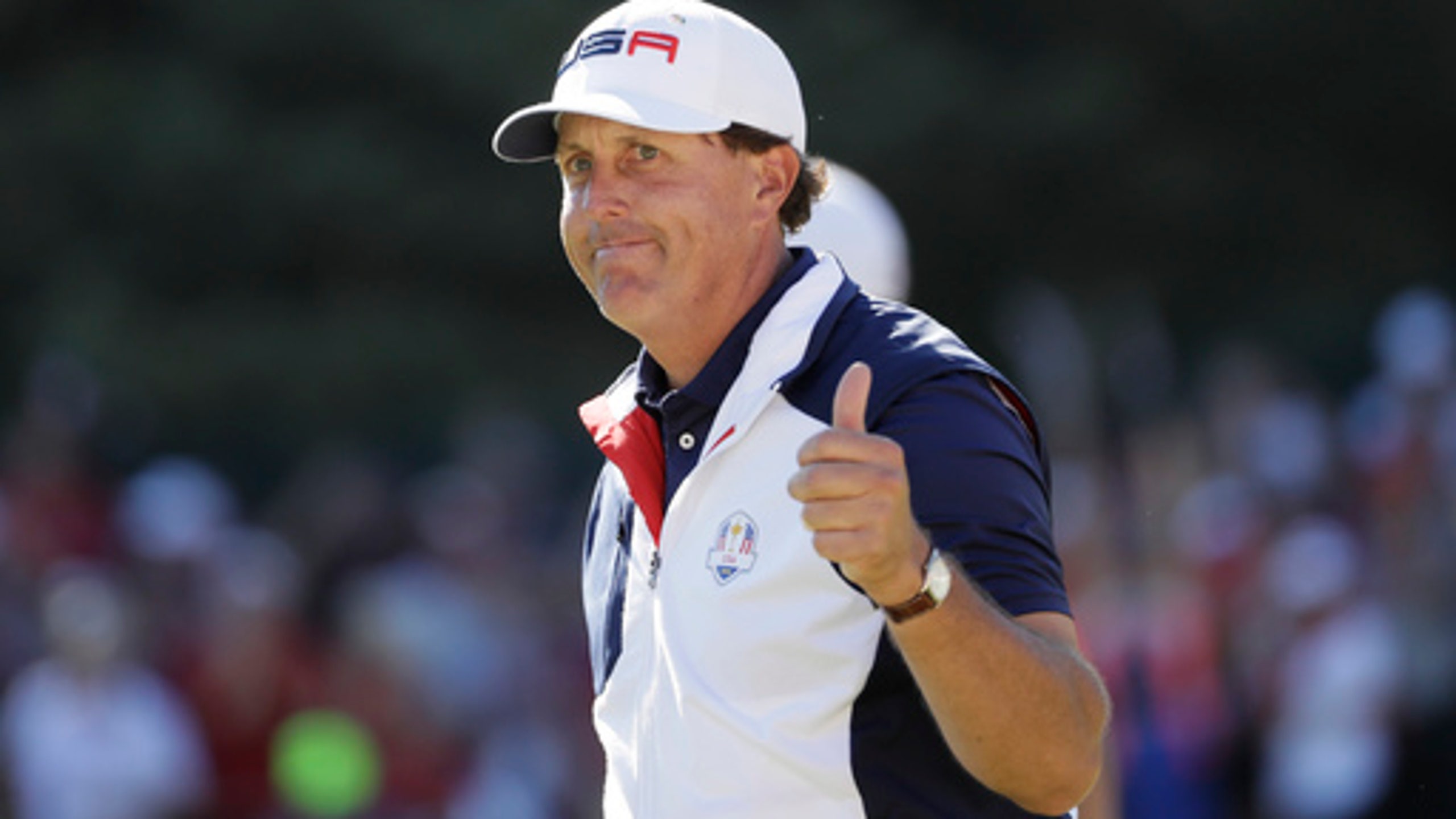 Column: Plenty for Mickelson to celebrate in Ryder Cup win
BY foxsports • October 2, 2016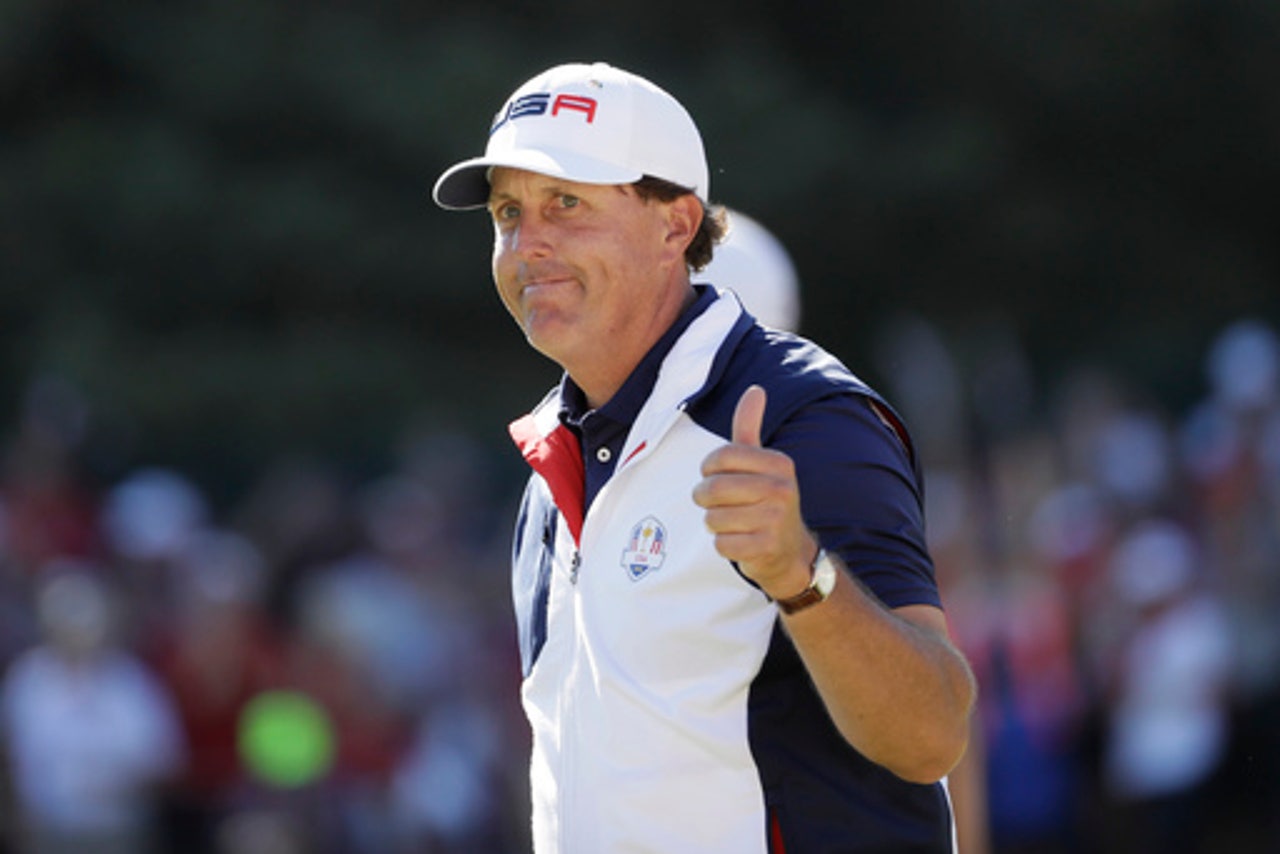 CHASKA, Minn. (AP) The victory leap was a bit premature, but the hugs that came later on the 18th green were as timely as the putts Phil Mickelson kept rolling in on a beautiful Sunday at Hazeltine National Golf Club. Soon Mickelson would take the party upstairs, swigging champagne on an elevated walkway and spraying the cheering crowd below.
If anyone deserved to celebrate a long-awaited American victory in the Ryder Cup, it was Lefty.
He came through in front of 50,000 fans, and he came through behind closed doors in the team room. He even managed to rebound from an awkward moment in the days before play began when he criticized decisions made a dozen years ago by former captain Hal Sutton.
Leaping in the air after sinking a birdie putt on the 18th hole - much like he did when he won the 2004 Masters - might have been the only thing Mickelson got wrong all week.
Hard to blame him, though, when everyone around him felt like leaping around a bit themselves. Sergio Garcia would tie the match a few minutes later with a birdie of his own, but by then it was already clear the American rout in this Ryder Cup was on.
The U.S. had started the day with a three-point lead and memories of collapses of the past still lurking. But this turned out to be a Sunday with little suspense.
Patrick Reed took down Rory McIlroy in the opening match and the Europeans were never really allowed back in it. Mickelson's half point put the U.S. on the verge of the win, and Ryan Moore - picked only the Sunday before under a new system championed by Mickelson to find hot players - delivered the winning point in the next group.
A Ryder Cup loser so often, Mickelson was a winner once again. That it came in a Ryder Cup that had his fingerprints all over it only made the celebration even sweeter.
''I'm so proud to know these guys, to experience this together, to share these emotions, to celebrate tonight,'' Mickelson said. ''And I've known that these guys have had this level of performance in them for some time. It's just amazing to watch.''
It was amazing to watch for the fans, jammed fairways and crowded around greens to cheer on the home team. A few misbehaved the day before, but there were no real incidents on a final day when things got about as loud on the golf course as they did in football stadiums across the land.
Ryder Cup superfan Michael Jordan sat behind the first green watching groups go through, while actor Bill Murray seemed to be everywhere. Tiger Woods was in good form, too, as an assistant captain adding a little more star power to the event.
The featured match was McIlroy and Reed. But all eyes were on Mickelson, too, maybe because he had the most to lose if this team somehow found yet another way to lose.
Davis Love III's name will be listed as captain in the Ryder Cup record books. But this was always Mickelson's team, from the moment he demanded more say in its selection to the time he and his teammates hoisted the trophy for the first time since 2008.
He helped put together the team and make the pairings. He made sure everyone felt like they were an important part of the team.
And when he went out to play, Mickelson delivered when it mattered most. On Sunday he made 10 birdies in 18 holes that would have won most Ryder Cup matches, though because Garcia kept matching him birdie for birdie it was only worth a half point for the U.S. team.
Sure, Mickelson acted like the smartest guy in the room when he talked about constructing a Ryder Cup team that could take down the Europeans. But after being on the wrong side in eight of 10 Ryder Cups he knew what the issues were and had plenty of ideas about how they could be fixed.
''This team's been questioned and beat up for a long time,'' Love said.
It may not be questioned much longer if Mickelson has his way. He's a future captain for sure, but he cautioned that unless the changes made in the last two years are permanent than this win won't mean nearly as much.
''It's truly a remarkable thing to watch and a fun thing to be part of,'' Mickelson said. ''I believe we made each other proud, but I hope we made every American proud.''
In this Ryder Cup it was mission accomplished.
----
Tim Dahlberg is a national sports columnist for The Associated Press. Write to him at tdahlberg(at)ap.org or http://twitter.com/timdahlberg
---