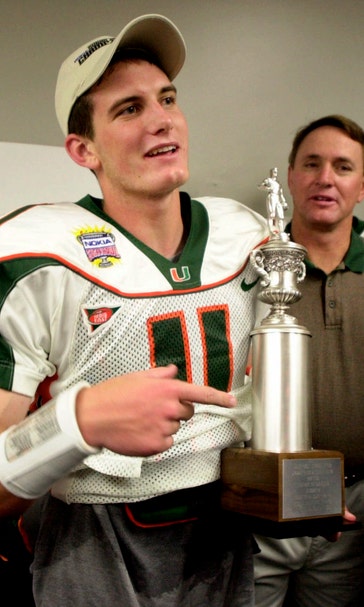 Ties that bind: FIU has plenty of Miami people on its side
September 20, 2018
MIAMI (AP) — Among those who will attend the Miami-FIU game this weekend will be the coach who built the last Hurricanes team that won a national championship, the recruiting director for that team, the quarterback from that season and the person in charge of their strength and conditioning program at that time.
They'll all be in FIU colors.
There is much more than that brawl 12 years ago that links Miami and FIU, a pair of schools that are only eight miles apart. And there's no shortage of people in FIU's athletic department with deep Miami ties, which adds another layer of intrigue to Saturday's matchup between the 21st-ranked Hurricanes (2-1) and the Panthers (2-1).
"It's definitely a different deal," said Ken Dorsey, the national-title-winning quarterback for Miami in 2001 who was hired by FIU earlier this year as an assistant athletic director. "But I'm really excited about where I'm at and this is going to be a lot of fun. That's the fun part about football — these crazy things happen."
There are some obvious differences between the University of Miami and Florida International University — Miami is private, FIU is public; Miami is the established brand, FIU is building toward that; Miami admits about one-third of its applicants and keeps classes small, FIU has one of the largest enrollments in the U.S.
In sports, there isn't much to compare. Miami has five national titles. FIU has one bowl victory.
But the Panthers are trying to build, which is why executive director of sports and entertainment Pete Garcia brought in Butch Davis as FIU's coach before the 2017 season. Davis coached at Miami from 1995 through 2000, building the team that Dorsey would lead to the national title in 2001. And Garcia was Davis' recruiting coordinator at Miami in those days.
"I root for Miami, every game in every sport," said Garcia, who has overseen FIU athletics since 2006. "Unless they're playing FIU."
The majority of players on the field Saturday will know each other — roughly 100 of the players on the teams' rosters hail from South Florida.
Most of the people in the stands on both sides might be neighbors as well. And besides Davis, Dorsey and Garcia, there's plenty of other FIU employees who know how to put their hands together and make Miami's "U'' signal.
Kevin O'Neill, FIU's head football athletic trainer, had a similar job at Miami three decades ago and has a national-title ring from his time with the Hurricanes. So does strength coach Andreu Swasey, who helped send dozens of Hurricanes to the NFL before signing on with the Panthers.
FIU assistant coaches Aubrey Hill, Tim Harris Jr. and Kenny Holmes have deep Miami ties; Hill coached there, Harris Jr. was a track star for the Hurricanes, and Holmes was a defensive-line star who was an NFL first-round draft pick. Even the radio announcers who will call the game for FIU this weekend — AJ Ricketts and Kenny Kelly — are former Hurricane athletes.
Miami also has some former FIU administrators on its staff now, too.
"It's a great situation to put the two programs in and I think it's a lot of fun for everybody," Dorsey said.
The brawl in 2006 led to a quick end of the series that, ironically, Garcia got by negotiating on Miami's behalf at the time with then-FIU athletic director Rick Mello. The teams completed their contract by playing in 2007, but haven't met in football since.
But over the next few years, Miami vs. FIU may become a regular thing. They'll play again on Nov. 23, 2019 at either Marlins Park or Hard Rock Stadium — it'll be classified as an FIU home game either way. Plus, Garcia and Miami athletic director Blake James have talked about getting an additional two-year deal done when this one is completed.
"There's a lot of pride," Richt said. "A lot of pride in the city, a lot of pride at the parks where these kids grew up and play football at. Not only do the kids know each other, but the parents know each other. Everybody knows everybody."
---
---