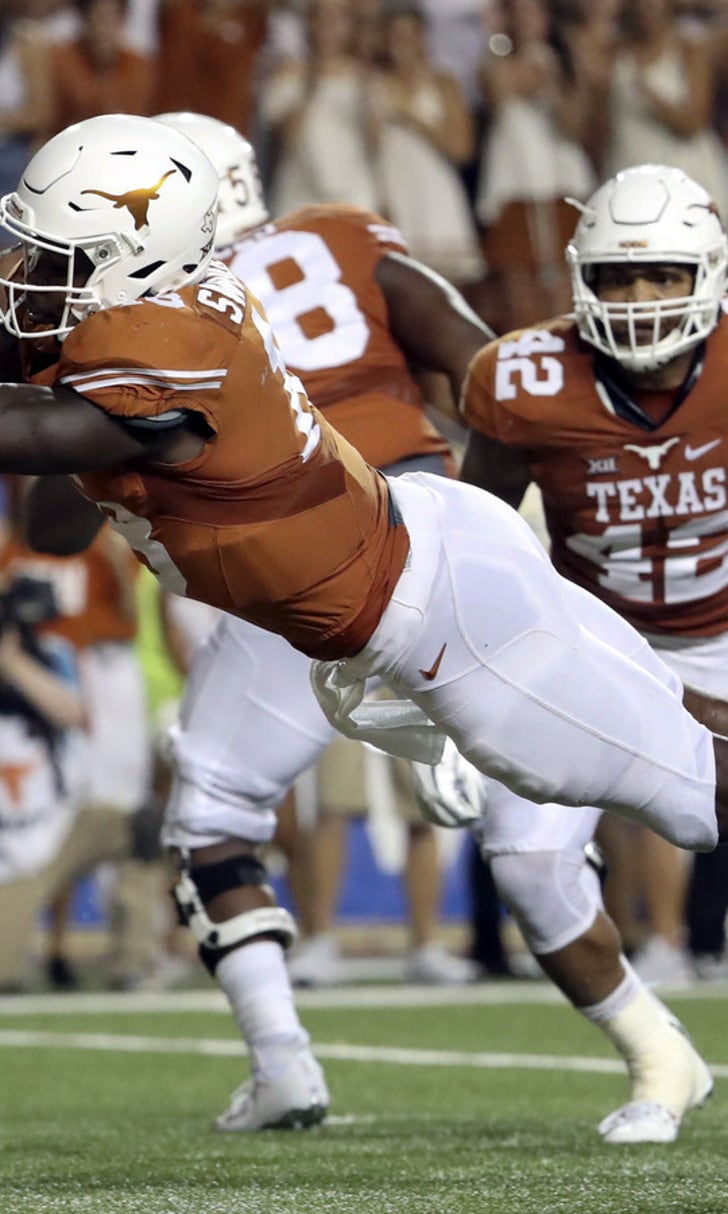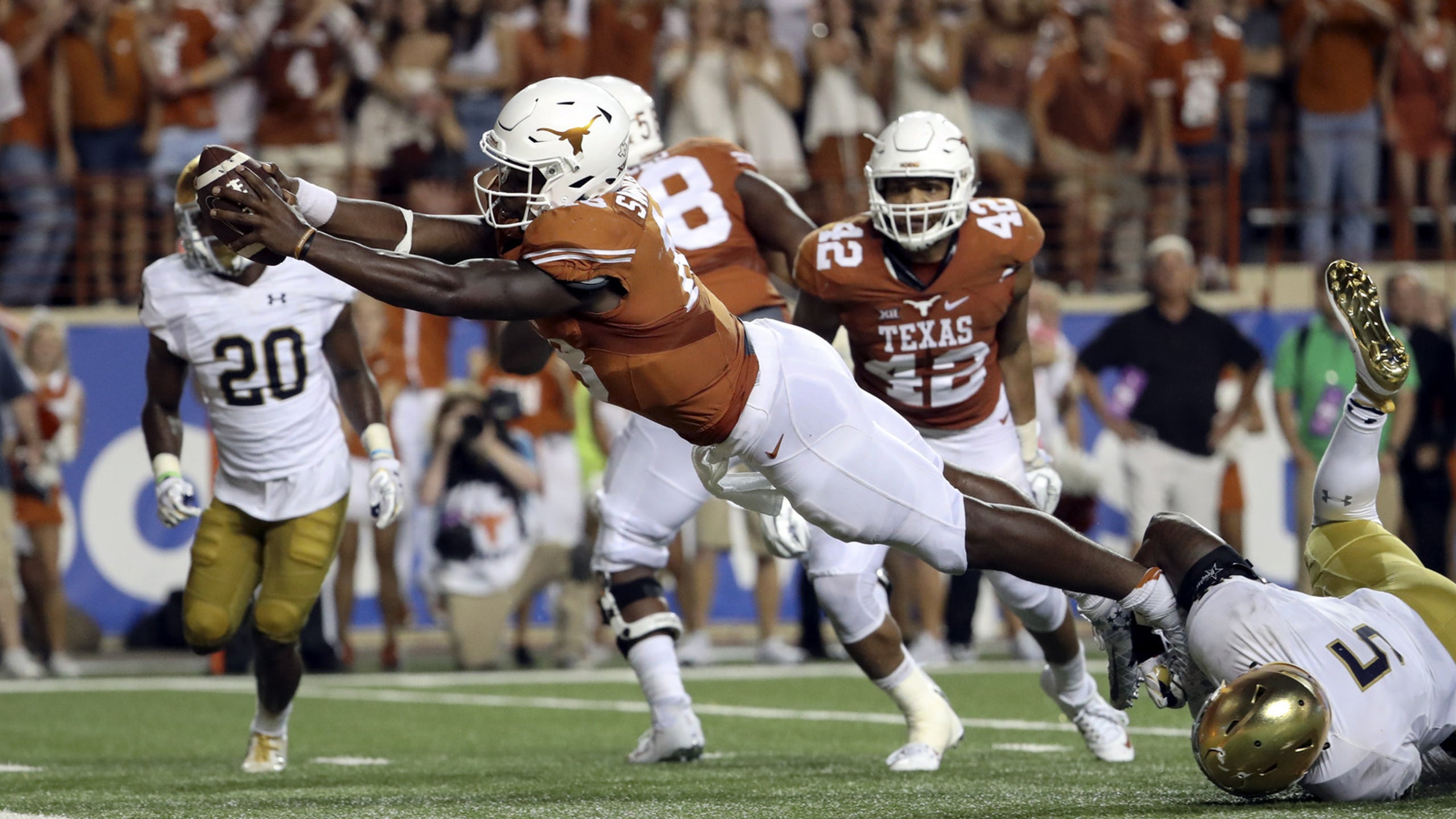 Texas' faith in Charlie Strong is rewarded with stunning upset of Notre Dame
BY foxsports • September 5, 2016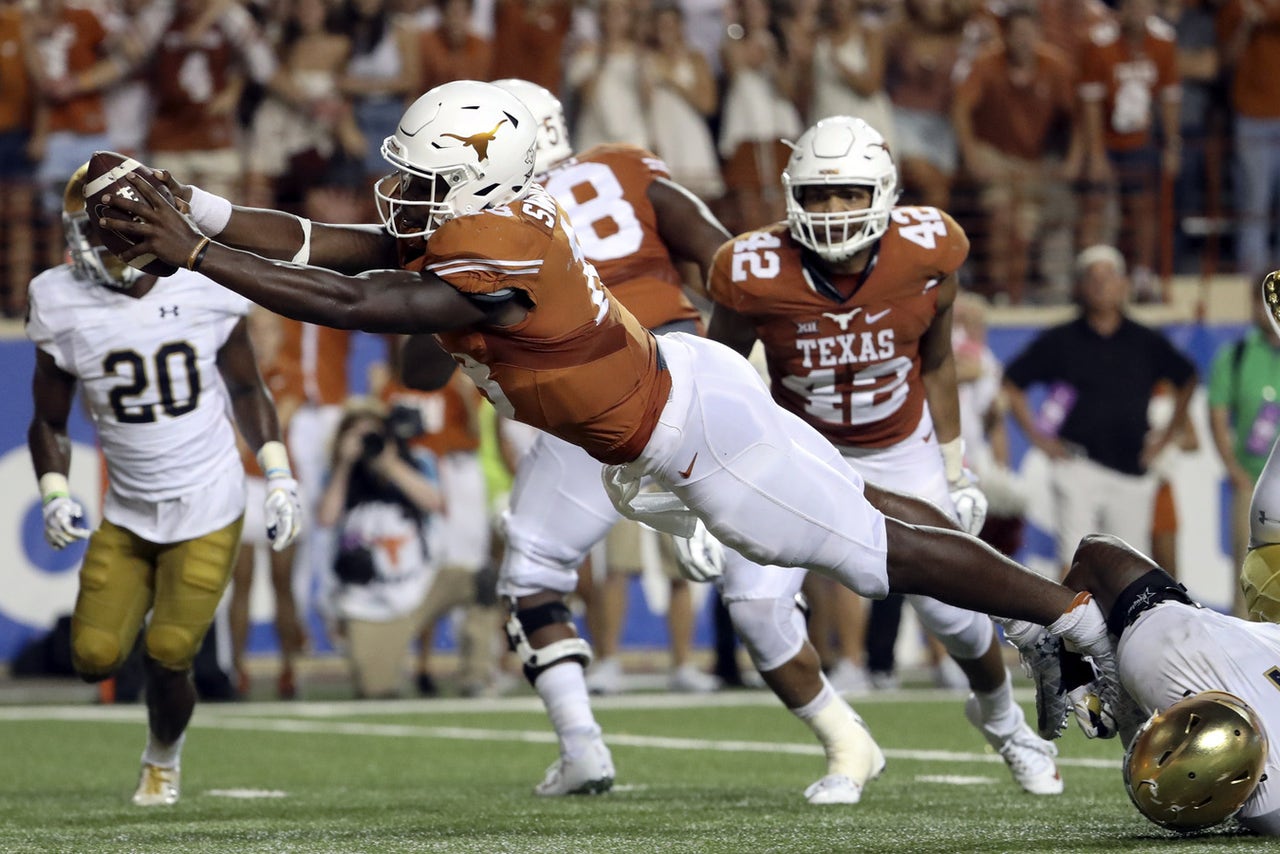 Last year, it was ugly. A no-contest. Notre Dame crushed Texas 38-3. The Longhorns managed just 163 yards of offense that night. On Sunday night in Austin, they started a true freshman QB Shane Buechele and rolled up 250 yards by halftime and finished off the Irish in a thrilling 50-47 double-OT win by producing more than three times as many yards as they had last year against No. 10 Notre Dame.
Buechele, the slender kid, was brilliant for much of the night, throwing two TDs on perfect passes and missed a third on another beautiful deep ball that sophomore speedster John Burt dropped, but the Horns were never fazed.  (Burt later caught a TD on a similar play.)
At one point in the third quarter the Longhorns were up 31-14, but DeShone Kizer kept the Irish coming back and picked apart a young defense, giving the Irish a 35-31 lead. Texas answered with a D'Onta Foreman TD run. Then, there was another kicking game blunder for UT, a blocked PAT that Irish DB Shaun Crawford returned 98 yards for two points to tie the score.
It harkened back to the two kicking game gaffes last year that probably cost UT a bowl game in 2015. But Texas kept battling. There was no quitting like there was in Strong's first season in Austin. Instead, it was UT that looked like the more physical team in the end, sending a message to the college football world that Texas -- with its new offense and its baby-faced quarterback -- has taken a big step forward. And for those who have written off Charlie Strong, maybe they better guess again.
"I believe in what we're doing," Strong said after the game.
Even more importantly, his players believe in it too. That's apparent. Two of his other big playmakers Sunday night were former UT starting QB Jerrod Heard as a wide receiver and Tyrone Swoopes, his bullish change-of-pace-running QB who closed out the win after trucking some Irish defenders to set up the game-winning play.
"It's gonna change eventually," Strong added. "One game does not make a season."
It doesn't, but this Texas team has a real passing game with Buechele and his pinpoint accuracy and pocket presence. That's a big difference. It also has speed at receiver, and a potent new scheme from Baylor protege Sterlin Gilbert, who brought the power running attack/vertical passing game system that was lighting up scoreboards in Waco.
Defensively, the Horns' best players against ND were all sophomores. DT Chris Nelson had eight tackles and 1.5 TFLs. Speedy linebacker Malik Jefferson, the star of Strong's 2015 recruiting class, had six tackles and a sack and flew all over the field. Breckyn Hager and Anthony Wheeler combined for 10 more tackles. Rangy freshman DE Naashon Hughes blocked a kicked to go with his four tackles.
Strong's record moves to just 12-14 in his time at Texas, but it's obvious he's turned the corner there. There were flashes last year. He beat two top 12 opponents in OU and Baylor, but the season was plagued by inconsistency. He inherited a mess from Mack Brown with a program that had gotten soft. Truth be told, UT didn't get that way overnight, and it wasn't going to fixed overnight either.
It took Strong time to sort that out and revamp his roster. He had to hit the reset button on his offensive staff a few times, which is a risky move. It didn't help that the Texas power structure had flipped in the past five years with TCU and Baylor rising up while UT backslid. No doubt, Strong had righted things, but there were legit concerns whether the results would show up on the field fast enough for a Longhorn community unfamiliar with doormat status.
UT's fan base had been riding a crest of excitement ever since Strong closed on a top-10 recruiting class last winter. The glow brightened even more with the arrival of a hot new scheme and reports of Buechele's fit to that system in the spring. Add Baylor's off-field issues that led to more talented recruits landing in Austin this summer and you had even more optimism brewing. A double-digit loss to Notre Dame on the Sunday night national TV stage would've undermined much of that. 
Instead, UT has grown even hotter. It's still too soon to try and cast this young team as some sort of favorite in the Big 12 now even though Oklahoma just got handled by Houston and TCU had its hands full with South Dakota State. I wouldn't go that far. Like Strong said himself, it's still only one game. But don't be surprised if Texas is back in the hunt for that conference title.
The Horns are probably a year away, but we've learned it's not wise to underestimate Strong. After all, in his third season at Louisville, he led the Cardinals to an 11-2 mark and a top-15 finish. Belief is a very powerful thing and after Sunday night, it's only going to become a lot stronger around that program in Austin.
---
---