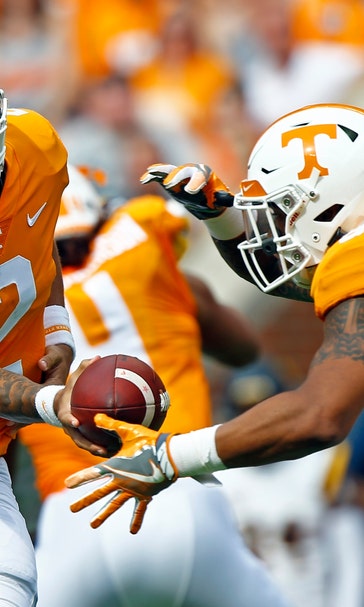 Tennessee sorting out options on O-line, at running back
September 13, 2018
KNOXVILLE, Tenn. (AP) — The quarterback competition that dominated Tennessee's preseason camp seems pretty settled — at least for now.
It's the rest of the offense that features uncertainty.
While Jarrett Guarantano has started Tennessee's first two games at quarterback after beating out Stanford graduate transfer Keller Chryst in the preseason, Tennessee has continued experimenting on the offensive line and running back.
The pattern likely will continue Saturday when Tennessee (1-1) hosts UTEP (0-2) in its final game before starting Southeastern Conference competition.
That's particularly true on the offensive line. Vols coach Jeremy Pruitt said he's willing to shuffle linemen in and out of a game if he doesn't have a clear-cut starting five.
"You want to play your best players," Pruitt said. "If there's not much difference in the guys out there, then you might as well play multiple guys to keep them fresh."
Injuries have necessitated some of the moves for an offense that doesn't have a single senior atop its depth chart.
Starting center Brandon Kennedy suffered a season-ending injury to his anterior cruciate ligament in practice last week. Ryan Johnson moved over from right guard to replace Kennedy as the starting center in a 59-3 victory over East Tennessee State , with freshman Jerome Carvin taking over at right guard.
Ty Chandler, the Vols' top returning rusher from last season, got hurt early in a season-opening 40-14 loss to No. 14 West Virginia and didn't play against ETSU. That enabled other running backs to get a chance to prove themselves.
Tim Jordan has rushed for a team-high 183 yards so far, while Michigan State graduate transfer Madre London and freshman Jeremy Banks each had two touchdown runs against ETSU. Chandler is expected to return for the UTEP game.
London said after the ETSU game that he expects that committee approach in the backfield to continue.
"Whoever's in, we're feeding off the energy of them," London said after the ETSU game. "We've got to do the same."
It's not unusual at all for SEC teams to rely on multiple backs, though in most cases one or two of them eventually emerge as the lead guys. It's less common for teams to shuffle players on the offensive line rather than relying on a set five.
Yet the Vols have been trying out various combinations on the line through the first two weeks of the season.
For instance, Tennessee's first-team line against ETSU included Johnson and Carvin plus Trey Smith at left tackle, Jahmir Johnson at left guard and Drew Richmond at right tackle. Marcus Tatum came in at right tackle for the second series. On the Vols' third possession, Richmond was back at right tackle with Chance Hall at right guard.
"I think we're still figuring out who we are up front," Pruitt said. "We're making strides in the right direction, but we've got to continue to improve."
Tennessee's linemen are accustomed to all the changes because many of them worked out at multiple positions during preseason camp. But they acknowledge that they'd benefit from establishing the rhythm that comes when a set group of five guys get to work together.
"I feel like everybody has a good handle on a lot of positions, but being able to play the same position for multiple games is a great advantage," Johnson said after the ETSU game.
Tennessee's quarterback situation appears comparatively stable.
Guarantano has completed 71 percent of his passes for 326 yards with one touchdown and no interceptions. Chryst didn't play against West Virginia and didn't enter the ETSU game until Tennessee owned a 31-0 lead, though he went 3 of 3 with a 50-yard touchdown pass to Jordan Murphy.
"He's getting a better understanding of our expectations for him," Pruitt said. "He's eliminating his mental errors. I think he's keeping the offense in positive plays. He's still looking for the perfect game, as we all are, but I think he's improved a lot there. He's kept his poise. He's taking care of the football and playing within himself."
---
---