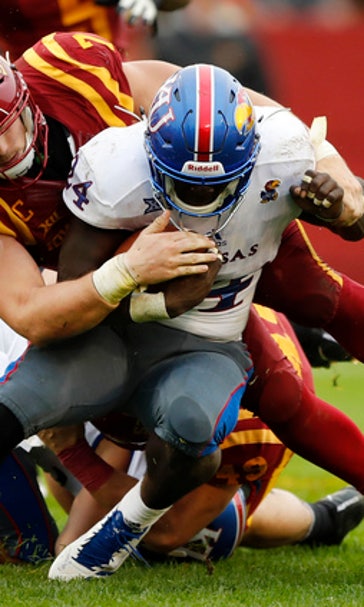 Surprising Cyclones clamping down on Big 12 offenses
October 16, 2017

AMES, Iowa (AP) Take a peek at the latest Big 12 Conference football statistics and focus on the defensive numbers for a moment.
Yep, that's Iowa State giving up the fewest points and the fewest yards in league play. The Cyclones are getting stingy on that side of the ball, a surprise given that defense was the team's biggest question mark going into the season.
After facing Texas, Oklahoma and Kansas, Iowa State (4-2, 2-1 Big 12) has given up an average of just 16 points and 310.3 yards a game in Big 12 play. That second figure leads the conference by a wide margin; Texas is second at 389.3 yards a game.
A big reason for those numbers: The Cyclones are tackling better than they did last season, their first under coach Matt Campbell.
''What that's attributed to, I think, is just the confidence of the kids being in the system now going into two years and knowing where to align and where to assign,'' Campbell said Monday. ''I think sometimes on defense when you know where to line up, now you can read your keys and actually react. Defensive football is so much about reaction and being where you're supposed to be and when you're supposed to be there.''
Iowa State is coming off its best defensive performance in decades, a 45-0 thrashing of Kansas in which the Jayhawks managed only 106 yards. It was the fewest yards the Cyclones had allowed in a conference game since limiting Missouri to 59 in 1963, when offenses were far less sophisticated than they are now.
Kansas is only 1-5, but the Jayhawks had been averaging 450 yards going into that game.
''It just allows us to know what we can do and what we can't do,'' safety Kamari Cotton-Moya said. ''It allows us to keep going where we need to go because the sky's the limit for us. We're trying to do something that's never been done here before.''
Iowa State's defense also has been good at getting off the field. Thirty-four times this season, the Cyclones have forced a three-and-out or come up with a turnover before the opponent made a first down. Just as important, they've kept opponents from burning them with big plays.
Oklahoma has the league's No. 2 offense, but quarterback Baker Mayfield's longest completion in the upset loss to Iowa State covered 29 yards. In contrast, Mayfield had completions of 42, 44, 54 and 59 yards in a victory over Texas last Saturday.
Kansas' longest play covered only 14 yards and the Jayhawks did not reach 100 yards until the next-to-last play of the game. Texas, which beat Iowa State 17-7, did not have a play longer than 28 yards against the Cyclones.
But potent offenses come at you weekly in the Big 12 and Iowa State will face one of the best at Texas Tech (4-2, 1-2) on Saturday. The Red Raiders are throwing the ball with their usual effectiveness and have complemented that with a solid running game, which amassed 313 yards against Kansas earlier this month.
''Just because we came off a big win and then shut someone out doesn't mean we're where we want to be,'' said linebacker Joel Lanning, the former starting quarterback who leads the team in tackles. ''There's always room for improvement. We can't be satisfied. If we are, then the next team still step right over you.''
---
More AP college football: www.collegefootball.ap.org and https://twitter.com/AP-Top25
---
---