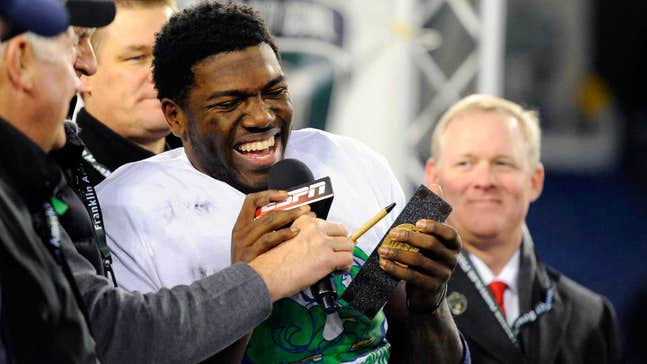 Notre Dame QB Zaire getting rave reviews at Elite 11 camp
Published
Jul. 8, 2015 2:31 a.m. EDT

At times Malik Zaire was a counselor at the Nike Elite 11 quarterback camp and at times he was a participant, but at no time was he not impressive.
Notre Dame's rising junior quarterback has received rave reviews for his work at the Elite 11, with former Super Bowl Champion and current ESPN analysts, Trent Dilfer, serving as one of his biggest fans.
Irish Illustrated's Anna Hickey interviewed Dilfer at the Elite 11 and this is what he had to say about Zaire: "He's a machine. He'll go until he dies. … He's so much more advanced as a passer. Not that he wasn't before, but I remember getting him from high school, and everybody was saying he's just a runner who can throw a little bit. And anyone who's still saying that, I think it's crazy. He is going toe-to-toe with (Penn State quarterback) Christian Hackenberg, (USC quarterback) Cody Kessler, with all of these supposed passers, and he's ripping it around as good as anybody. 
"I think Malik has the curse like a lot of college quarterbacks these days that they're so dynamic as runners that they get devalued as passers. But I think Malik is an exceptional passer."
Dilfer said that the key for Zaire is that he just needs more practice.
"He needs reps. He needs passing reps. He needs to be forced into taking progressions. Where that translates into Brian Kelly and coach (Mike) Sanford's offense is third down and red zone," Dilfer told Irish Illustrated. "I think where you really need to watch his growth this year, simply because he doesn't enough of it, is third down, third and medium plus, goal to go situations because they are going to take him away as a runner, and he's going to have take one, two, three and he's going to have to work through progressions. I have all the confidence in the world he can do it, but I'm sure there will be a learning curve associated with it."
Bleacher Report's Michael Felder was also in attendance and liked what he saw from the Notre Dame QB.
"This is a kid that I'm really excited about," Felder said in his video report. "Everybody talks about his as a dual-threat quarterback. He can run the zone read. … Listen, he's a quarterback and can throw the football. … There's no question about the arm talent that's there."
(h/t Irish Illustrated)
---
---