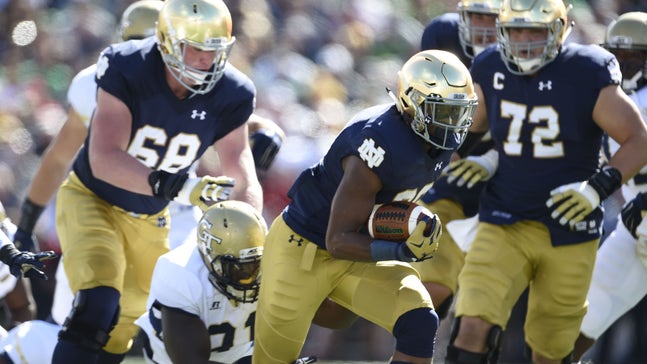 Notre Dame has taken at least 1 unusual injury precaution
Published
Oct. 27, 2015 5:22 p.m. ET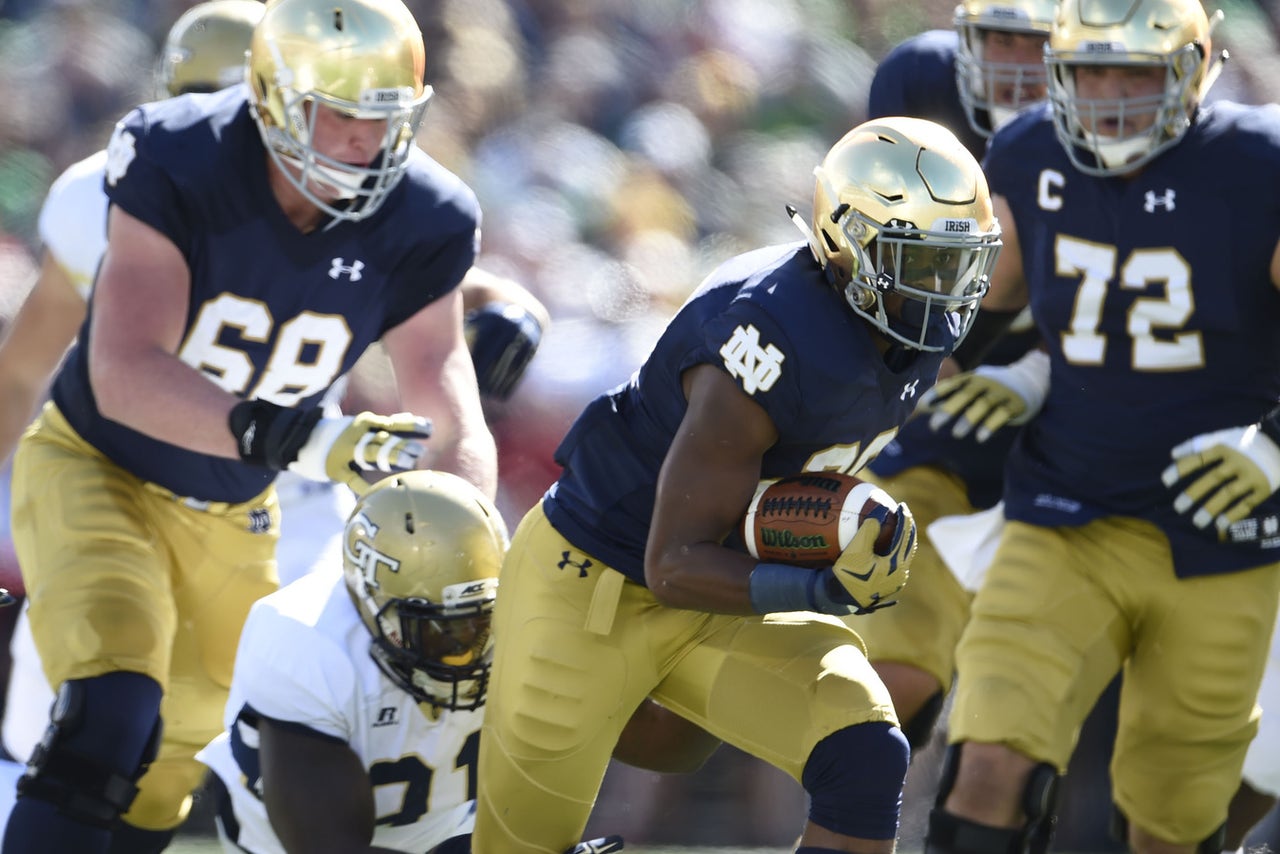 Notre Dame football coach Brian Kelly seemed unhappy the cameras filming his team's Showtime television series caught starting running back C.J. Prosise in a red (non-contact) jersey during a recent practice. 
While he wished it had not gotten out, the scene put in perspective some of the issues that face many teams as the season advances: How to stay sharp and healthy at the same time. 
It's a particularly daunting task for the Fighting Irish regarding Prosise because they are already thin at running back, where both of his backups are true freshmen. 
Kelly said putting his starting running back in a red jersey "broke all my rules" in 25 years of coaching and acknowledged it could short-change his defense. 
"We're trying to really do our defense as much justice as possible and helping them in tackling and not being able to tag off situations," Kelly said Tuesday. "We have to get better at tackling and thudding the back. I didn't want him to get in there and get hurt during practice, so I broke all my rules and I put a red jersey on a back for the first time in 25 years. It's out there."
While taking tackling his starting running back out of the equation might be unique, trying to balance the wear and tear of the season with the need to stay sharp is not for Kelly. 
When asked about the challenge of making sure his team is ready for the final five weeks, including games against several teams known for their physical style of play, he referred back to his time as a Division II coach. 
"You have to be very careful in practice that you don't turn practice into just a tempo walkthrough," Kelly said. "I've been down this before -- playing 15 games and 14 games and playoffs where you're playing really good football teams -- that you don't turn it into a walkthrough. 
"You have to pick your spots. You still have to play fast and physical. You just can't do it the entire length of the practice that you are used to doing maybe earlier in the year." 
That means saving contact for areas the team might be struggling while backing off during other periods. 
"I think you really have to start when you get into November, pick your spots in practice where you really have to focus on those things," Kelly said. 
"Because I don't believe you can use the whole program and go two hours and bang your football team, or you're going to lose a lot of the guys necessary to get you over the hump."
---
---