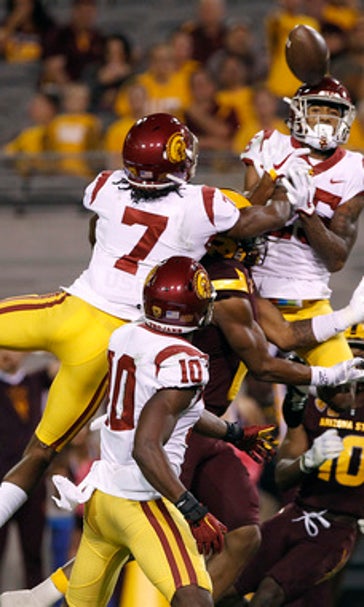 No. 21 USC rolls over Arizona State 48-17 behind Jones (Oct 28, 2017)
October 29, 2017

TEMPE, Ariz. (AP) Ronald Jones II tucked in behind a blocker, made a cut off his hip and shook off an Arizona State tackler. It turned into a race from there, and no way was anyone going to catch Southern California's gifted running back.
USC bounced back from a lopsided loss to Notre Dame with perhaps its best all-around game of the season, riding the legs of Jones and the arm of Sam Darnold to a dominating 48-17 victory over Arizona State on Saturday night.
Jones ran for 216 yards and two touchdowns, Darnold revved up USC's offense with three scoring passes and the Trojans racked up 607 total yards to remain atop the Pac-12 South.
''You never want that lingering mentality coming off a loss,'' USC coach Clay Helton said. ''Usually the better teams can clear it out. That's what these kids did tonight.''
USC (7-2, 5-1 Pac-12) was thumped 49-19 by No. 9 Notre Dame last week, a loss that all but knocked the Trojans out of the national-title picture.
Instead of remaining on their heels, the Trojans attacked Arizona State from the start, taking shots down the field early to set up a running game that ran around and right through the Sun Devils.
Darnold completed 19 of 35 passes for 266 yards, and Tyler Vaughns had six catches for 126 yards with a pair of scores. Jones helped the Trojans pick up 341 yards rushing after they were limited to 76 against the Fighting Irish.
''Coach always talks about getting 11 guys right just doing their job and when we do things like that we're hard to stop,'' Jones said.
Arizona State (4-4, 3-2) relapsed on defense after consecutive strong showings, missing tackles and assignments while giving up multiple big plays.
The Sun Devils fell behind 31-3 before gaining some momentum on a bizarre play to end the first half but couldn't stop the Trojans to keep it going.
Manny Wilkins threw for 259 yards and accounted for two touchdowns for Arizona State.
''Our defense has to be better,'' Arizona State coach Todd Graham said. ''We gave up too many chunk plays.''
Darnold picked Arizona State apart early when he wasn't being pressured, hitting Deonta Burnett on a 32-yard TD pass on the opening drive and Vaughns on a 42-yard catch-and-run score late in the first quarter. Darnold later threaded a pass between three Arizona State defenders for a 19-yard touchdown pass to Vaughns that put the Trojans up 28-3.
One bizarre play gave Arizona State a spark.
Wilkins completed a Hail Mary to Kyle Williams on the final play of the first half, a play initially ruled short of the goal line by the officials.
USC's players trotted off the field while a few of Arizona State's lingered as the officials went to a replay review. After about five minutes, they ruled Williams caught the ball in the end zone before falling out to the 1.
Arizona State's PAT team took the field, but had to wait as the Trojans' special-teams unit returned from the locker room. Brandon Ruiz's extra point cut USC's lead to 31-10, and the Sun Devils pulled within two touchdowns on Wilkins' 1-yard dive to open the second half.
Arizona State's penchant for missing tackles gave USC the momentum back when Jones, who had a 67-yard scoring run in the first half, shed several defenders on a 64-yard dash to make it 38-17.
''We prepared ourselves, but a couple of us didn't come ready to play today,'' Arizona State linebacker D.J. Calhoun said. ''You win together, you lose together.''
THE TAKEAWAY
USC got its mojo back after the letdown in South Bend, dominating Arizona State on both sides of the ball.
Arizona State's defensive renaissance appears to be over. The Sun Devils were overmatched by USC's size and speed, unable to put up much resistance while falling two games behind the Trojans in the Pac-12 South.
PENALIZED SUN DEVILS
Arizona State entered as the nation's third-least penalized team at 31 yards per game. The Sun Devils were unusually sloppy against USC, racking up 10 penalties for 99 yards, including four personal fouls.
McGRATH STILL KICKING
Chase McGrath earned the starting kicker's job at USC as a walk-on coming out of fall camp and it's proven to be a wise choice by the Trojans. McGrath made two of three field goals against Arizona State and is 10 for 13 on the season.
UP NEXT
USC hosts Arizona next Saturday with the Pac-12 South lead on the line.
Arizona State hosts Colorado next Saturday.
---
More AP college football: http://collegefootball.ap.org and https://twitter.com/AP-Top25
---
---