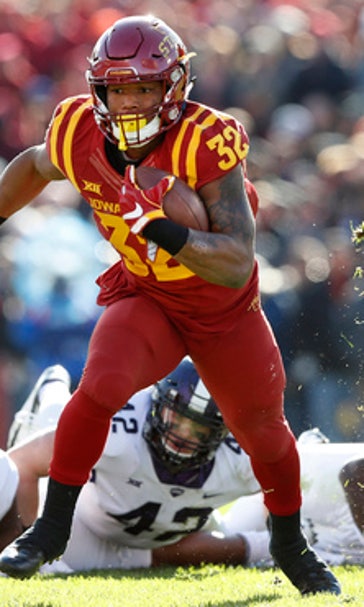 No. 14 Iowa State tries to stay unbeaten on road at WVU
November 3, 2017

MORGANTOWN, W.Va. (AP) No. 14 Iowa State is ready for its November encore.
As if going from two early losses into the national consciousness over the span of a few weeks wasn't impressive enough, the Cyclones (6-2, 4-1 Big 12, No. 15 CFP) want to keep the momentum going the rest of the season, starting Saturday at West Virginia (5-3, 3-2).
During a 4-0 October, Iowa State beat two teams ranked in the top five at the time. The Cyclones overcame adversity from the sudden departure of quarterback Jacob Park and got standout defensive efforts in wins over No. 10 TCU and Texas Tech and offensive outbursts against No. 8 Oklahoma and Kansas.
The challenge this month may be just as daunting. The Cyclones play three of their final four games on the road, where they are 3-0 this season.
''They handle the adversity of getting on a plane, getting on a bus, sleeping somewhere different,'' said Iowa State coach Matt Campbell. ''Our kids have really handled it. You have so many guys that have been through it. As a coaching staff, I just think there's a sense of calmness when we go on the road. Whether it's at home or on the road, I don't see a different mentality in this team.''
Campbell knows that slowing down a prolific offense will require every ounce of focus from his team.
West Virginia's Will Grier is tied with Missouri's Drew Lock for the national lead in touchdown passes with 28. David Sills has 15 TD catches, five more than anyone else, while Gary Jennings is fifth with nearly eight receptions per game.
''We're going to have to do a really good job mixing and matching what we choose to do in this game,'' Campbell said. ''A great challenge for us defensively, for sure.''
After a home loss to Oklahoma State last week , West Virginia has been relegated mostly to a spoiler roll in the Big 12 race and looks to knock the Cyclones out of a first-place tie with three other teams.
The Mountaineers are also are trying to get bowl eligible, and that's no guarantee. Three of their remaining four opponents have winning records.
West Virginia coach Dana Holgorsen used the phrase ''not having the right mentality'' and the word ''toughness'' to describe what was lacking against the Cowboys, and he wants to see that return against Iowa State.
''I'm as anxious as anybody to see the determination of our team moving forward,'' he said.
---
Some other things to know when the Cyclones and Mountaineers meet:
TACKLE HIM, DUMMY: Iowa State sophomore David Montgomery leads the Big 12 with eight rushing TDs and is the second-leading rusher with 716 yards behind Oklahoma State's Justice Hill. Holgorsen said Montgomery ''is as good as I've seen. He's made more people miss and has broken more tackles than I've seen yet this year, and we've played a lot of good backs.''
STEADY KEMPT: Walk-on quarterback Kyle Kempt is 4-0 since taking over for Park, who took a leave of absence to deal with personal health issues. Kempt has thrown for multiple touchdowns in three games.
THE TURNOVER BATTLE: West Virginia turned the ball over five times against Oklahoma State and recovered three Cowboys fumbles. Kempt has thrown just two interceptions, and Iowa State and SMU are the only FBS schools that have not lost a fumble this season.
GROUND GAME STALLED: West Virginia has averaged just 75 rushing yards over its last three games. Holgorsen said the finger pointing ''kind of starts'' with improper run blocking on the offensive line. It also involves getting more out of a running back on every rush. ''It's OK to break a tackle ever now and then,'' Holgorsen said.
GETTING BOWL ELIGIBLE: West Virginia also has games remaining at Kansas State, at home against Texas on Nov. 18 and at Oklahoma on Nov. 25.
---
More college football coverage: http://collegefootball.ap.org and www.Twitter.com/AP-Top25
---
---