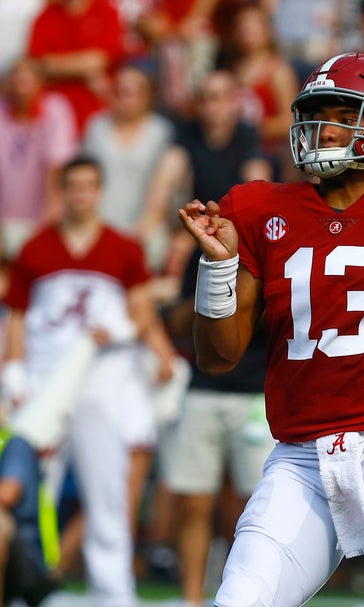 No. 1 Alabama meets Louisiana-Lafayette, ex-Saban assistant
September 28, 2018
TUSCALOOSA, Ala. (AP) — The parade of former Nick Saban assistants trying to beat their old boss and Alabama continues.
Next contestant: Billy Napier.
Napier and Louisiana-Lafayette (1-2) take on the top-ranked Crimson Tide (4-0) Saturday as nearly seven-touchdown underdogs .
The odds are much longer than last week when Jimbo Fisher and Texas A&M left Bryant-Denny Stadium having lost 45-23 . Napier, a former Alabama wide receivers coach, faces an offense that looks a little different from the versions he once worked with thanks largely to one of the nation's hottest quarterbacks, Tua Tagovailoa.
Napier was an assistant for the 2014 Alabama offense, the last one to reel off four straight 500-yard games before this season. This one leads the nation in scoring.
"They're playing well at every position across the board," Napier said. "I think their offensive line is extremely talented, a big, physical group that does a good job protecting him. And obviously we know about the handful of running backs that all are going to play in this game for a long time. They present a great matchup in terms of, you've got to pick your poison.
"If you want to stop the run, then you've got to cover these guys on the perimeter."
Tagovailoa is the nation's highest rated passer after a 387-yard, four-touchdown passing performance against the Aggies. He still hasn't had to play in a fourth quarter this season, and this game seems a longshot to break that trend.
Saban is 13-0 against former assistants with another, Tennessee's Jeremy Pruitt, coming up on Oct. 20. Not to mention perhaps Kirby Smart and No. 2 Georgia if both teams can continue their apparent collision course to the Southeastern Conference championship game.
Napier is in his first year leading the Ragin' Cajuns after a season as Arizona State's offensive coordinator.
"I know they present a lot of challenges for you relative to what he's doing on offense there and I'm sure he's got his hand in that because that's his expertise," Saban said. "But their team is playing with a lot of toughness, they're playing hard, and you can see that he's building some of the right intangibles in the program, which is always to me a critical factor in what you need to do to be a head coach."
Here are some other things to know about Louisiana-Lafayette-Alabama:
FAMILIAR ASSISTANTS
Napier isn't the only Louisiana-Lafayette coach who has spent time in Tuscaloosa. Assistant head coach Rory Segrest played for the Tide from 1992-94 and worked there as both a student assistant and graduate assistant. Strength and conditioning coach Mark Hocke worked under Alabama's Scott Cochran from 2009-14.
Tide secondary coach Karl Scott was named Louisiana-Lafayette's defensive coordinator in late December. Alabama hired him away the next month, though Saban said he initially didn't realize he had left Texas Tech.
SEEING RED
Only Louisiana-Lafayette and UCLA have scored touchdowns every time they've made it inside the opponents' 20-yard line, or the red zone. The Ragin' Cajuns are 10 for 10. Alabama opponents have scored six times on 10 trips into the red zone with four touchdowns.
ACCURATE PASSERS
Tagovailoa is completing 72.5 percent of his passes with 12 touchdowns and no interceptions. Louisiana-Lafayette's Andre Nunez is just behind, ranking eighth in the FBS with a 72.3-percent completion rate.
0-FOR-SEC
The Ragin' Cajuns are 9-for-42 against teams that were in the SEC at the time of the game. They did beat then-No. 25 Texas A&M in 1996 when the Aggies were in the Big 12. That was the only win over a ranked team in 28 tries. Louisiana-Lafayette has never faced a top-ranked opponent.
RUNNING BACKS
Trey Ragas is leading the Sun Belt Conference in rushing with a 98-yard per game average. Alabama has spread the wealth around a number of backs, though Damien Harris remains the starter.
---
---